Moveable modular partition wall as solid wall Wall thickness 105 mm, for special versions 125-175 mm Slender 6 mm shadow gap between the elements Concealed fixture of all wall panels Recessed connections on floor, wall ...

sliding partition
PREMIUM® : BILDUNGSZENTRUM SINGEN
Mobility, transparence, and discretion If you dont need it, our Premium Glass movable wall, withdraws discreetly. But as part of the overall design, it underlines the elegance of your rooms, which even those outside can see, if you give ...


removable partition
CLASSIC
... demands. This new program uses containers and closets to create partitions that adapt to all ENVATECH® programs. In the search for open and multi-use spaces, ENVATECH® created the ES.90, a partition ...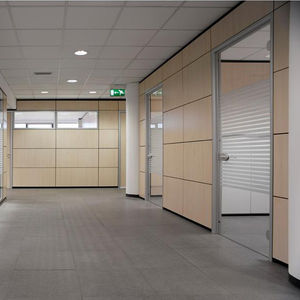 removable partition
SOLID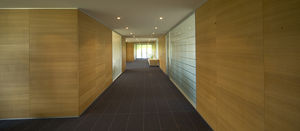 removable partition
METAFORA BWS/SWS
Metàfora BWS/SWS partition wall is characterized by a mixed structure made up of anodized aluminium and zinc steel. Drywall, Mdf, laminated, wood veneered, custom fabric covering surfaces are available ...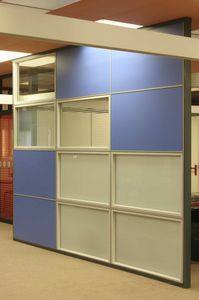 removable partition
UR-802
... profile that is screwed to the column base of the partition. It is complemented with a trim that fulfils two functions; to cover the visible parts of the screws and to improve the aesthetics of the partition ...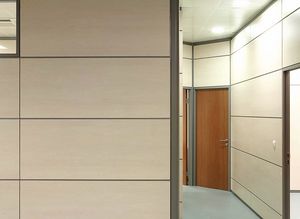 removable partition
UR-902
The finish and qualities of the partition components are similar to the UR-802/803 systems, but the method of construction is different. The panels, with wooden supports, are hung by means of precise ...

removable partition
TIMBERLINE
Timberline is modular partitioning with a timber powder coated finish that's virtually impossible to distinguish from solid oak. The window modules can be supplied as single or double glazed with integrated ...
See the other products
Apton Partitioning

Apex is our bi-block partition system for elegant building solutions. Apex panels are hung horizontally or vertically, to create a highly interesting effect and can be fully adapted with our other glazed and framed partitioning ...
See the other products
Apton Partitioning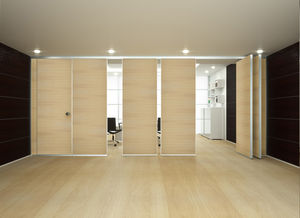 mobile partition
ROLLING WALL
... modules in axis to the rail while closing the partition - Bicarrello, to have a greater mobility thanks to special trucks and rails, you can have corners. In this way you have the freedom to design your partition. We ...

mobile partition
MOVEO® CLASSIC
... to integrate a work surface MOVEO® Classic panels are also integrated when a pass door is required for a MOVEO® Glass partition

Every building has a personality. That's why Modernfold makes sure your partition choices blend into the desired character of your facility. From our beginnings, customization has been a hallmark of the way we help customers ...

The Partition range is the reference concept in the field of demountable office partitions. It combines an elegant design with proven flexibility, and therefore easier installation. Direct clipping ...
See the other products
ABCD INTERNATIONAL

removable partition
DIVAL®
The Dival® removable partitions are compatible with Partition® 26 and 40. They are now certified as guardrail removable partitions. A large range of joint-covers (hollow, flat, or Omega) ...
See the other products
ABCD INTERNATIONAL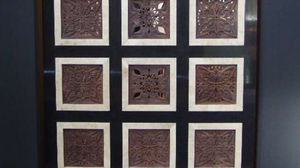 sliding partition
SF65 HSW
The system made of three laminated and bonded timber sections is available in a full range of timber types and finishes. In this way, living spaces can be designed to be not only comfortable, but also ...

Various systems available From functional steel frame construction to elegant full glass wall


fixed partition
EUROPOROOM
EUROPOROOM Screen system that can be build as rooms to devide workplaces in an open-plan office. Design: Team Glimakra.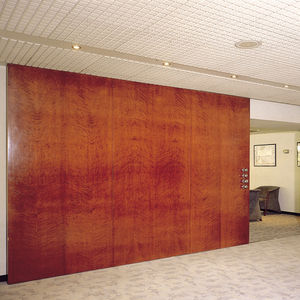 sliding partition
CLASSIC XL : SF

sliding partition
MULTIPLO : SF

removable partition
NOOXS by PearsonLloyd
Partitioning, modular and free-standing Intelligent partitioning and great acoustics are crucial factors in creating a productive and pleasant work environment in open-plan offices. However, fixed ...

fixed partition
HATCH by Michele De Lucchi
... based on the use of grilled panels in natural wood that can be assembled amongst themselves and with other components to create new types of office furnishings. In the configuration with a low partition ...

fixed partition
ALLINONE by R&S Mascagni
... time take on a new dimension, a higher state of consciousness that places man once again at the centre of everything. The partitioning wall system by Mascagni holds the secret to its diversity and flexibility within ...