How to choose this product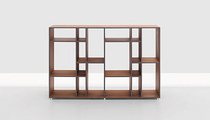 Wooden shelves come in a variety of shapes, forms and styles. While metal shelving has a more industrial look, wood lends a natural touch to its environment. Pre-assembled or flat-packed, they may be wall-mounted, freestanding, mobile or modular. On ArchiExpo, these items are defined by style, type of wood or function.
Applications
In addition to storing and displaying miscellaneous objects, books and multimedia equipment, such shelves can serve as a room divider or to create a focal point.
How to choose
Determine unit placement and the number and types of objects to be stored. Verify maintenance requirements, which may be affected by natural wood finishes. Laminated products can be wiped clean, but exposed particle board is vulnerable to moisture damage. Consider wood harvested in a sustainable manner.

Wall-mounted shelves occupy no floor space, but freestanding, mobile units may be preferable in libraries and other public settings where layout is sometimes changed.