How to choose this product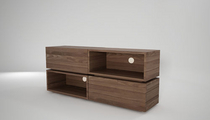 A wooden sideboard is a cabinet with a flat surface which may be used to store and/or display tableware and other items. It may be freestanding or wall-mounted, and may even have drawers or shelving. On ArchiExpo, this furniture is arranged by properties such as style or type of wood.
Applications
Wooden sideboards may be favored over others due to their natural appearance. They are often used in dining and living areas. Solid wood has natural imperfections but is more durable if properly cared for. Laminate boards are easy to clean and often have a uniform, imitation wood finish.
How to choose
Sideboard appearance, including finish, should fit with other furniture in the room. While free-standing models offer more flexibility when rearranging furniture, wall-mounted sideboards facilitate floor cleaning and can serve as an interesting focal point. Consider the quality of construction. Drawers and cupboards should be easy to open and sturdy enough to hold the items to be stored.

Consider how much maintenance is required. While laminated boards are easy to wipe clean, the offer less structural integrity than solid wood and are harder to repair. Stain and scratch resistance are other factors. Some surfaces may require regular renewal of protective coatings, such as varnish.