Wooden staircases
37 companies | 74 products
How to choose this product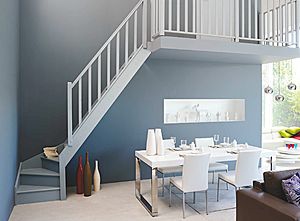 The wooden staircase is made of solid wood. This material's versatility enables its use in straight, L-shaped (quarter-turn), U-shaped (half-turn) and spiral configurations.
Technologies
The following are among the many different wood species used for stair construction.

- Oak: light brown, very durable, suitable for interior or exterior stairs
- Maple: light beige to white, moderate durability (interior use only), elegant appearance
- Ash: brown/beige, very strong and durable, interior or exterior use, suitable for any style from rustic to modern
- Beech: pinkish, great strength and durability, modern and natural look
- Pine: white softwood, natural and traditional look, easy to work, economical, minimal durability.
How to choose
Choice will depend on type and frequency of use. High-traffic areas require a hard, durable wood.

Appearance is another factor. The numerous wood varieties offer many tonal options, from a natural look to gleaming refinement.
Advantages
- Large variety of styles
- Wide range of prices