The Online Architecture and Design Exhibition

... AND ITS HYBRID WAY TO CONSIDER FURNITURE PRODUCTION. THE OSSO COLLECTION INCLUDES A CHAIR, AN ARMCHAIR, STOOLS AND A COMPLETE RANGE OF TABLES. WOOD HAS THE KEY ROLE IN OSSO AND IT CAN EXPRESS ALL ITS ...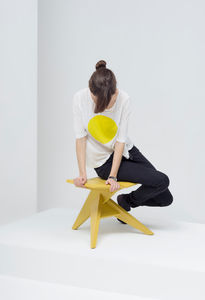 original design stool
MEDICI
... ME ALL THE WAY BACK TO MY PROFESSIONAL ROOTS. AT THE VERY BEGINNING OF MY CAREER I WAS TRAINED A CABINET MAKER. WORKING WITH WOOD IS WHAT I LEARNT FROM SCRATCH, IT IS WHERE IT ALL STARTED FOR ME. MATTIAZZI MAKE FURNITURE ...

contemporary stool
SOLO by Nitzan Cohen
... WE COULD NOT HAVE TOO MANY IF WANTED TO MAINTAIN OUR COST EFFICIENCY. SUCH DETAIL AND A SPECIAL FEATURE OF BOTH CHAIR AND STOOL IS A LEATHER INLAY PERFECTLY MATCHED IN THE SEAT SURFACE. OFFERING WIDER COLOUR MATCHING ...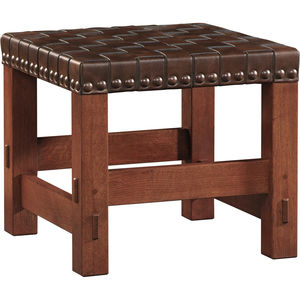 contemporary stool
MISSION : 89-297
OAK ModelDetails Dimensions 89-297Woven Leather StoolH17 W19 D19 CHERRY ModelDetails Dimensions 91-297Woven Leather StoolH17 W19 D19

traditional stool
PASADENA BUNGALOW : AN-7342-C-299
Details AN-7342-C-299Seat is 13¾" square. Wood species is Cherry. DimensionsH26 W17 D17

This stool is available in oak, walnut or purple heart are available from stock and in beech, ash, maple and cherry on order. The prices below vary by wood type and include wax finishing. Dimensions Height: ...

contemporary stool
COMODO
This stool is available in ash with slats of purple heart or only purple heart from stock and on order in beech, oak, ash, maple, walnut and cherry. The prices below vary by wood type and include wax ...

contemporary stool
AFFI by Giulio Iacchetti
Stool in solid wood assembled using simple joinery. The detail of how the legs are inserted into the seat is accentuated by their different shades of wood. Furthermore, the way the structure overlaps ...

contemporary bar stool
TEMÙ by Giulio Iacchetti
Stool in solid wood modules. Substantially, the idea behind this project is to create a stool solely using wood turning. The structure consists of a single element (i.e., ...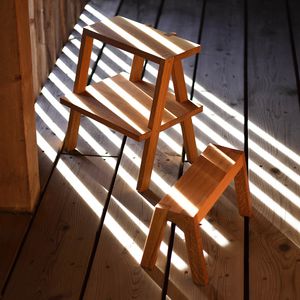 contemporary stool
AEKI by Gerhardt Kellermann
our stools AEKI und "Little Brother" were both designed by Gerry Kellermann and they form small family. So we created one offer with a family-friendly pric Weight 9.5 kg Dimensions 30 x 30 x 30 cm

Since 2011, we successfully maufacture the Tablet-Tables, designed by Tobias Grau. Now he designed a very simple, but stable stool from oakwood with a big soft whole in the middle for easy carrying with one finger. Seating-hight: ...

contemporary stool
TAVERN
Our successful tavern-chairs have developed into a family of chaits and stools: The Tavern-Stool has a seating hight of 46 cm and fits in any private or commercial environment. Manufactured in Bavaria ...

contemporary stool
SIENI by Juuso Andersin
Sieni is an ingenious storage piece that also serves as a stool in the kids' room. Its round, press-moulded frame holds plenty of toys. Sieni is made of birch plywood. The hood comes in cotton and leather, and is easy ...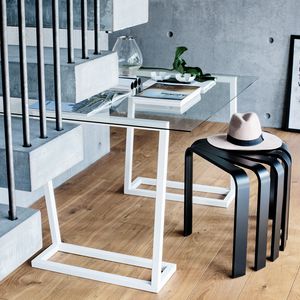 original design stool
FAN
... a table by combining several stools together.The bent plywood leg technique is distinctive for Finnish design, and the design of this stool is a fresh twist on a classic shape. Made of high-quality birch ...

contemporary stool
X by Agata & Arek Seredyn
... the whole house. Rounded edges, perfect finish and elegant lines make this stool a fully-fledged member of the Rafa-kids collection. The stool is made from Finnish birch wood and plywood ...

contemporary stool
PENCIL
The table in Oak and the bench in Oak and lacquered, are undoubtedly, inspired on the format of a pencil. It is a very strong item, as far as its lines are concerned, making every atmosphere singular and less formal. W400 x D400 x ...

Bench which is a personification of a cork, being perceptible with the naked eye. In Ash or Travertine, this is an item of pure lines, where the natural element is present. W330 x D330 x H410mm | W13" x D13" x H16.1"

COFFEE TABLE/STOOL Solid wild oak coffee table cm.25x25x46h Finishings Solid wild oak structure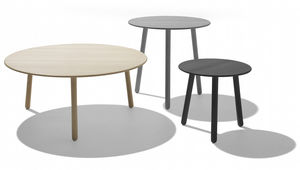 contemporary stool
KNOCK ON WOOD by Peter Barreth
Knock On Wood is robustly built, stable, individual in character and lovable in appearance. Whether as side-tables, coffee-table or as stools, the five different tables benefit from the advantageous ...

contemporary stool
MICHL by W.Sirch & C. Bitzer
order no. 209 childs stool made of solid ash wood. 33 cm x 35 cm x 20 cm (h/w/d).

contemporary stool
XARRE by W.Sirch & C. Bitzer
childs stool made of raw, finely-polished birch plywood for children of 2 to 8 years of age seat covered with high-quality felt in three different coloured designs measurements: 36 x 38 x 30 (L/H/B) height of seat: 33 cm

original design stool
WIPPHOCKER
arcass made of laminated beech plywood design: melzermueller in cooperation with ivo geißner + partner.

contemporary stool
CLAUS by W.Sirch & C. Bitzer
children's stool with adjustable seat. thanks to an easy coupling mechanism the seat height can be adjusted by simply inserting the support bar of the seating disc into one of the three different sides of the spruce wood ...

contemporary stool
PIERRE IST EIN MENSCH

contemporary stool
PAESANA : 485X.I1
Total Height 49cm Seat Height 49cm Total Widht 34cm Total Depth 36cm Weight 3 kg

contemporary bar stool
PAESANA : 485Z.I1
Total Height 73cm Seat Height 73cm Total Widht 34cm Total Depth 40cm Weight 4 kg

Jazz Stool three legged - Metal base and cork seat. Seating height can be set at more different heights. Technical data Length: 31 cm Width/depth: 31 cm Height: 39 - 59 cm Materials Cork / Metal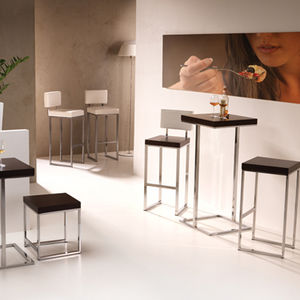 contemporary bar stool
CORNICE : 1245
High stool with upholstered back. Available with upholstered seat or wooden seat thickness 50mm in colours wengè or whitened oak. Frame 30x15mm available in colours: chromed or satin.

traditional stool
HOTELOGY
Each environment is thought to receive each visitor with a mixing of elegance and comfort. An innovative, audacious and different concept which will be recorded in the mind of each customer.

contemporary bar stool
PAXOS

The xilobis Club Table, and the elegant, sleek xilobis Cubes (stools) bring color into your living space. The modules are available in black and white designs, with separators made of multiple colors of acrylic glass. ...

Single wood and metal stool . Consists of three parts, that are joined to assemble and stacked to disassemble, occupying minimum space to carry or to pack away. Made of reforest wood. Wood ...

contemporary bar stool
BRAIDED
... braided in New England as ordered. This collection is available as a dining table, coffee table, and stools. Made to order : 10-12 weeks / custom sizes & wood species available

contemporary stool
BRAIDED
... braided in New England as ordered. This collection is available as a dining table, coffee table, and stools. Made to order : 10-12 weeks / custom sizes & wood species available