The Online Architecture and Design Exhibition

original design stool
TURTLE
SMALL BUT USEFUL. READY FOR ALL! EXTRA SEAT FOR YOUR UNEXPECTED GUESTS

contemporary bar stool
BRAIDED
... braided in New England as ordered. This collection is available as a dining table, coffee table, and stools. Made to order : 10-12 weeks / custom sizes & wood species available

contemporary stool
BRAIDED
... braided in New England as ordered. This collection is available as a dining table, coffee table, and stools. Made to order : 10-12 weeks / custom sizes & wood species available

original design bar stool
VH14_007 | MOAI
Structure – Electroplating – Polished Chrome / Satin / Copper / Brass – Oxidised Metal Effect – Varnished – Glossy/Semi-Glossy/Matt / Metallic / Antique – Treatment with takemakite© and cinnabar (synergy between ancient Western and ...

contemporary stool
DARIKA by Davide Varotto
... , an armchair and a stool characterized by a wooden structure. Darika appears as a balanced, classic and contemporary object at the same time in which the fine details of the upholstery overlap with the ...

contemporary stool
RISOM by Jens Risom
... Jens Risom's designs were the first pieces conceived for and manufactured by Knoll. Due to wartime material restrictions, the stool was originally constructed of simple maple frames and discarded parachute webbing. Described ...

contemporary stool
IKE by Studio Dreimann
The IKE swivel stool stands on three legs. The steel tubular support for the thread of the endless screw splits into three to form the three legs. The studio' spirit of this technical base is softened by its white lacquer ...

contemporary stool
BUTTERFLY
The iconic Butterfly Stool by the Japanese designer Sori Yanagi is a classic piece of furniture that uniquely combines Eastern forms with the plywood moulding technique developed by Charles and Ray Eames. The gently curving ...
See the other products
vitra

contemporary stool
SOLVAY
... reflecting an aesthetic based on structural requirements. The sturdy stool is available in natural oak, dark smoked oak or American walnut. Material description Seat and base: solid wood with oiled ...
See the other products
vitra

contemporary stool
LUKKI by Ilmari Tapiovaara
3-legged steel tube frame, painted matt. Seat beech veneered form pressed birch plywood. Stackable. black lacquered stone white lacquered sage green lacquered
See the other products
Artek

contemporary stool
EA002 ROCKET
Year: 2006 Oak soaped white lacquered black lacquered
See the other products
Artek

original design stool
TWB by Raw-Edges
... or with a strip at the base decorated in green, iron grey, cherry-red and China blue colors, the TWB collection comprises a stool and a bench which appears to be crumpled paper: the particular construction procedure and ...

contemporary bar stool
VANISH by Erika Kövesdi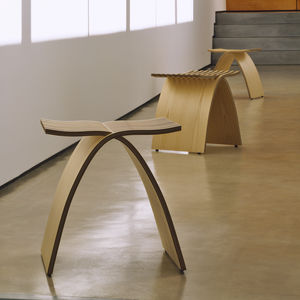 contemporary stool
CAPELLI by Carol Catalano
Product Story Pondering her new project—build a better stool—designer Carol Catalano noticed her own entwined fingers and had her answer. The Capelli stool is two identical plywood pieces, each with ...

contemporary stool
BALANCE
... traditional construction with an uncluttered form to provide a feeling of simplicity and honesty. Available as a range of stools and benches, Balance can be used to help create flexible working spaces; offering a highly ...

industrial design bar stool
FLOAT
Floating. The reference, almost expected, is to the Ukiyo, an art print genre which flourished in Japan from the mid 17th century to the early 20th century. The analogy however does not appear so much in the visual artifice which distinguishes ...

contemporary stool
ICS - IPSILON by Rodrigo Torres
Ics and Ipsilon coffee tables, design Rodrigo Torres. A well-defined style with high degree of originality.

contemporary bar stool
PICAPAU
Attractive stool mixed with wooden parts and colours that does not go unnoticed. Ideal for people always young inside.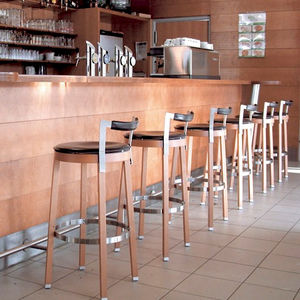 contemporary bar stool
SELLA by Peter Maly
Wide range of chairs in wood with parts in stainless steel. Aluminium glides with felt or plastic. Upholstery in fabric, leather or hide.

contemporary bar stool
BERET by Gabriela Raible
A set of seating solutions for the living that can be a protagonist also in other areas of the daily habitat and as well for the restaurants. Created by Gabriele Raible, the collection is made by many elements joined by a great stylish ...

contemporary bar stool
THE WILD BUNCH : TOM & JERRY
Year of production: 2012. Material: frame in natural solid beech; joint and screw in standard injection-moulded polypropylene.

original design stool
HOCKER by Jacques Herzog & Pierre de Meuron
... clear shape, Hocker represents fundamental aspects of the conceptual approach practised by Herzog & de Meuron. The Hocker stool adds to a series of objects and installations created by the architects as independent projects ...
See the other products
vitra USA

contemporary stool
SOLVAY
Tabouret Solvay is a simple, robust stool made of solid wood that reveals the designer's signature at first glance: its clear structural principles can be found throughout the work of Jean Prouvé. Thanks ...
See the other products
vitra USA

Sini series brings in a contemporary approach to the traditional low Turkish table. YEAR OF CREATION 2014 DIMENSION W. 42 cm D. 42 cm H. 45cm seating height: 45cm MATERIAL Oak or walnut with leather upholstery MANUFACTURER Autoban

contemporary stool
PROFILE
Profile Stool summarizes Autoban's design principles of form, function and experience. With its simplistic look, it consists of a round top either in metal or wood and hexagon sectioned legs. Profile ...

A labor of love. The Yacht Bench is inspired by the exquisite fiberglass and teak-decked vessels that glide along the Mediterranean Sea. A classic from the moment it was launched, the Yacht Bench is JMDB's most popular piece. YOU DON'T ...

contemporary stool
YOU AND ME by Antoni Pallejà Office
... plenty of time for ping-pong sessions too. The benches come in 4 different lengths (86.6 in, 71 in, 47 in and the 20 in stool), in order to cater for all 3 models of the You and Me table. What's more, they come with ...