How to choose this product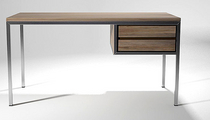 A wooden writing desk may be chosen over those made out of other materials due to its versatility, natural appearance and the fact that it is made from a renewable resource. It may be ornate and decorative, or even an original design. On ArchiExpo, this furniture is categorized by properties including the style or type of wood used.
Applications
Such a desk can constitute a natural and attractive complement to a workspace. It may have integrated cupboards or drawers for the storage of papers and stationary.
Technologies
While solid wood tables often come pre-assembled, many come flat-packed for assembly by the user.
How to choose
Ensure that desk dimensions are appropriate for the space available and allow enough room for circulation. Consider its sturdiness and maintenance requirements. Some are very durable but also require regular applications of protective coatings such as varnish or wax. While laminated particleboard is easy to clean and maintain, it is structurally weaker than solid wood and may not withstand regular moving.

Consider the source of the wood. Some is certified as having been harvested in a sustainable manner. Certain desks are made from recycled wood. Consider how the style of the desk will fit the setting. While an original design can constitute a striking centerpiece in a minimalist environment, a traditional design may blend well in a neutral space.