How to choose this product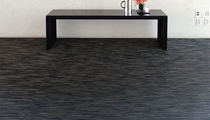 Woven carpet, made in a mill or by hand, is known for its comfort and durability. Techniques include loop pile, cut pile or a combination of the two. Both natural and synthetic fibers may be used.
Technologies
This type of carpet is made on a loom, which forms both surfaces simultaneously by interweaving the threads. A backing, often of latex, reinforces the carpet. Woven carpets are sturdier, more durable and are less likely to buckle or fold than tufted models.
Disadvantages
- Expensive