How to choose this product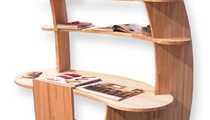 A writing desk with a shelf allows the user to keep paper work or useful tools at hand whilst working or reading. It is destined for working with paper documents, but may often also be suitable when working on a laptop or notebook.

On ArchiExpo a writing desk with a shelf may be arranged by properties such as style or material.
Applications
A writing desk with a shelf may be designed for domestic or professional use (such as in offices, schools, libraries, or hotels). While a writing desk with a shelf which is likely to be used by many people (such as a study desk in a library or a school) the shelving may simply be used temporarily for books or other belongings, a writing desk designed for home use may combine other storage facilities or functions, helping the user to economise space and keeping stationary and other useful items at hand. While some writing desks may be designed to standard dimensions, allowing them to be placed in rows or in tight spaces. Some may have more organic forms.
How to choose
When choosing a writing desk, consider how the style and shape fits within the space. While organic and irregular shapes may make a unique focal point in a space, a period style writing desk may complement a period decorative scheme.

Consider how much maintenance is required. Solid wood writing desks may be robust but may also require regular maintenance or the reapplication of coatings (e.g. varnish or wax). Some laminate or plastic designs may fade or stain over time and be harder to repair.