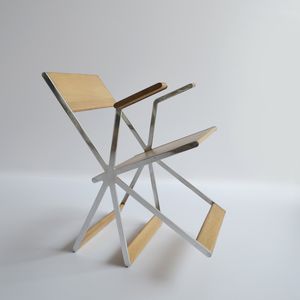 contemporary chair
TRIPATTE
Tripatte (limited edition of 10 pieces) Tripatte rocks backward on its «third» leg to offer a relax position, which will seduce those who like to swing on their chair. This product is made of solid wood and stainless steel polished ...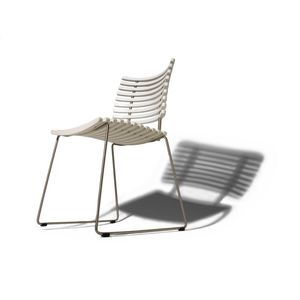 contemporary chair
LEOPARD by Henrik Lehm
Leopard chair in wood and stainless steel with a light curved look and outstanding comfort. An upholstered seat cushion in black leather is available as an accessory.

contemporary chair
GREEN CLIP
Description: Stacking chair Structure: chrome-finished metal back rest plywood veneer back with real painted wood finish Base: chrome-finished metal Padding: soy-based polyurethane foam seat insert in pressed plywood Cover: evida ...

contemporary chair
ARENA 033 by Pasi Pänkäläinen
ARENA 033 is a lightweight stackable chair, which is manufactured from a single moulded shape; it manages to be modern and retro at the same time. The chair collection has achieved great popularity both in Finland and internationally. ...

contemporary chair
COMPOS by Samuli Naamanka
Behind the ecological COMPOS collection is a material innovation the seats and tabletops are produced from 100 % biodegradable natural composite fibre. The material does not contain any oil-based substances. The steel frame is coated ...

traditional chair
COAST SLING
The unique appeal of the Coast collection lies in a harmonious blend of clean lines and graceful curves. The Coast Arm Chair has a sleek, powder-coated aluminum frame that features a scrolled element on each arm—a detail that exemplifies ...

contemporary chair
QUANTUM
Quantum raised the bar and set a new standard for the casual furniture industry. A contemporary classic, Quantum has garnered international acclaim, including trade and industry award honors. Fluid lines and contoured mesh seating are ...

Loop has transparent and opaque options and its body has a mono block structure. Loop has various leg options; 4 leg, sleigh frame; chrome plated, polished steel, aluminum swivel base and solid wood veneer legs. The mono block body ...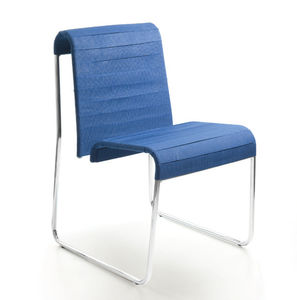 contemporary chair
FARALLON by Yves Behar
Farallon is a multipurpose seat created by the principle of adaptability of chair from "simply sitting" to "new media sitting". Its structure is only one metal tube, seat and back have a special elastic bands. This seat can be freely ...

contemporary chair
WIRED by Gabriele Pezzini
Wired is the new edition of a design project that has been revised over time without ever abandoning the original imprint of an iconic shape, which is emblematic of a design approach – "che fare" – that goes way beyond the shape of a ...

contemporary chair
INO by Kurt Beier
The favorite place for everybody who enjoys long nights in chummy round und don't want to go home. A chair which invites you for dinner. with or without armrests base frame in flat-bar steel square or round pipe curved

contemporary chair
AVIVA ROCKER by Jarrod Lim
Aviva Rocker by Jarrod Lim A casual lounge chair available as a chair or rocker, in synthetic or leather. Aviva is an elegant triangular form deliberately evoking a mid-20th century feel and modestly hiding a series of technical achievements. Material: ...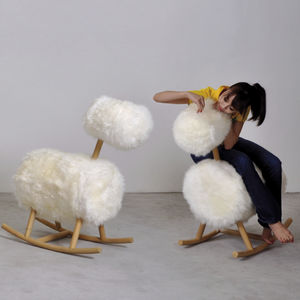 contemporary chair
HIHO by Jarrod Lim
HiHo by Jarrod Lim A fun yet stylish take on the traditional children's rocking horse remade for grown-ups. Jarrod Lim designed HiHo so you can sit forward and really ride or alternatively turn around and sit back for a gentler comfortable ...

· chairs with removable cover · fixed cover for leather version - models UNO and TRE · frame in metal and moulded polyurethane foam · legs in metal with transparent varnishing or glossy black nickel finish

contemporary chair
LEI by Dondoli & Pocci
An image that emphasises the value of the technical dimension and of the object functionality. Lei is part of an extensive collection of shape and colour variants; this chair has a steel frame and painted or chromed legs. The body ...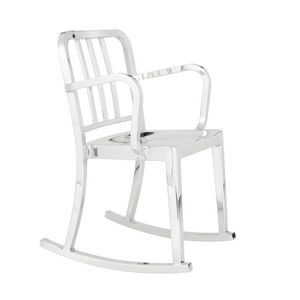 Heritage is a stacking chair designed by Philippe Starck, inspired by the original 1006 Navy.The rocking version was designed for the world famous Bon restaurant in Paris. Intended as a sit up chair for working and dining, its a symbol ...
See the other products
emeco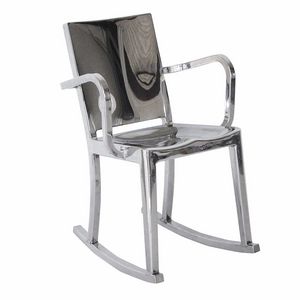 contemporary chair
HUDSON : HUDROC AP
The Hudson, designed for the Hudson hotel in NYC, is Emeco and Starcks first collaboration. Starck described the chair as washing the details from the Navy Chair. It takes an additional 8 hours to polish each Hudson chair. Hudson is in ...
See the other products
emeco

contemporary chair
Y : YC01SWBL
A product which balances the three most important requirements demanded of a contract chair: durability, a striking silhouette and an ergonomic form. The Y Chair's expressive shape is injection moulded in glass-reinforced nylon, which ...

contemporary chair
ASKIA by Paola Navone
ASKIA CHAIR | 56X49 H75 | AVAILABLE MEASURES | MALI | PAOLA NAVONE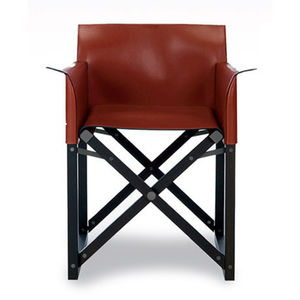 director's chair
TRUFFAUT
MODEL NOT FOLDABLE, WITH BRUSHED BROWN OAK SOLID WOOD STRUCTURE. BULGAR RED, BLACK OR GREY LEATHER SEAT. MADE IN ITALY.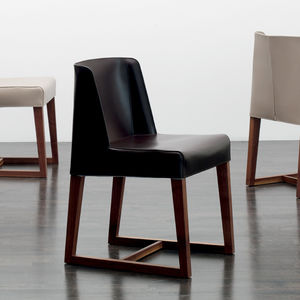 contemporary chair
SESTANTE

contemporary chair
X3 by Marco Maran
X3 has a light and transparent shape, in which the lattice structure remains deliberately visible thanks to an innovative technology. The resulting pattern plays an important aesthetic role and gives the chair a distinctive graphic appearance. Specifications SEAT One-piece ...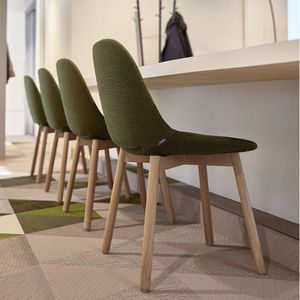 contemporary chair
BESO by Khodi Feiz
Adorable Beso, Spanish for 'kiss', is an affordable and highly versatile chair programme created by our Dutch designer Khodi Feiz. Our Beso collection includes a chair, an armchair and a barstool. We particularly like the juxtaposition ...
See the other products
Artifort

dining chair
SHARK by René Holten
Are you afraid of Sharks? The Shark – a new, extremely comfortable dining and meeting chair designed by René Holten. A model that acquired its name because its profile resembled that of the feared predator. However, you have nothing ...
See the other products
Artifort

Ergonomic seat and back in solid wood. Structure in chrome-plated iron, also available with structure in natural iron colour.

original design chair
GIULIA by Pininfarina
This is a rocking horse carved out from a single piece of cedar wood so to obtain an agile and graceful shape, enriched by a leather-covered handle. A little rocking horse entirely made of solid wood,with no harmful finishes or glues. The ...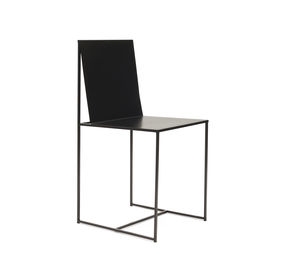 contemporary chair
SLIM SISSI by Maurizio Peregalli
Chair. Frame in steel square tube 10 x 10 mm and sheet steel 1 mm thick. Epoxy painted embossed white, copper black or simil-corten colour. Available padded cushion, upholstery in black or white leatherette. Fixing with magnets.

contemporary chair
TERESA SOFT by Maurizio Peregalli
39 x 47 x H 79 cm - Seat H 46 cm Frame: semiopaque white - black copper colour FR leatherette, white or black