contemporary chair
by Knudsen Berg Hindenes
The Say O chair is a unique chair of its' own. The shell is produced with the latest 3D veneer technology which yields an out-standing sitting comfort. All shells are laminated and come in different colors. The Say O chairs can be ...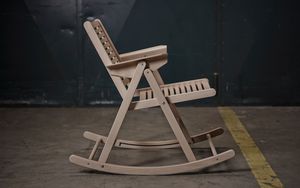 Scandinavian design chair
AVAILABLE IN Natural - White - Dark Brown - Black - Walnut - Teak Rex Rocking Chair is a must-have for promising creative minds and retrospective idealists. Forget your preconceived notion that the rocking chair is for grandmothers. ...

The Originals-collection is a collection inspired by our own design sketches as well as other successful models from the 1950's and the 1960's. Our skilled workers craft each piece of rattan furniture by hand. The rattan used is grown ...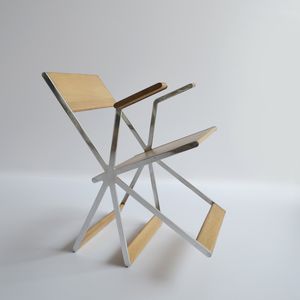 contemporary chair
TRIPATTE
Tripatte (limited edition of 10 pieces) Tripatte rocks backward on its «third» leg to offer a relax position, which will seduce those who like to swing on their chair. This product is made of solid wood and stainless steel polished ...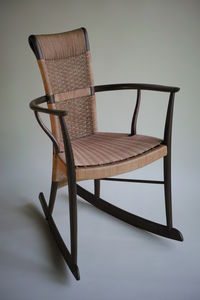 traditional chair
GANPISHINOISU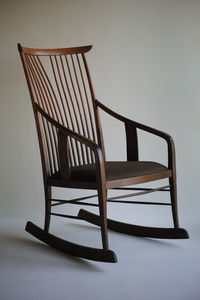 traditional chair
SUN AND MOON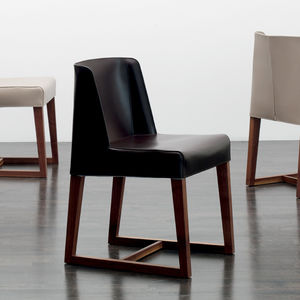 contemporary chair
SESTANTE

contemporary chair
STRATOS
Inspired by Italian automotive design, Stratos is based on perfect geometries that create its characteristic multi-faceted shape. This aesthetic peculiarity together with the variety of colors and upholsteries, reflects also on its functionality ...

contemporary chair
X3 by Marco Maran
X3 has a light and transparent shape, in which the lattice structure remains deliberately visible thanks to an innovative technology. The resulting pattern plays an important aesthetic role and gives the chair a distinctive graphic appearance. Specifications SEAT One-piece ...

· chairs with removable cover · fixed cover for leather version - models UNO and TRE · frame in metal and moulded polyurethane foam · legs in metal with transparent varnishing or glossy black nickel finish

contemporary chair
WRAPP by Marc Krusin
Chair made of two pieces of curved plywood reminiscent of the American classics. Upholstered version or oak with the various finishes offered by Viccarbe. Ideal for both domestic and contract use. Chromed steel frame. Plywood shell ...

Ergonomic seat and back in solid wood. Structure in chrome-plated iron, also available with structure in natural iron colour.

original design chair
GIULIA by Pininfarina
This is a rocking horse carved out from a single piece of cedar wood so to obtain an agile and graceful shape, enriched by a leather-covered handle. A little rocking horse entirely made of solid wood,with no harmful finishes or glues. The ...

contemporary chair
HOL 312C by Vicente Soto
Stackable iron skid base chair with uphosltered seat and back.
See the other products
CAPDELL

contemporary chair
ICS 505PTN by Fiorenzo Dorigo
Collection with a metal structure shell coated with high-resistance, flexible, lightly-coloured injected polyurethane. Steel rod base. Stackable.
See the other products
CAPDELL

Using the combination of materials (Teak, Stainless Steel and Batyline sling fabric) this collection is simple yet elegant.

contemporary chair
DUNDRA by Stefan Borselius
Stefan Borselius has designed the Dundra seating series that is constructed around a chromed steel frame with upholstered moulded seats. The covered button that is one of the hallmarks of this family of furnishings helps ensure that ...

contemporary chair
STING by Stefan Barselius & Fredrik Mattson
Sting is the result of an extremely manufacturing-orientated design process. The result is a stackable and linkable chair in aluminium and stainless steel, made in an unusual way. Sting is very comfortable with a slight movement and ...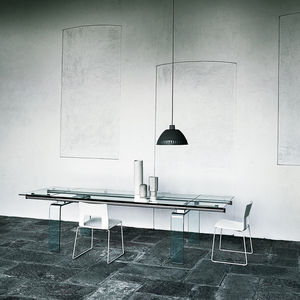 contemporary chair
KOBE by Piergiorgio Cazzaniga
The main feature of Kobe chair is the body, made of BAYDUR®, a rigid polyurethane material that guarantees excellent performance as regards resistance as well as being 100% recyclable and fireproof. The result is a functional and comfortable ...

contemporary chair
CUBA+CUBO by Enzo Berti
Although their geometric lines and right angles result in a rigorous, rigid appearance, these pieces offer a suprising degree of comfort thanks to the profiling of the seat and the flexible curve of the back rest. The Cuba+Cubo collection ...

contemporary chair
HOLE by Enzo Berti
Handle or letterbox, graphic mark or negative outline? The Hole's hole is a void with a strong presence that offsets the fullness of the curved wood and provides relief to the continuity of its surface. It also promptsan intuitive us ...

contemporary chair
JAPAN by Estudi (H)AC
This is a fun and full of colour collection designed by Estudi(H)ac and completely made in Spain. It includes auxiliar and dining tables, chairs, armchairs, lamps and planters made up of inox to guarantee the maximum durability. It is ...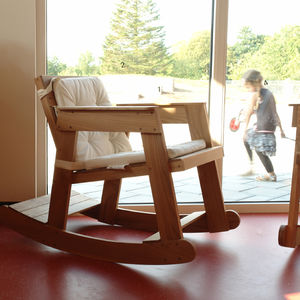 contemporary chair
TOUTER

original design chair
HORSE ROCKER by Doshi Levien
The ›Rocker‹ rocking horse, designed by Nipa Doshi from India and Jonathan Levien from England will be a fantastic addition to the new collection of children's furniture from Richard Lampert. First presented at Cologne Furniture Fair ...

contemporary chair
MASH by Alexander Seifried
A FOLDDING CHAIR WITH HISTORY It's all in the name: with its colours and looks, Mash is a humorous homage to the 1970 blackly comic anti-war film directed by Robert Altman. Small chair, big history: one day, in the backroom of ...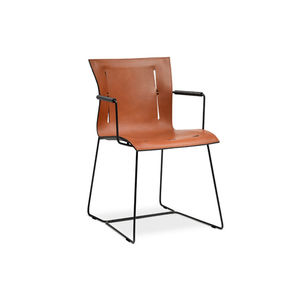 minimalist chair
CUOIO by EOOS
The logic of minimalism determines the shape and materials of the Cuoio Chair. Leather and steel are the components of surface and framework. Minimalist and timeless. The fact that the chair is separable and recyclable ensures it is ...

The ALL DAY living system is for modern and refined living areas, using a minimal but very strong extendible table. The top is available in American walnut, dark oak and lacquered; the legs are available in American walnut, dark oak ...