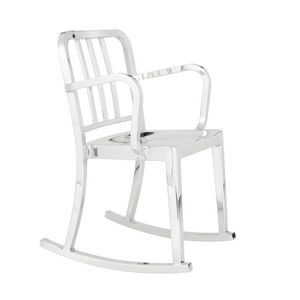 Heritage is a stacking chair designed by Philippe Starck, inspired by the original 1006 Navy.The rocking version was designed for the world famous Bon restaurant in Paris. Intended as a sit up chair for working and dining, its a symbol ...
See the other products
emeco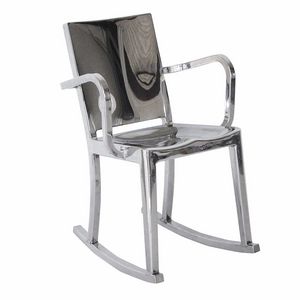 contemporary chair
HUDSON : HUDROC AP
The Hudson, designed for the Hudson hotel in NYC, is Emeco and Starcks first collaboration. Starck described the chair as washing the details from the Navy Chair. It takes an additional 8 hours to polish each Hudson chair. Hudson is in ...
See the other products
emeco

contemporary chair
Y : YC01SWBL
A product which balances the three most important requirements demanded of a contract chair: durability, a striking silhouette and an ergonomic form. The Y Chair's expressive shape is injection moulded in glass-reinforced nylon, which ...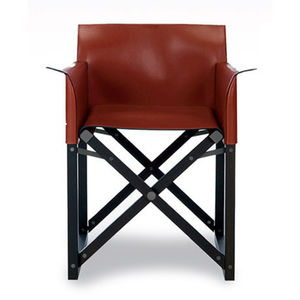 director's chair
TRUFFAUT
MODEL NOT FOLDABLE, WITH BRUSHED BROWN OAK SOLID WOOD STRUCTURE. BULGAR RED, BLACK OR GREY LEATHER SEAT. MADE IN ITALY.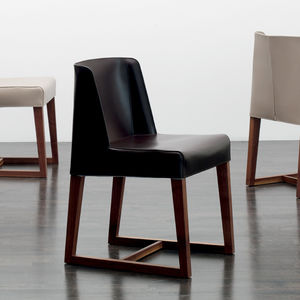 contemporary chair
SESTANTE

contemporary chair
X3 by Marco Maran
X3 has a light and transparent shape, in which the lattice structure remains deliberately visible thanks to an innovative technology. The resulting pattern plays an important aesthetic role and gives the chair a distinctive graphic appearance. Specifications SEAT One-piece ...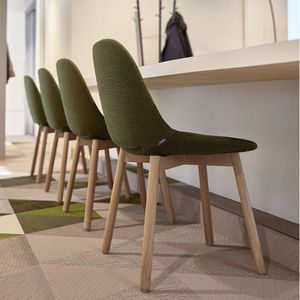 contemporary chair
BESO by Khodi Feiz
Adorable Beso, Spanish for 'kiss', is an affordable and highly versatile chair programme created by our Dutch designer Khodi Feiz. Our Beso collection includes a chair, an armchair and a barstool. We particularly like the juxtaposition ...
See the other products
Artifort

dining chair
SHARK by René Holten
Are you afraid of Sharks? The Shark – a new, extremely comfortable dining and meeting chair designed by René Holten. A model that acquired its name because its profile resembled that of the feared predator. However, you have nothing ...
See the other products
Artifort

Ergonomic seat and back in solid wood. Structure in chrome-plated iron, also available with structure in natural iron colour.

original design chair
GIULIA by Pininfarina
This is a rocking horse carved out from a single piece of cedar wood so to obtain an agile and graceful shape, enriched by a leather-covered handle. A little rocking horse entirely made of solid wood,with no harmful finishes or glues. The ...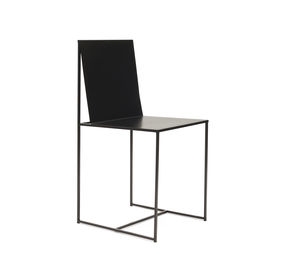 contemporary chair
SLIM SISSI by Maurizio Peregalli
Chair. Frame in steel square tube 10 x 10 mm and sheet steel 1 mm thick. Epoxy painted embossed white, copper black or simil-corten colour. Available padded cushion, upholstery in black or white leatherette. Fixing with magnets.

contemporary chair
TERESA SOFT by Maurizio Peregalli
39 x 47 x H 79 cm - Seat H 46 cm Frame: semiopaque white - black copper colour FR leatherette, white or black

contemporary chair
HOL 312C by Vicente Soto
Stackable iron skid base chair with uphosltered seat and back.
See the other products
CAPDELL

contemporary chair
ICS 505PTN by Fiorenzo Dorigo
Collection with a metal structure shell coated with high-resistance, flexible, lightly-coloured injected polyurethane. Steel rod base. Stackable.
See the other products
CAPDELL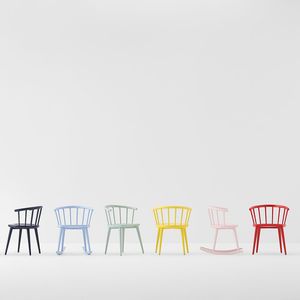 contemporary chair
W by Fabrizio Gallinaro
W. is the result of a design paradigm that states "subtraction adds value", "Less is More." The less there is in terms of aesthetics of each individual component, the more the impact of the wood itself is heightened. The natural wood ...
See the other products
Billiani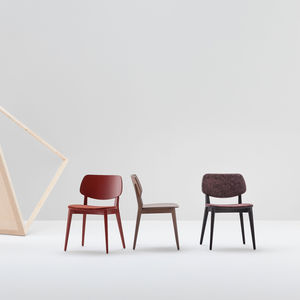 contemporary chair
DOLL by Emilio Nanni
This is the story of a little girl's doll. A collection of dollies, as the name suggests. A complete range of chairs, armchairs, lounge chair, barstool and table, with alluringly sweet lines; solid beech or metal frames. Seats and backs ...
See the other products
Billiani

Using the combination of materials (Teak, Stainless Steel and Batyline sling fabric) this collection is simple yet elegant.

contemporary chair
DUNDRA by Stefan Borselius
Stefan Borselius has designed the Dundra seating series that is constructed around a chromed steel frame with upholstered moulded seats. The covered button that is one of the hallmarks of this family of furnishings helps ensure that the ...

contemporary chair
STING by Stefan Barselius & Fredrik Mattson
Sting is the result of an extremely manufacturing-orientated design process. The result is a stackable and linkable chair in aluminium and stainless steel, made in an unusual way. Sting is very comfortable with a slight movement and is ...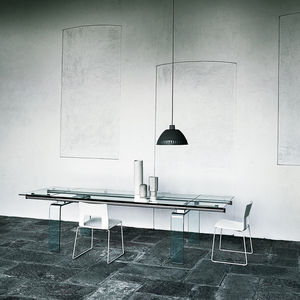 contemporary chair
KOBE by Piergiorgio Cazzaniga
The main feature of Kobe chair is the body, made of BAYDUR®, a rigid polyurethane material that guarantees excellent performance as regards resistance as well as being 100% recyclable and fireproof. The result is a functional and comfortable ...

contemporary chair
CUBA+CUBO by Enzo Berti
Although their geometric lines and right angles result in a rigorous, rigid appearance, these pieces offer a suprising degree of comfort thanks to the profiling of the seat and the flexible curve of the back rest. The Cuba+Cubo collection ...

contemporary chair
HOLE by Enzo Berti
Handle or letterbox, graphic mark or negative outline? The Hole's hole is a void with a strong presence that offsets the fullness of the curved wood and provides relief to the continuity of its surface. It also promptsan intuitive us ...

dining chair
JAPAN by Estudi (H)AC
This is a fun and full of colour collection designed by Estudi(H)ac and completely made in Spain. It includes auxiliar and dining tables, chairs, armchairs, lamps and planters made up of inox to guarantee the maximum durability. It is ...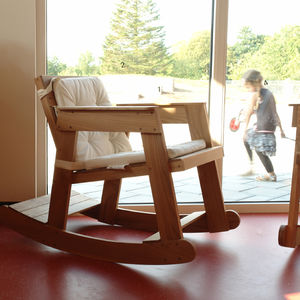 contemporary chair
TOUTER

original design chair
HORSE ROCKER by Doshi Levien
The ›Rocker‹ rocking horse, designed by Nipa Doshi from India and Jonathan Levien from England will be a fantastic addition to the new collection of children's furniture from Richard Lampert. First presented at Cologne Furniture Fair ...

contemporary chair
MASH by Alexander Seifried
A FOLDDING CHAIR WITH HISTORY It's all in the name: with its colours and looks, Mash is a humorous homage to the 1970 blackly comic anti-war film directed by Robert Altman. Small chair, big history: one day, in the backroom of an ...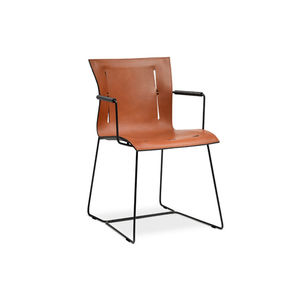 dining chair
CUOIO by EOOS
The logic of minimalism determines the shape and materials of the Cuoio Chair. Leather and steel are the components of surface and framework. Minimalist and timeless. The fact that the chair is separable and recyclable ensures it is a ...

dining chair
HEE DINING by Hee Welling
The philosophy behind the Hee Chair was to take an archetypal chair and perfect it down to the last detail while cutting the expression to the bone. The goal was to create a contemporary chair that would fit into a wide range of contexts. ...