contemporary chair
INCONTRO by Lella & M.Vignelli

contemporary chair
9 by Komplot Design
The 5 mm thick shell is made of interjected moulded HiRek material and is available in a range of different colors. The swivel base is made of chrome. H: 47/80 x L: 48 x W: 53,5 cm
See the other products
GUBI

contemporary chair
92 by Komplot Design
The wooden shell is made of moulded 3-D veneer and is available in American walnut, oak and black stained beech. The front upholstering comes in various fabric qualities and colors. The swivel base is made of chrome. H: 48/80 x L: 48 x W: 53.5 cm.
See the other products
GUBI

contemporary chair
JULI 09 by Werner Aisslinger
Swivel armchair with adjustable height in molded integral polyurethane foam (gypsum white, dark grey, sand, Marlboro red colors) or upholstered in fabric, leather, extra and super leathers. Base in polish chromed die-cast aluminum, 4-spoked ...

Lotus is a complete collection of seats composed of low, medium and high armchairs, with or without armrests, with four or five legs, with or without wheels and a rocking movement with variable heights. Lotus fits easily into a home décor ...

contemporary chair
DARLING 4 by Nigel coates
Collection of padded armchairs upholstered with soft leather. Shell made of cold moulded polyurethane foam. Wooden or crome plated steel legs. H 46-65-83 W 59 D 59
See the other products
Frag

contemporary chair
KATI X by Mika Tolvanen
Set of chairs in soft leather with body in cold moulded polyurethane foam. Chrome pleated or lacquered steel legs. H 47-83 W 55 D 54
See the other products
Frag

contemporary chair
FIBER by Iskos Berlin
FIBER SIDE chair is a new member of the FIBER chair family – Designed by Iskos - Berlin for Muuto. With an eye for detail, every line and every curve has been designed to balance maximum comfort with minimum space . FIBER SIDE chair ...

contemporary chair
TINELLA
finish: CR/58 matt periwinkle blue, cm 45x43xh.84 - h.s. 52

dining chair
606 by Labsdesign
It can be so wonderful to sit in good company around the dining table. And it's even more wonderful if it's a Rolf Benz 606 you're sitting on. The soft upholstery of the chair system ensures superlative seating comfort. And thanks to ...
See the other products
Rolf Benz Ag & KG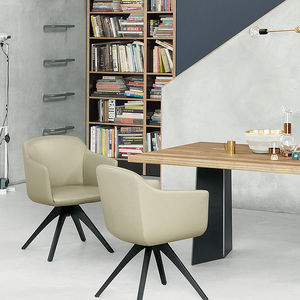 dining chair
640 by This Weber
The timeless Rolf Benz 640 seat sculpture combines the generous comfort of an armchair with the filigree aesthetics of a chair, making it the perfect seating solution both at the dining table and on its own in a room. The shell shape, ...
See the other products
Rolf Benz Ag & KG

dining chair
EASE by Vogtherr & Prestwich
The Ease adds a new facet to the meaning of comfort: the chair's back rest consists of flexible 'fingers' that mould to fit your body. The Ease is accordingly the perfect chair for the dining table on which you can lean back for endless enjoyment…

contemporary chair
RENOIR
Despite its sleek lines, the Renoir armchair from the Joli Cosy product range is a must for anyone looking for pure conviviality. The seating features an unmatched suppleness, thanks to the no-sag lining, reminiscent of luxurious settees, ...

This chair combines height with cozy sitting. The frame is in brushed stainless steel and has elegant curves. The 'Nosag' upholstery provides the chair with unparalleled seating comfort, just like with better couches and large old armchairs ...

contemporary chair
AGORA by G. Bernal & R. Isern
A functional and imaginative design makes AGORA a versatile and polyvalent chair-programme. Plywood board made of beech layers, 11mm thick and finish in transparent polyurethane varnish or lacquered. Upholstery thickness: 10mm. C.O.M.: For ...

contemporary chair
ARENA 033 by Pasi Pänkäläinen
ARENA 033 is a lightweight stackable chair, which is manufactured from a single moulded shape; it manages to be modern and retro at the same time. The chair collection has achieved great popularity both in Finland and internationally. ...

contemporary chair
ARENA 022 by Pasi Pänkäläinen
The Arena 022 collection of chairs has over the years become very popular, particularly in various kinds of learning environments.The chairs strong points are its high-class ergonomics, stylish design and finishing touches, as well as ...


contemporary chair
SIENA : 640S by Katerina Zachariades
The Siena Collection of lounge chairs also includes daybeds, swivel chairs and benches. The tub chairs feature a flowing curved profile and simple turned legs or, as an option, a polished timber base.

original design chair
PLANKA by Börge Lindau & Bo Lindekrantz
With the inspiration from a man sitting on a beach using a plank stuck in the sand and a rolled up towel as a headrest, Lindau/Lindekrantz designed Planka. Planka has a full 360° swivel and an adjustable headrest. All that's missing is ...

contemporary chair
LEI by Dondoli & Pocci
An image that emphasises the value of the technical dimension and of the object functionality. Lei is part of an extensive collection of shape and colour variants; this chair has a steel frame and painted or chromed legs. The body ...

contemporary chair
CIRENE
Versatile and comfortable, Cirene has an anatomical chassis in curved beech and a slender structure of polished chromed steel. With or without armrests, in fixed or swivel versions with wheels, also covered in fabric or leather. In all ...

dining chair
LAVENHAM EXECUTIVE
For dining and meeting tables, or behind a desk, Lavenham Executive reprises the quilted pattern on the back of the chassis of the Lavenham chair. A versatile, transformable seat: nude, with a small cushion or covered with a matelassé ...

original design chair
ELLA by Jacopo Foggini
Chair with armrests, entirely handmade in polycarbonate. It is supported by a pedestal that allows rotation. The stem is black. The petals of transparent and soft hues mix green and blue. Each chair of the Jacopo Foggini Collection is ...

Luxurious and stylish With its elegantly rounded shell on a chromed rounded pedestal, the Globe seems to have escaped from the very first James Bond movie. Many people who see this chair feel a slight touch of nostalgia. The Globe is ...
See the other products
Artifort

contemporary chair
MOOD RELAX by René Holten
A Mood for every mood Ultimate sitting comfort and many faces - that is Mood by René Holten. A sleekly-upholstered bucket seat with five different bases, four different styles of upholstery, and a great many colour and fabric options. ...
See the other products
Artifort

contemporary chair
GALA by Pininfarina
The chair's back is entirely made of solid wood. The seat is upholstered in full-grain leather, available in different colours as outlined in the sample chart on this catalogue. The round base is provided with a central revolving leg ...

contemporary chair
GIOCONDA
A chair with back and seat made entirely of solid wood planks, glued together to create this distinctive hugging form, covered with leather. Round base with central rotating legin brushed steel. Also available with a seat in wood and a bronzed base.

contemporary chair
COMODA by Maurizio Peregalli
L 55 x 43 x H 84 cm - Seat H 48 cm Frame: semiopaque black on castors semiopaque white on castors Back: revolving back / black thousand points rubber black polyurethane - grooved MDF stained mahogany Seat: black thousand points rubber ...