See the other products
ZACK-Design

bedside table
PASADO UNO G
See the other products
ZACK-Design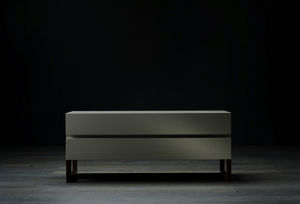 Wooden structure available in glossy or matte lacquered finishes or with real wood veneer. Base in solid moka ash wood. Integrated handles.
See the other products
Bellavista Collection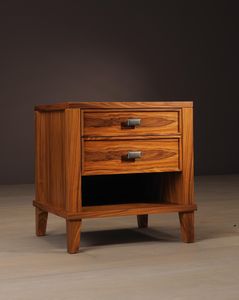 Wooden structure available in matte lacquered finishes or with real wood veneer. Cast bronze handles included.
See the other products
Bellavista Collection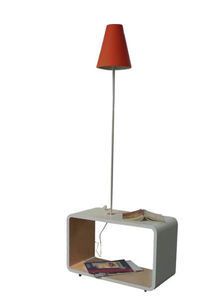 bedside table
SLIDE BESIDE
SLIDE BESIDE Year: Material: Mentored by: 2007 metal and plywood Prof. Mainer-Aichen and Prof. Volker Albus Slide Beside is a table and a reading lamp twosome with rollers underneath. The metal lamp-stand can be used as a ...

For customized furniture solutions and information on available colors and finishes browse our Product Lines or download our Living Essentials brochure for variations on modern nightstands and modular side tables.

bedside table
PARIGI by Studio Catoir
Pedestal table with base in gloss black lacquered turned solid limewood; top in natural varnished solid sycamore.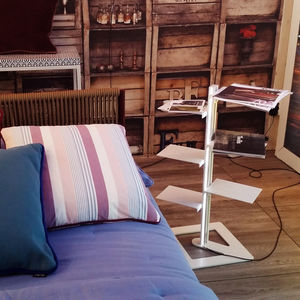 bedside table
LIBRERIE inUNO BLACK & WHITE Light

This charming bedside table proudly displays its drawer mechanism. Nothing hidden ! Dim. W45 x D40 x H75 cm Dim. W18 x D16 x H30 in.

bedside table
THE UNBUTTON by Cristina Bulat
Designed by Cristina Bulat, the nightstand The Unbutton Collection was inspired by the outfits of Pin-up models. While some people might think the Pin-up culture was all about women posing provocatively, Cristina believes it was more ...

bedside table
SMART by André Schelbach
This variable bedside table and chest of drawers system was especially developed to fulfill the requirements of the box spring beds with their different heights. Bedside table with five different heights (30, 40, 50, 60 and 70 cm), two ...

Create your own comfort zone. Space designed to provide you energy throughout the day, should meet the highest requirements. Quality, ergonomics, color, has the effect of silencing and bring peace. We guarantee lockers that its quality ...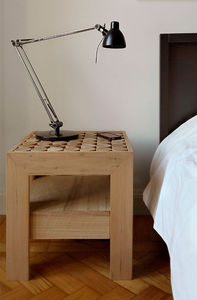 bedside table
SOFIA by Monica Freitas Geronimi
bed side table | stool 100% made in Italy design monica freitas geronimi Bed side table in wood teka, custom dimensions on request.

A dyrlund bedroom need not be with a wardrobe for rooms without sufficient space or simply for a lighter look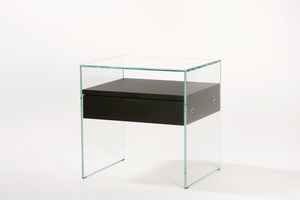 bedside table
ZEN 5: COMODINO
Drawer in grey wenge stained oak veneer, leather knob

- 2.5cm H table top - Drawer 8cm H - Crossed legs 5cm profile


Nightfly bedside table, in glossy ebony, characterized by fronts with the grain alternating vertical and horizontal. Also available in glossy nero 28 and latte 68 lacquered.

Two very rare pieces of Scottish Walnut were sourced for a pair of coopered nightstands for a client, originally from St Andrews, now residing in Hertfordshire. One section came from a wind blown tree in Bothwell, of which only one ...

bedside table
DREAM by Peter J. Lassen
hide away the day in the drawer and sleep well. DREAM is by your side when you fall asleep and wake up. DREAM is ideal as a bedside table, but can also be used in many other rooms in your home. Montana Collection is our take on ...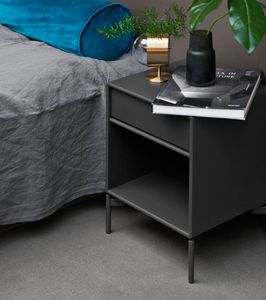 bedside table
by Peter J. Lassen
A peaceful bedroom provides peace of mind. The Montana Bedroom headboard creates an elegant, welcoming frame around the bed and the sleeping area. Create harmony by combining the many different elements from Montana Wardrobe, Montana ...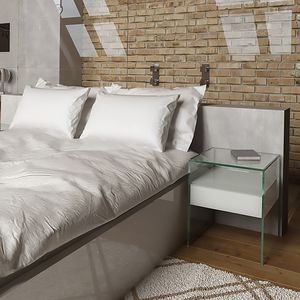 the design of this multifunctional glass bedside table captivates you with its straight-forwardness, its form following the function. The compartment with integrated push-pull function can be arranged in your favourite colour following ...
See the other products
Dreieck GmbH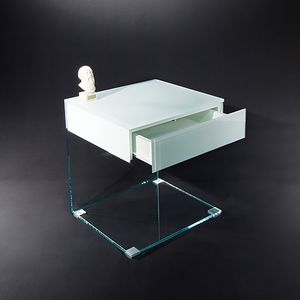 The glass bedside or coffee table PURE UP offers straight design with a functional compartment. With its height of 52 cm it can be handily placed next to a modern boxspring bed. The compartment with push-pull function positioned at the ...
See the other products
Dreieck GmbH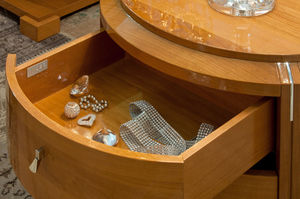 SELVA stands for traditional craftsmanship, up-to-date interpretations of classic forms, and an inimitable feel for colors, shapes, and proportions. Particular attention is paid to the top-quality finish treatment of the furniture. With ...

bedside table
AURORA by Ricardo Marçal
Bedroom case goods with clean lines giving you the extra space to store and protect your things. Height 45 cm | 17.72" Width 60 cm | 23.62" Depth 44 cm | 17.32" Assembly Product to be assembled (with assembling instructions) Instructions 0623168.PDF Features -Two ...
See the other products
TEMAHOME

Matching one drawer night stand for the Float bed. Height 31 cm | 12.20" Width 45 cm | 17.72" Depth 43 cm | 16.93" Assembly Product to be assembled (with assembling instructions) Features -Usable drawer space 20.5 cm | 8" high x ...
See the other products
TEMAHOME

bedside table
WOO TWINS by Kola Ootro
Designed by Kola Ootro and made from MDF and oak veneer, it is part of the Woo family furniture range and complements with any of our drawers. Size 71х50x40 сm. Material Frame – painted MDF and oak veneer; legs – solid maple.