The Online Architecture and Design Exhibition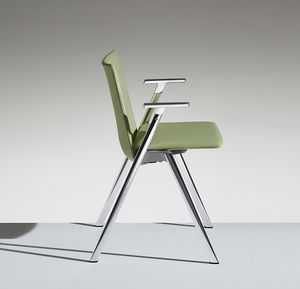 stackable conference chair
HL3 by Lucci & Orlandini
Multi-purpose seating system for work, study, community, contract areas, featuring a simple design and constructional solutions that provide high levels of strength and durability, associated with formal lightness and comfort. Seat and ...

contemporary chair
TEODORA by Massimo Scolari
Armchair available in fixed or swivel versions, height and tilt are adjustable. The back frame is in structurally rigid polyurethane and in flexible cold- foamed polyurethane. The seat is in multilayer with padding in multi-density polyurethane. ...

contemporary chair
OHM by Emmanuel Babled
Ohm is a small armchair with a wide and dynamic form. A wrapping frame, where naturally starts the armrests, inviting o seat comfortably. The light shape is marked, for the upholstered version, by the two colours version. Thanks to its ...

contemporary chair
APPLE by Claudio Dondoli & Marco Pocci
Apple armchair, stained wengé or bleached oak shell. Thick edge becomes an ergonomic armrest. Round steel spider frame version.


conference chair with armrests
COMET XL by Gunilla Allard
The chair series Comet has grown into a complete family, the chair concept allows you to customize your own favorite, a neater chair or exclusive armchair based on your own needs. Comet XL moves Comet to the executive level, with its ...

contemporary chair
CORTINA by Gunilla Allard
Cortina has an organic form sculptured to closely fit the human body, with minimal upholstery and maximum comfort. Cortina has a molded back in birch, oak, ash or walnut together with an upholstered seat. It comes as a four-legged ...

contemporary chair
LAVENHAM EXECUTIVE
For dining and meeting tables, or behind a desk, Lavenham Executive reprises the quilted pattern on the back of the chassis of the Lavenham chair. A versatile, transformable seat: nude, with a small cushion or covered with a matelassé ...

contemporary chair
SILVER
Fixed, swivel, with or without armrests, for indoor and outdoor use, also in stackable version: Silver is 20 years old now, but still looks brand new. Vico Magistretti based its design on the proportions of the legendary Thonet chair, ...

contemporary chair
PRO FOUR-LEGGED
For the PRO CHAIR four-legged frame you can chose either the coloured powder coated frame or the chromed frame. You can stack up to 8 chairs (stack protection incl.). You want to use PRO four-legged frame in the outdoor area? Talk to ...

contemporary chair
PRO X-FRAME
You can choose the X-frame in the usual 6 PRO colours and chrome. All PRO seat shells are made of 100% polypropylene. Which means, they are 100% recyclable. With anti-slip, matt texture on the seat and hard-wearing texture on the seat ...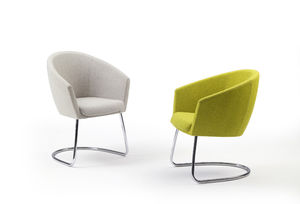 adjustable-height conference chair
MEGAN by René Holten
Always comfortable An elegant armchair for conference room or dining room. The seating shell is closed, with an open base available in chrome or powder coating. Either as a low armchair with four legs or a sledge base or as a conference ...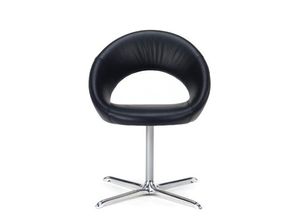 contemporary chair
NINA by René Holten
Contemporary and luxurious A contemporary, luxurious design. Elegant and comfortable. For meeting rooms and dining rooms. The rounded, well-fitted back makes the chair comfortable as active seating or in a more relaxed position.

contemporary chair
MOON 663RA4 BY GABRIEL TEIXIDÓ
Moon light, upholstered shell lighter than its sister "Moon bold". Aluminium castors in 4 or 5 wheels. Adjustable seat height.

original design chair
CAPRICE
Bold & A Signature Piece Caprice is something to desire for adding a bold statement within any space. The seat design creates the impression of delicate lace, giving this chair a unique aesthetic. Paired with five different colors and ...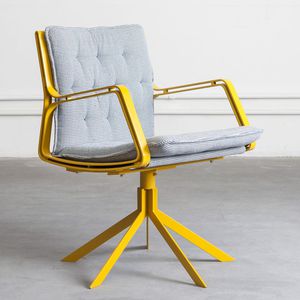 Product description Armchair in carbon steel Filling with foam and synthetic fabric Structure with painting in different colors Natural leather upholstery and light and heavy fabrics (canvas) in cotton Available with a fixed or rotating ...

contemporary chair
ANGELINA by John Ghekiere
The Angelina chair was created for people who like to combine straight lines with genuine comfort. The frame in brushed stainless steel has an elegant, curvy design. The chair is upholstered with premium 1 mm thick Italian leather.
See the other products
Ghekiere Industries

contemporary chair
CEZANNE by John Ghekiere
The term 'seating comfort' could have been invented specifically for this leather chair, which is available with or without armrests. That comfortable feeling is further enhanced by the additional lumbar support and by the Nosag springs, ...
See the other products
Ghekiere Industries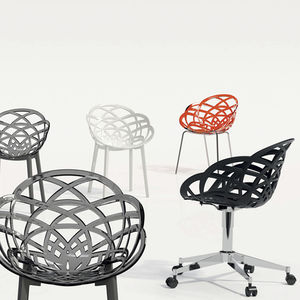 contemporary chair
FLORA CHIEF
Flora Chief made of polycarbonate with height adjustable swivel base on wheels. Anti UV stabilized.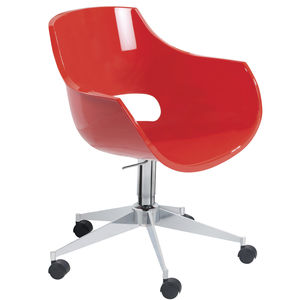 contemporary chair
OPAL CHIEF
Opal Chief made of polycarbonate with height adjustable swivel base on wheels. Anti UV stabilized.

contemporary chair
C-BAR by Rutger Andersson & Måns Broman
Design your own unique furniture – mix seats and table tops with the legs you prefer. C-bar gives you possibilities to create your own chair, bar chair or table. The collection is always evolving and updated with the latest trends. All ...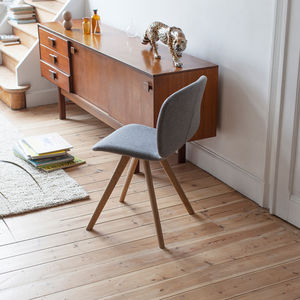 contemporary chair
RADAR by Sylvain Willenz
Renewed and unforeseen ergonomy, a pure and elegant design combined with a distinctive back that not only gives it an unique character and typology, but also offers additional comfort and a generous sense of shelter. High-quality birch ...

contemporary chair
LUWAN by Marco Piva
An elegant historic district in the ancient French Settlement peeps out from the west side of Huangpu river. Modern and ancient heart of Shanghai, Luwan plays host to the most exclusive area of Huaihai Road, famous for its luxury international ...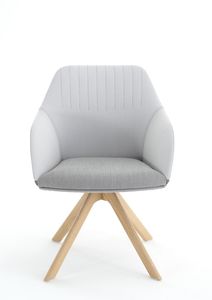 contemporary chair
EASE by Vogtherr & Prestwich
The Ease adds a new facet to the meaning of comfort: the chair's back rest consists of flexible 'fingers' that mould to fit your body. The Ease is accordingly the perfect chair for the dining table on which you can lean back for endless enjoyment…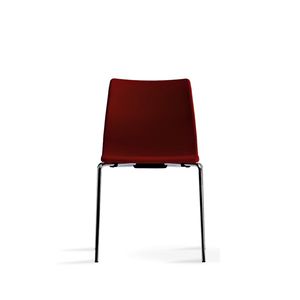 contemporary chair
RAL by Joel Karlsson
RAL is a complete serie of chairs for the contemporary interior environment. With 6 different bases RAL can be used in almost any situation. RAL is short for Range for Activity and Leisure and is developed to meet requirements in different ...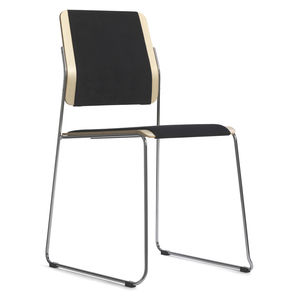 contemporary chair
MONTOYA by Ingrid Backman
Montoya is a perfect chair for large and small temporary furnishings. The excellent stacking capabilities and the low weight makes Montoya easy to use and store when needed. Montoya is inspired by racing cars drivers seat and the design ...

traditional chair
JOSEPHINE
This home office swivel chair takes on a stylish appeal with a sophisticated channeled back design and delicately tapered armrests exposing the richness of mahogany wood. Size W62 x D67 x H92 cm