contemporary table and chair set
MAX IN THE BOX by Thomas Maitz
For children from 10 months. Delivery time: 2 weeks, for non-stocked products we gladly arrange an individual delivery date with you. TÜV-tested (German Product Safety Test) Material: birch plywood Size: 36 x 36 x 36 cm Weight: 8,2kg

contemporary table
CASPAR
For children as well as for adults. Delivery time: 2 weeks, for non-stocked products we gladly arrange an individual delivery date with you. Measurements: 118 x 59 x (max.) 72 cm Tabletop adjustable in height from 45 to 72 cm Material: ...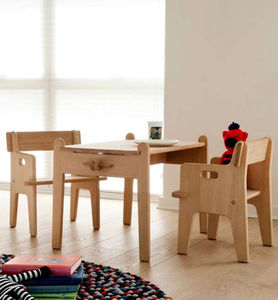 CH411, also known as "Peter's Table," is a design classic and a perfect present for small children. Safe, robust and with no sharp edges the table is designed to accompany Peter's Chair (CH410). Dimensions: 72 cm (length), 45 cm (width), ...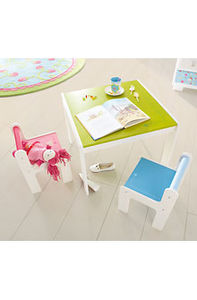 The table is just the right height for the smallest, perfect for playing and drawing. Material: birch plywood. Dimensions: w 60 x h 46 x d 60 cm.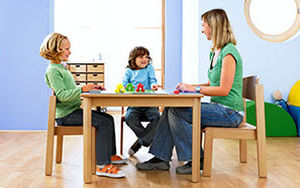 contemporary table and chair set
Chairs and tables are the central element of the furnishing in any room, regardless of whether its a group activity room in a kindergarten or an art room in a school. HABA has the ideal solution for all rooms! We offer many different ...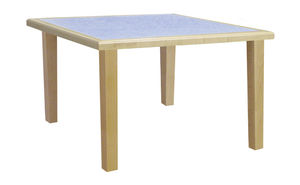 contemporary table
ALGONQUIN
Part of the Algonquin Collection featuring simple, elegant lines, the traditional-looking Algonquin Table is distinguished by it's solid wood, squared post legs. A durable table design that compliments any interior. The Algonquin is available ...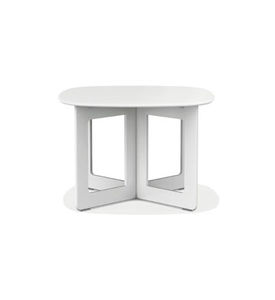 contemporary table
CASALINO JR. by Kressel + Schelle
Popular in the seventies, forgotten in the eighties. In 2007 we wanted to introduce Casalino again. Casalino 2007 is not a remake, its an original. And still as beautiful as it ever was. Casalino shows up well everywhere, at home and ...

contemporary table
JUNIÖR by Günter Beltzig
The JUNIÖR is made in Bavaria, Germany, using state-of-the-art plastic injection moulding. It doesnt topple, is stackable and manufactured from one single piece with no brackets or corners which gather dirt. The JUNIÖR child's table ...

Kids just wanna have fun! While they will simply enjoy using it, their parents will appreciate the superior workmanship and the delicate shape of this wooden table, handcrafted in a timeless design. The use of all-natural and eco-friendly ...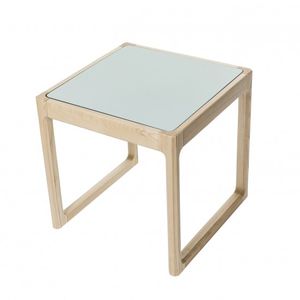 contemporary table
FLIP : 2454
Super cute Flip-Top child's table in a simple design that will fit in to any room. The table is made of ash with a reversible top in melamine and comes in turquoise and light grey. Material Ash wood, top in melamine Measurements L50cm W50cm H50cm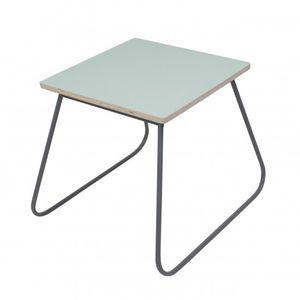 contemporary table
WE PLAY
Smart table for the children's room or living room where the child can sit and do homework or draw. The table has a metal frame and a top made of plywood. Material Frame in metal, plate in plywood Measurements L247cm W47cm H51cm


POLaRT presents fabulous coffee and side tables in over 19 colors that range from conservative to stately bold and brazen. Let these tables describe you! The intricate victorian detailing in each of the coffee and side tables ...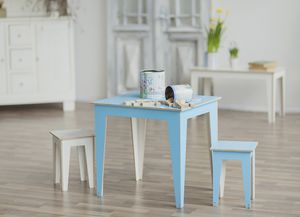 contemporary table
KIDIKI
Material: plywood Color: Dimensions: 50 x 60 x 56 Weight: 5 kg Shipping dimensions: 56 x 60 x 5 cm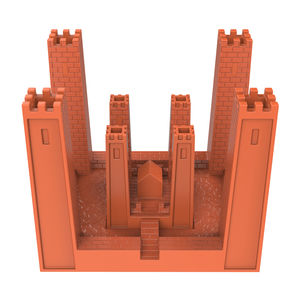 original design table
CASTABLE by Ambroise Maggiar
Rotomolded polyethylene plastic Lime Yellow / Terracotta / Light Grey / Pale Pink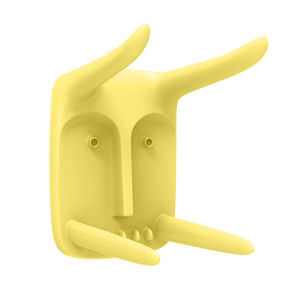 original design table
VODO MASKO by Ambroise Maggiar
Rotomolded polyethylene plastic Lime Yellow / Orange / Pale Pink / Yellowish White Hanger only available in Light Grey

contemporary table and chair set
FARMHOUSE
Expert craftsmanship and our exclusive hand-applied Rustic Sun Valley White finish give this play table all the warmth of the farmhouse furniture that inspired it. 46" wide x 30.5" long x 22" high Expertly crafted ...

contemporary table and chair set
MY FIRST
Create a space for arts and crafts, tea parties and more with a table and chairs that are perfectly sized for young kids. Table: 24" square x 17.5" high Chair: 11" wide x 12.5" deep x 21" high Table has ...

original design table and chair set
BIG MAMA by Sotano Studio
A mother elephant with her brood become a playful furniture set for children!
 (Big Mama is supplied in the selected KIDS color range by the designers) P cm. 48 / inch. 18,9 L cm. 95 / inch. 37,4 H cm. 45 / inch. 17,7

original design table and chair set
MY TREE by Sotano Studio
My Tree is a giant jigsaw puzzle, with a different function for each piece. Disassemble the tree and convert it into a little desk, two chairs, a blackboard and a small trunk for toys. Beside the puzzle is teaching the kids how to order. ...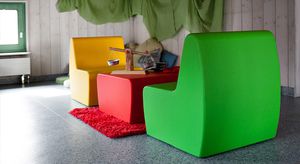 Fornini is our series for children. In the kindergarden or at home, Fornini fit perfectly for children because they are soft, cute and colourful but also hard-wearing and easy to clean.

Tabletop: 25mm chipboard covered with 0,5 - 0,8mm laminate, edges in solid birch. Underneath the board is reinforcement. Edges and corners of board rounded 2 mm. Legs of the table: birch plywood Heighths of the table: 400; 460; ...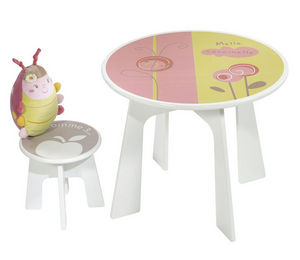 contemporary table and chair set
MZCE1


original design table
GREENPLAY® SERIES by Joe Fiacchino
Designed by Joe Fiacchino, Greenplay is a furniture system thats safe for kids. These whimsical, colorful, durable furnishings feature recycled, renewable, and low-impact resources with low-VOC emission finishes. With its earth-friendly ...

contemporary table
LA PREMIÉRE
Dimensions Width: 100cm Height: 54cm Depth: 60cm