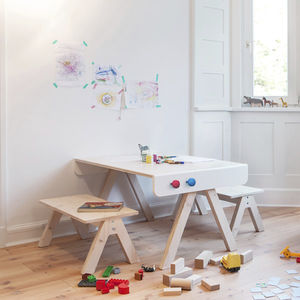 contemporary table and chair set
FAMILLE GARAGE by Alexander Seifried
Living in a garage? The child's room as a workshop? Exactly that! Childhood memories inspired designer Alexander Seifried to develop this modular furniture system for children. What's special about this design is the fur- niture's ...

contemporary table and chair set
WONDER BOX by Monica Förster
At first glance, ›Wonder Box‹ appears to be a mo- nochrome cube, when in fact it's a table and matching bench that fit perfectly one into the oth- er, forming a compact block. On further inspection, the duo presents many more practical ...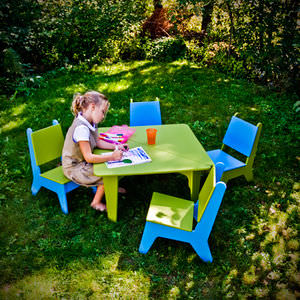 In its first year on the market the BBO2 collection is a winner of both Time Magazine's Top 100 Green Products and Garden Design's Green Award. Designed in collaboration with Los Angeles designers Mark Rios, Julie Smith-Clementi, and ...

Every child needs their own space and the Loll Kids Play Table with Kids Cricket Chair allows for just that. Whether they're enjoying their afternoon snack or working on their next science experiment our Play Table provides the space ...

contemporary table
JAKIN by Abad diseño
Specially designed for the equipment of Libraries, able to meet with a wide range of needs, from the small office to the the big Public Library. It is base on a modular system allowing solutions "to measure" for any different necessity of furnishing.

contemporary table
MARQUETTE
This is the oft-imitated-but-never-equaled classic creative seating solution for fun or formal applications. Its flexible, laminated hardwood shell comes with unexpected, responsive comfort, and two perimeter shapes combine with cut-out ...

contemporary table
AFRA by W.Sirch & C. Bitzer
childs table made of raw, finely-polished birch plywood for children of 2 to 8 years of age pencil groove with high-quality felt inlay in three different coloured designs table can be dismantled measurements: 57 x 60 x 87 (L/H/B) height ...
See the other products
Sirch

contemporary table and chair set
CLAUS ZU TISCH by W.Sirch & C. Bitzer
combination of children's stool and children's table. thanks to an easy coupling mechanism the seat height and the distance to the table can be adjusted by simply inserting the support bar of the seating disc into one of the two drill ...
See the other products
Sirch

contemporary table and chair set
VROOM JUNIOR by Espen Voll, Michael Olofsson & Tore Borgerse
VROOM junior is a module-based furniture system consisting of low benches and tables adapted specially to suit small children. The steel details are hot-dip galvanised (901) and designed for long-term use. Choose from nearly 200 different ...

This small low table on wheels can be used as a night table with the LIFETIME modular junior bed as a separate element or slipped under the bed. Your child will appreciate to handle it and to play without any danger with the sliding ...

Low sofa table with two large storage volumes, one is open, and the other is closed with a flappable top. This low table is adapted for a use as well for children as for adults.The children will love to go inside the open volume so the ...

square table
CRAFT : PE-XNPT-CFT-20A
Ages: 2 - 5 5 - 12 Accommodates: 4-6 Description: The perfect table for children to explore creative projects, while containing the mess. Table top has a raised "lip" to contain crafts with enough room for four or more toddlers or preschoolers. ...
See the other products
Play Mart

rectangular table
WORKBENCH : PE-NNPT-WRK-02B
Ages: 2 - 5 Accommodates: 2-4 Description: Sturdy, no-nonsense workbench is the perfect "project" table for little builders to do construction projects, arts & crafts, 18ing, etc. Contains a full length shelf below to hold 19 bins. Works ...
See the other products
Play Mart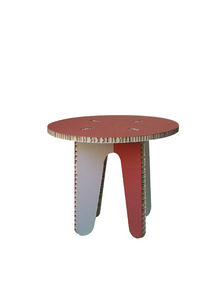 small table in honeycomb cardboard, assembled through interlocking pieces. Colours: natural or from the catalogue. dim. object 55x55xh46 cm other sizes when request

Shown with red Eco-Armor® top and blue frame. Also available with a painted frame.

contemporary table and chair set
BAMBINO
cheerful and colourful Children are engulfed by their own play worlds, which are tailored exactly to their sizes and requirements. Thus they play grown-ups in miniature and for once can at last feel at home on the proper scale. And since ...

contemporary table and chair set
KALLE & CO
playful childrens furniture Its like a role play. When the little ones politely invite their guests to sit down, the grown-ups are hardly able to repress their smiles. The scene being played out is so similar to everyday family life. With ...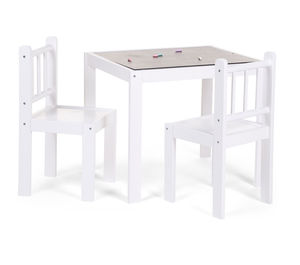 contemporary table and chair set
TB2CW
Dimensions: 640 x 530 x 540 mm Weight: 12.40 kg DIMENSIONS: 64 x 53 x 54 cm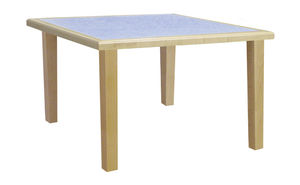 Part of the Algonquin Collection featuring simple, elegant lines, the traditional-looking Algonquin Table is distinguished by it's solid wood, squared post legs. A durable table design that compliments any interior. The Algonquin is ...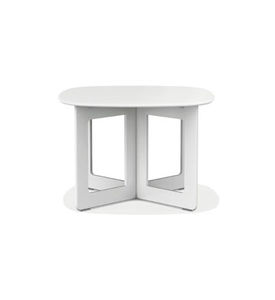 contemporary table
CASALINO JR. by Kressel + Schelle
Popular in the seventies, forgotten in the eighties. In 2007 we wanted to introduce Casalino again. Casalino 2007 is not a remake, its an original. And still as beautiful as it ever was. Casalino shows up well everywhere, at home and ...

Kids just wanna have fun! While they will simply enjoy using it, their parents will appreciate the superior workmanship and the delicate shape of this wooden table, handcrafted in a timeless design. The use of all-natural and eco-friendly ...

POLaRT presents fabulous coffee and side tables in over 19 colors that range from conservative to stately bold and brazen. Let these tables describe you! The intricate victorian detailing in each of the coffee and side tables ...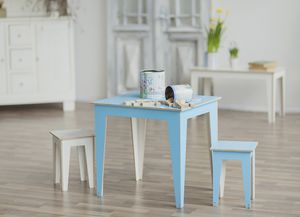 contemporary table
KIDIKI
Material: plywood Color: Dimensions: 50 x 60 x 56 Weight: 5 kg Shipping dimensions: 56 x 60 x 5 cm

contemporary table and chair set
FARMHOUSE
Expert craftsmanship and our exclusive hand-applied Rustic Sun Valley White finish give this play table all the warmth of the farmhouse furniture that inspired it. 46" wide x 30.5" long x 22" high Expertly crafted ...

contemporary table and chair set
MY FIRST
Create a space for arts and crafts, tea parties and more with a table and chairs that are perfectly sized for young kids. Table: 24" square x 17.5" high Chair: 11" wide x 12.5" deep x 21" high Table has ...


original design table and chair set
BIG MAMA by Sotano Studio
A mother elephant with her brood become a playful furniture set for children!
 (Big Mama is supplied in the selected KIDS color range by the designers) P cm. 48 / inch. 18,9 L cm. 95 / inch. 37,4 H cm. 45 / inch. 17,7

original design table and chair set
MY TREE by Sotano Studio
My Tree is a giant jigsaw puzzle, with a different function for each piece. Disassemble the tree and convert it into a little desk, two chairs, a blackboard and a small trunk for toys. Beside the puzzle is teaching the kids how to order. ...