The Online Architecture and Design Exhibition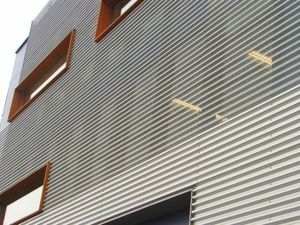 sheet metal cladding
ALUBEL 44
Metal corrugated sheet suitable for: industrial and civil roofing Possible workings on Alubel 40 profile: notching Minimum slope: 7% (this slope depends on the lenght of the sheets. Please refer anyway to local regulations) Standard ...
See the other products
Alubel

galvanized steel cladding
CONCEPT SERIES® : CS-620
Concept Series® Concealed Fastener Panels provide thousands of combinations of articulation, shadows, and sight lines, along with a complete line of design, finish, integration, special systems and detail options. Features: Substrates: Standard ...
See the other products
Centria Architectural Systems

The Polar wall is a complete wall system based on sandwich panels. It includes all necessary framed openings, fasteners and finishing flashings. Different insulation thicknesses and panel profiles are available within the Polar wall system. ...
See the other products
ASTRON

composite cladding
DEKOPAN PLUS
Cladding DEKOPAN by WERZALIT , an unique range that offer nearly unlimited design options for the façade. Aesthetic and stylish, The range of cladding composite DEKOPAN offers one original palette with these 9 wood decor which look like ...
See the other products
WERZALIT

Modern and stylish exterior cladding ​​​​​​​​​​​The full-width King Panel is the new material of choice for stylish exterior cladding. Distinctive in a modern way, King Panel is an impressive and unique timber cladding solution. King ...

aluminum cladding
ALUDESIGN
AluDesign offers fully customized façade designs. It consists of a multi-layer digital print coating that shows up a phenomenal contrast and design depth, enabling freedom of design. With one of the largest and most innovative printing ...
See the other products
EURAMAX COATED PRODUCTS

natural stone cladding
MULTICOLOR RED
HYGIENE AND DURABILITY Ultra-high performing in terms of hygiene, durability and hardness. Perfectly calibrated. OUTSTANDING PERFORMANCE Non-absorbent (practically zero: E ≤ 0.04%), frostproof, resistant to deep scratches, wear, stains ...

Trapezoidal panel design is mechanically snapped and works well for low-slope industrial applications and high performance, pre-engineered metal buildings. PANEL SPECS Snap-Fit Panel Factory Applied Sealant Substrate Offering: 24 and ...
See the other products
FABRAL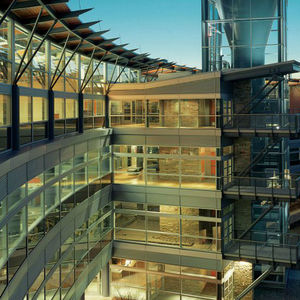 sheet metal cladding
M-42 & M-36
PAC-CLAD has manufactured the "M" exposed fastener panels in the past and has now increased this panel offering even more with an M-36 panel, providing unmatched flexibility for use in wall, interior and linear panel applications. The ...
See the other products
PAC-CLAD Petersen Aluminum

aluminum cladding
LIBERTA™ ELEGANT 500GRANDE
Create a classic and harmonious surface with hidden fix Liberta™ elegant 500 for ventilated steel and aluminium facade systems. Be inspired! Experience the shape and its details on the finished facade surface. Energise your facade with ...
See the other products
Ruukki

wooden cladding
REFURBISHMENT SCHOOL TREUCHTLINGEN by Maier + Hertlein, Wei
In the case of this particular project, and considering the very limited timeframe, which was available for project execution, and the condition of existing structures (reinforced concrete skeleton structure), the most economical solution ...

aluminum cladding
PAINTED
Available in any color, with the ability to match colors of your choice without expensive upcharges – Dri-Design Painted Aluminum Panels offer the ultimate design flexibility for exterior and interior applications. Panels are painted ...
See the other products
Dri Design

cement-glass composite cladding
LOU BLAZER SECONDARY SCHOOL - MONTBÉLIARD
The facades of the school's documentation centre have been clad with GFRC panels. The units comprise cornice mouldings and single-piece returns, and are stamped with a continuous pattern along the various sections of the facade.
See the other products
Betsinor

metal cladding
ZINC HI-TEN®
You can rely on ZINC Hi - TEN® products which have been specifically designed to meet your fabricating performance needs with guaranteed yield strengths and excellent welding and painting. They provide the perfect range of features to ...
See the other products
BlueScope Steel

polymer cladding
NOVISHAKE™ RS8
Replicates the appearance of real wood Specially formulated polymer engineered to withstand extreme temperatures Color present throughout the panel. Formulated with superior U.V. Inhibitors. Laboratory text results exceed industry ...
See the other products
NOVIK

composite cladding
ALPOLIC®/PE
ALPOLIC®/PE is a metal composite material (MCM) that is produced by laminating two thin sheets of aluminum on either side of an extruded thermoplastic core. Other metal composite materials are also available (MCM). The metallic surfaces ...
See the other products
Alpolic

stone cladding
TX ACTIVE® by Italcementi
Selected by Italcementi as a partner since the introduction design of their i.lab designed by Richard Meier, we are the largest manufacturers of architectural and structural elements with TX Active®, the active photo-catalyst capable ...
See the other products
Styl-Comp

composite cladding
ALUBOND U.S.A GREEN
The ALUBOND GREEN Composite Panel is an eco friendly facade that focuses on minimizing a building's CARBON FOOTPRINT and making significant contributions to the SUSTAINABILITY of a building structure. The reduced carbon footprint of Alubond ...
See the other products
Alubond Europe

ribbed cladding
TRAPEZOIDAL KS1000/2000 RW
Trapezoidal Wall is a through-fix, trapezoidal-profiled insulated wall panel. It is available in 1000mm and 2000mm widths and in lenghts up to 29 metres (depending on width), allowing for fast track and cost effective installation. Profiles: ...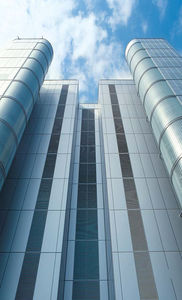 aluminum cladding
FF2®, FF2 PLUS® & FF3®
FF2® and FF2 plus® are pre-painted aluminum sheeting products developed specifically for building facade cladding in ventilated and non-ventilated construction. Coil-coated with high-quality PV​dF paint, they serve for flat sheet, panel ...
See the other products
NOVELIS

cement cladding
UNIFIX SYSTEM®
A rainscreen system for all your exterior walls. The Unifix System® is made with PermaBase® BRAND cement board, Unifix Systems acrylic coatings and some specific components. It provides unequaled protection against water penetration ...

composite cladding
ONDUCLAIR PROTECT
Designed to cope with the toughest environments, ONDUCLAIR® PROTECT can handle your needs. ONDUCLAIR® PROTECT opaque sheets, are made of synthetic resins, fibre glass and flame-retardant fillers core finished on both faces ...


polished cladding
GRAFICHE MARIANO
Universal link in thermosetting powder coated steel. It allows the connection of beams in six right-angle directions, using the joint Z 01/01. The node is formed by assembling 6 plates of polished die-cast aluminium alloy, allowing 18 horizontal, ...

aluminum cladding
HC 35/800MR
Our Rigidal HC 35/800MR profiled sheet is a roll-formed cladding sheet available in aluminium. The sheet can be used in a single skin application or as part of a twin skin façade, offering a versatile solution with excellent acoustic ...
See the other products
Rigidal