The Online Architecture and Design Exhibition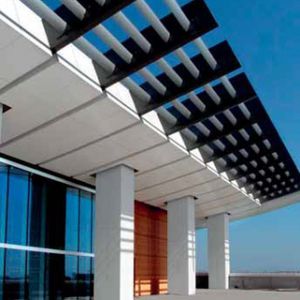 A Solar Shading System is used to shield a building from excess sunlight in order to prevent rooms overheating in summer and make an important contribution to a comfortable room temperature. Passive hollow or sheet metal blades are complete ...

aluminum solar shading
SG7000 SERIES
The D8 Aluminum SG7000 Series Sunshade is designed to provide aesthetically pleasing and economical solutions for energy conservation. By allowing the winter sunlight in and deflecting the summer sun, they help reduce solar heat gain ...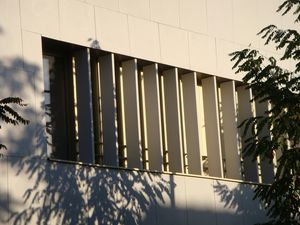 composite solar shading
ACRYTHERM®
enables the custom-made realization of all kind of pieces for façades : Angles Belt courses Shunshade Caps Single or double curvature shells Cornices Curved panels Ceilings Piers Machining Etc,

Due to increasing employment of glazing, every building requires a detailed study regarding solar irradiation, light transmission and energy saving. Beside analyzing aluminium profiles and glass characteristics, sunbreaker's application ...

aluminum solar shading
BRISE SOLEIL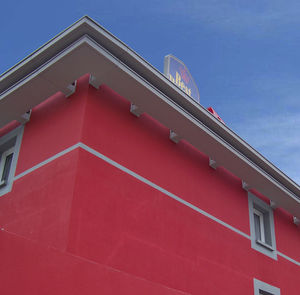 aluminum solar shading
CASQUETTES
See the other products
STONE ALU GROUP

aluminum solar shading
MECHOSHADE® SERIES
Chain-driven MechoShade® roller screens are part of the most comprehensive manual solar protection and room-darkening system available. They feature ThermoVeil® and EuroVeil® (visually-transparent sunscreens and room-darkening shades), ...
See the other products
MechoSystems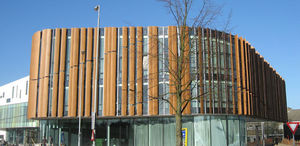 wooden solar shading
DE GROOT
LENCO SLATS Location Town hall Grave, Netherlands Client De Groot Vroomshoop, Netherlands Architect Erick van Egeraat Completion date 2007 Construction -Slats with elliptical cross-section -Machined by 5-axis CNC machine -Timber ...

aluminum solar shading
SUNLAM DELTA
See the other products
AIRSUN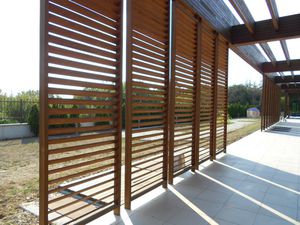 wooden solar shading
NOVATHERMOWOOD SUNBLIND
OPTIMIZE SOLAR ENERGY novathermowood Sunblind products offer an ideal solution and a modern cladding alternative for spaces that receive sunlight throughout the day, Sunblind does more than simply protect the facade from the effects ...

aluminum solar shading
MAXBLOCK™ SUNSHADES: AIRFOIL
• Minimize solar heat gain through efficient shade factor design • Reduce cooling costs and energy use • Credits available for LEED projects • Patent pending detachable mounting bracket designed to allow reglazing • Variety of blade and ...
See the other products
Tubelite

glass solar shading
CUBUS SEESTERN by Schneider & Schumacher Architekten
Through the innovative facade which opens and closes automatically, depending on the weather conditions, the CUBUS is an energetically optimised building that uses a smart control technology to save energy. The domestic engineering employed ...

Facade Textile International technologies have taken on board the constraints and requirements of the building industry with a priority on strength and durability in all their products. FTI has achieved unmatched performances, notably ...

glass solar shading
PROVE
INGLAS PROVE is an aesthetic, efficient, maintenance-free and economical solar protection measures for U-profiled glass facades. INGLAS PROVE prevents over-temperature and glare due to direct sunlight, however simultaneously the building ...
See the other products
INGLAS GmbH & Co. KG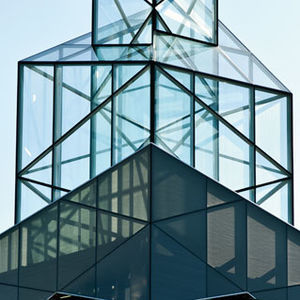 Wire mesh made of stainless steel and expanded aluminum or copper sheets can be incorporated in the cavity of insulating glass units or be laminated between 2 pieces of glass. Depending on its geometry the metal interlayer may offer solar ...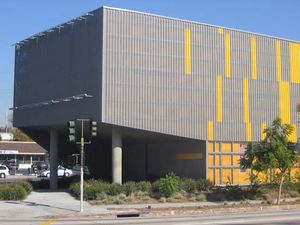 A great example of perforated metals ability to help reduce solar gain into buildings can be found in the San Francisco Federal Building. Our perforated stainless steel clads this visually stunning and extremely functional South facing façade.

aluminum solar shading
SUNBREAKERS WITH CORD
Sunbreaker with metal slats for outdoors made up of prepainted cold-profiled aluminium louvres (94 mm wide) with a gasket inserted on profiling which muffles noise and improves the darkening effect of the blind. The slats have alternated ...
See the other products
CARMINATI SERRAMENTI.

See the other products
Sapa Building Systems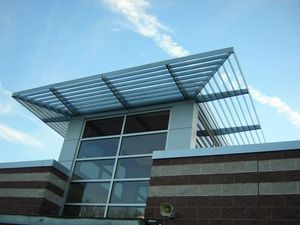 metal solar shading
SUNSCREENS
Whether you are trying to shade an entrance, punched opening, or an entire wall, we can design, fabricate, and finish any sunscreen to meet your needs. We have a variety of extrusions available, including shapes such as airfoils, bars, ...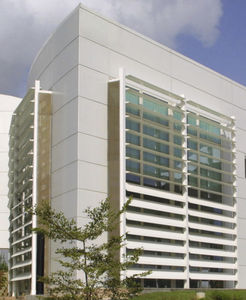 aluminum solar shading
EQUINOXE
Aluminium ovoid blade from 120 to 600mm Horizontal or vertical Mobile or fixed
See the other products
SAB INTERNATIONAL

aluminum solar shading
LOUVER PROFILES
Shading of buildings with outside panaromic view not effected Esthetic appearence for buildings Different models Aluminium profile size up to 300 mm width. Possibility to special orders processing depending on quantity Vertical and/or ...

glass solar shading
VANCEVA
Semco Color Vanceva brings colour into our lives: Blue glass roofs make the viewer think of a permanently blue sky, green tinted windows turn the vision of a green paradise behind glass into reality. Semco Color Vanceva creates harmony ...


metal solar shading
CASABLANCA MARINA
See the other products
Jet contractors

Spacemaile Hanging Screens are a simple ceiling-hung solution used to divide interior spaces, create visual privacy or as a backdrop for signage or displays in retail and hospitality. They are perfect for wrapping internal columns and ...

Metal grating and grilles from Hendrick Architectural Products are durable, customizable panels intended for use in Entrance Mats, Ventilation Grilles, HVAC Vent Covers, Trench Grating, Foot Grilles, Tree Grating, Fountain Covers, Revolving ...
See the other products
HENDRICK MANUFACTURING