contemporary coat hook
PA01291 by Marconato & Zappa
See the other products
GRUPPO CONFALONIERI

contemporary coat hook
PA01288 by Colombo & Vantusso
See the other products
GRUPPO CONFALONIERI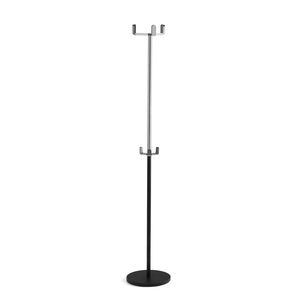 wall-mounted coat rack
BLOSSOM by Swedish Ninja
Blossom in a distinct and elegant family of products inspired by the flowers of nature. Multiple variants of hangers and a mirror creates the Blossom-family. Blossom fit into most public spaces. Steady, with quality finish and care for ...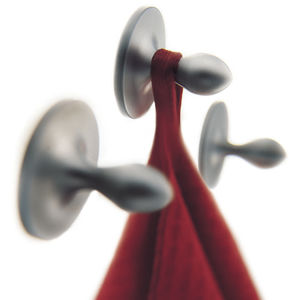 contemporary coat hook
3 PCS.
Self-adhesive hooks for tea towels, potholders and towels Stick them to firm, clean surfaces in the kitchen, bathroom or wherever you need them. MANY USES DEPENDING ON WHERE THEY ARE PLACED SELF-ADHESIVE – EASY TO FIT MATERIAL: Aluminium SIZE: ...

contemporary coat hook
LENO by Giulio Iacchetti
The hanger element is the focus of the project, clearly referring to the iconography of an umbrella handle. The downward-facing handles provide two methods for hanging: the upper curve for resting coats and hats, etc.; the lower one, ...

contemporary coat hook
STABS
Is minimal design still good design? In the case of STABS cloakroom hooks, absolutely. Having reduced the need to hang things up to its aesthetic minimum, the result is a collection of round rods made from Ash. The set of three is ...
See the other products
kommod

contemporary coat hook
BALLS
BALLS wall hooks, made in solid Ash, are an attractive storage solution. The purist design is at home almost anywhere. BALLS is available in two formats to allow for a variety of individual solutions – a set of three, made up of differing ...
See the other products
kommod

wall-mounted coat rack
PIPE by Tim Alpen

contemporary coat hook
GAN-B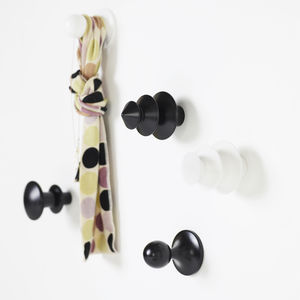 contemporary coat hook
CHESS by Malin Lundmark
The graphically designed and sculpted hooks/hangers in the Chess (2010) series have been inspired by the classic board game. The three different designs – pawn, king and queen – create a dynamic impression when combined, but are also ...
See the other products
KARL ANDERSSON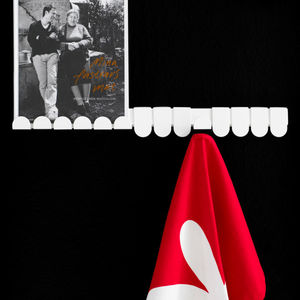 wall-mounted coat rack
FLIPFLOP by WIS Design
FlipFlop designed by WIS Design in 2010, can be used as a decorative hook rack and as a display rack for magazines, brochures or pictures. Use just one in its own, or place several side by side to form a long, decorative border on the ...
See the other products
KARL ANDERSSON

contemporary coat hook
METRIC: 38.30.02
Dimensions: 3.1" L x 0.8" H Features: Double Bathroom Hook Available in 2 Finishes Solid Brass Base Made in Spain SKU# | Option: Metric 38.30.02.002 | Polished Chrome Metric 38.30.02.021 | Stainless Steel

original design coat hook
POSA: 5132
Dimensions: 6.6" L x 3.1" W x 11.4" H Features: Bathroom Hook Available in 5 Colors Made of Powder Coated Aluminum Made in Italy SKU# | Option: Posa 5132.09 | White Posa 5132.11 | Red Posa 5132.14 | Rust ...

coat hanger rack
by Christian Troels & Jonas Birkebæk Poulsen
Versatile and thoughtfully designed, Anker Rack is perfect for hotels, restaurants, offices or bedrooms. A simple hook system holds everything in place and it folds neatly away, almost flat. Anker Rack comes with a 149cm bar for hangers ...

mobile coat hanger rack
INLIN by Stc Studio
Coat stand composed by two aluminium columns and a steel structure in different finishes. Complement it with aluminium hangers, with sanded finish.

wall-mounted coat rack
CLIMB by Stc Studio
CLIMB by STC Studio. Wall rack made of aluminum available in six different lengths. The fixing system of the hangers to the profile simplifies its mounting.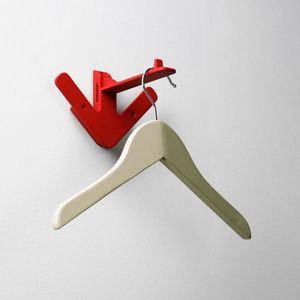 wall-mounted coat rack
ARROW by Gustav Hallén
Three jackets or one bicycle? The Arrow hanger can support 20 kg when retracted, when closed there are still three hooks on which to hang various items. When not in use, Arrow will adorn the wall like an iconic graphic symbol, or you ...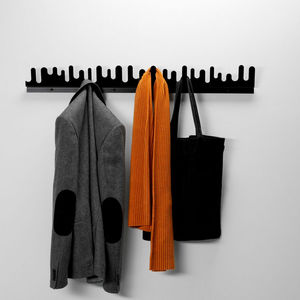 wall-mounted coat rack
WAVE by Nanni Holén
Wave can extend as far as you like, simply attach more hangers. Nanni Holén's organic design turns a hanger into something more, as well as creating a pattern of pointing shadows. The Wave hanger consists of two pieces cut from the same ...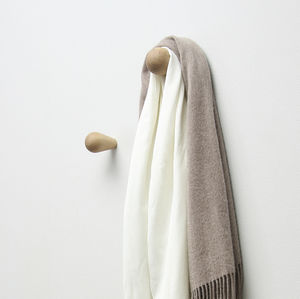 contemporary coat hook
HOMERUN by Sylvain Willenz
Functional Wall Decoration HOMERUN HOOK takes up the cartoonish features and soft appearance of the other products in the HOMERUN series. The roundish handle made of oakwood easily screws into the wall to hold coats and etc. Available ...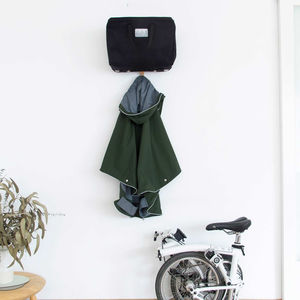 contemporary coat hook
BROMHOME by Ernest Perera
Designed to fit your Brompton bag. Creating space so you can leave everything in order, it's been designed with all necessities in mind. You can hang up your bag, helmet, jacket, raincoat, or even tie your dog to it. Materials: beechwood, ...
See the other products
Amor de Madre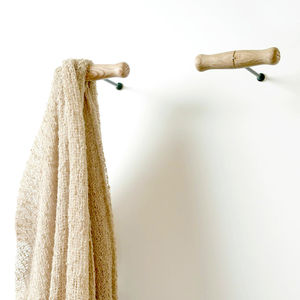 contemporary coat hook
BARRINA by Ernest Perera
Sometimes things aren't what they seem. Wood and painted steel Size: 12x1,5x12cm Made in: Barcelona
See the other products
Amor de Madre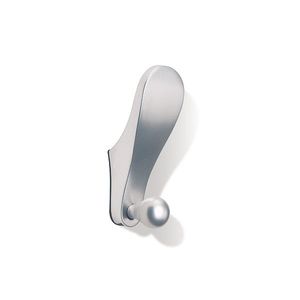 contemporary coat hook
CH17-94
Wonderful aluminum coat hook design, the CH17 incorporates diverse elements of ball below and wide tongue above. Concealed fastener for sleek look and flush mount. Size: 3 1/2" high x 1 5/16" wide, 1 3/8" projection. Mounting hardware ...
See the other products
Doug Mockett & Co.

contemporary coat hook
CH5
Simple and functional, just a single hook with good style. Size: 2 3/8" diameter, 1 1/2" projection. No mounting hardware necessary. Hook has a threaded screw welded to the back for easy installation. Finishes: Polished Chrome, ...
See the other products
Doug Mockett & Co.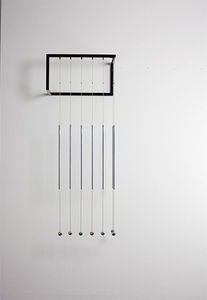 wall-mounted coat rack
MAMOUK WIREDRESS
Design coat rack in filigree elegance, chromed steel tubes or powder coated. Free standing coat racks, wall or ceiling mounted.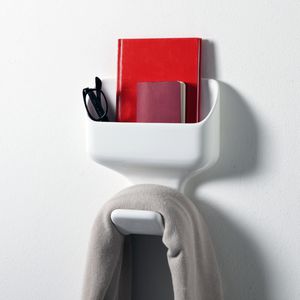 contemporary coat hook
HOOK BOX
Hook Box clothes hook with object box DESIGN: Luca Nichetto € 171,00 Colours: glossy mud brown , glossy white exterior, glossy gold inside , glossy white and glossy barley , glossy white and glossy blueberry code U/1336/55 - cm 23x11xh.26 Ceramic ...

wall-mounted coat rack
OPERPHA : JONATHAN 0/326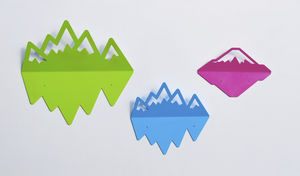 wall-mounted coat rack
COAT ROCK

wall-mounted coat rack
DONALD by Aldo Parisotto & Massimo Formenton
As a tribute to Donald Judd, this Coat-Rack transfer a great Karma despite its minimal square & linear design , all this thanks to the chromatic contrast made by the main support bar polished finished and the glazed finish of the hanging ...