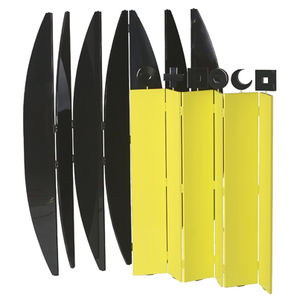 contemporary screen
SYMBOLE & SAILOR
KOS 900 002 - SCREEN L.175 X H. 190 6 PANNELS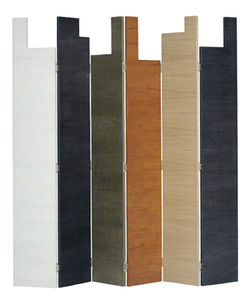 contemporary screen
TEXAS

contemporary screen
by Moorhead & Moorhead
Inspired in part by camouflage patterns, Modular Screen is a space-defining system of perforated panels. Comprised of a series of four panel types, the system allows the pieces to overlap in a number of configurations. The result is ...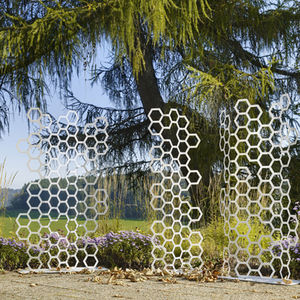 contemporary screen
COMB_INATION by Arik Levy
Room divider, zinc plated sheet metal, powder coated light grey

contemporary screen
RAINBOW
The Rainbow captures the essential magic of light that its 32 painted glass craft projects transforming the places they inhabit. As a screen of Impressionism, Mooet-style parades and vibrant colors combined with a sparkling elegance ...

contemporary screen
SWAMP
To show, to organize, to divide, to hide: this is the mission of Swamp units. They freely match each other, easily fitting into outdoor and indoor environments. The straight or curved elements and the rustling reeds chase each other ...

The Mobilidea complements encirch every corner of the house.

The Mobilidea complements encirch every corner of the house.

contemporary screen
HITAKO by Maurizio Fardo
Dividing screens with horizontal slats in Ebony or Palisander heartwood. E 3379 / PL 3379, cm 40 x 250h E 3379L / PL 3379L, cm 100 x 180h

contemporary screen
ALBERO by Quentin de Coster
The Albero screen's synthetic felt body (which comes in five different colours) evokes the shape of a tree. A galvanised steel tube represents the "trunk", while a polished (or lacquered) steel plate stands for the "roots". Everything ...
See the other products
Vange

contemporary screen
FLEXI by Marc Thill
See the other products
Vange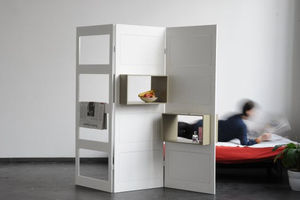 contemporary screen
PARAWALL
PARAWALL Year: Material: Mentored by: Collaboration w/: 2009 medium density fiberboard Prof. Volker Albus Anne Lorenz Bedrooms and the demands on this place are many-sided and differ a lot. One aspect always seems to be crucial: ...

contemporary screen
LA CABANE
LA CABANE Year: Material: Mentored by: 2009 medium density fiberboard, textile Prof. Patrick Blot and Prof. Silvain Dubuisson "La cabane" belonged to the project "La cabane sûr lit" that I worked on during my semester at the ...

The Class-X range of the bathroom collection consists of a series of solid teak modules that can be used either individually or in combinations to achieve the desired effect. This enables a lot of compositions according to the available ...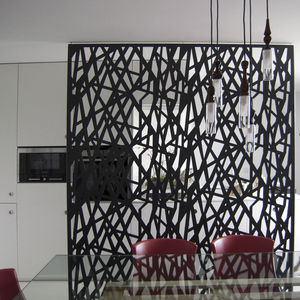 Panels cut design, are a result of the technological forefront of A.F. AZEVEDOS, which makes possible the production of solutions for the differentiation of spaces and can be applied indoors and outdoors, whose usefulness can add deepness, ...

contemporary screen
MORI by Setsu & Shinobu Ito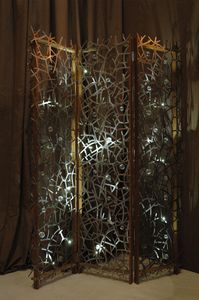 original design screen
BOIS DORMANT: L133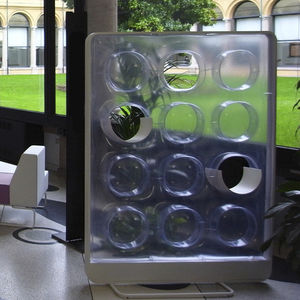 contemporary screen
BABLÒ by Egidio Panzera
Bablò is a revolutionary free-standing inflatable partition wall on a wheel that can be used to create many different settings as it is easy to reposition and has an attractive design based on a combination of solids and voids. Its ...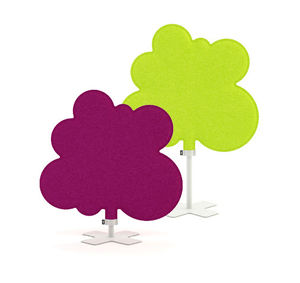 contemporary screen
WOODLAND
Woodland is a freestanding space divider with excellent sound-absorbing features. This playful screen provides visual protection while improving the acoustics and functionality of a public space. Woodland is available in two different ...

contemporary screen
MIDNIGHT by Franco Poli
Painted metal structure. Partition element in patented cut coach hide. Plastic spacers. Technology Franco Poli.

contemporary screen
CAMPFIRE
Enclosed in mesh, our sturdy steel Screen creates an office oasis by providing semi-private boundaries. adds privacy to lounge settings perfect addition to Big Lounge and Half Lounge furniture right hand and left han available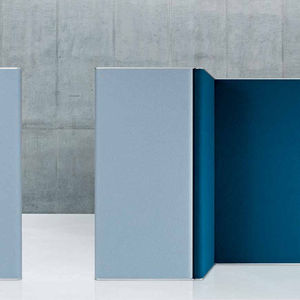 contemporary screen
RELAX 074 , RELAX 139
Due to their classic design, the sound absorbers RELAX 074 and RELAX 139 can be harmoniously integrated into interior decoration. The covering of the absorbers is seamlessly crafted of pure merino-wool and can be obtained in 36 popular ...

contemporary screen
EASE by Andreas Engesvik & Jens Fager
EASE is a unique new line of lightweight, flexible display solutions suitable for every area of the room. EASE simply creates functional spaces – tailored to your needs.