contemporary footrest
MURANO
Foot Stool W65 x D65 x H30 cm Frame Structure Aluminum Finishing Powder coated in a color similar to the fiber

contemporary ottoman
KANO
Lounger W110 x D100 x H75 cm Frame Structure Aluminum Finishing Powder coated in a color similar to the fiber

original design footrest
ABLAQ by Olivier Kessler
Footrest W108 x L81 x H46 cm Frame Structure Aluminum Finishing Powder coated in a color similar to the fiber

contemporary pouf
BALL by Finn Stone
The Ball Chair is a design by London-based artist Finn Stone. The chair is made out of recycled ABS and coated with a high-quality paint which makes the chairs and tables suitable for both indoor and outdoor use.

traditional footrest
KAKI by Crs Silat
Ottoman in teakwood. Versatile and easy to move and store.

traditional footrest
ZEFIRO by Crs Silat
Perfect for relaxing and entertaining in style, the set is crafted from a high-performance outdoor fabric that provides both the feel of a luxury indoor sofa and the durability and strength to withstand the elements. The wide choice ...

organic design pouf
NEOLIVINGSTONES by Stéphanie Marin
Nomadic exteriors furnishings, intimate and surprising. Huge pebbles comfortable and soft, as if polished by the air and by the wind, assembled in an imaginary landscape and soothing. A modular alternative, combining a bare and ergonomic ...

contemporary pouf
ZEN SOFT by Ludovica & Roberto Palomba
Soft Collection: completely handcrafted according to nautical principles, closed- cell foam interior, removable and washable Sunbrella fabric upholstery.

contemporary pouf
ZEN APPLE by Ludovica & Roberto Palomba
Outdoor handcrafted from blocks of solid Canadian Red Cedar, with inlay effect.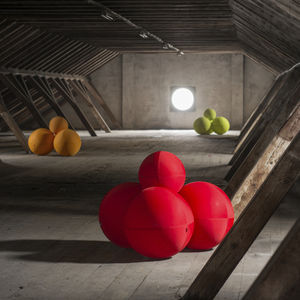 Pop Art design pouf
THE BALL MODULAR
The Ball Modular is a playful sitting composition and at the same time a welcome revival to any ambience. Circular curves of The Ball Modular composition unite subtly with the environment and make the composition popular in the gardens, ...

Pop Art design pouf
THE BALL SINGLE
The Ball Single is a sitting ball that comes in playful colors, with or without a base in the same color. It encourages active sitting at your writing desk or in front of the TV set, in teenager's room, or in schools. The Ball Single ...

Pop Art design pouf
THE BALL SINGLE
Children never get enough of round balls in joyful colours that meet their needs to wrap and roll their body around them in all possible directions. And, of course, to sit on them occasionally as well, especially when The Ball Single ...

contemporary footrest
DRAGNET
Technical Specifications Materials Indoor: polycotton, stainless steel, steel Outdoor: outdoor fabric, stainless steel, steel

contemporary ottoman
DREAMCATCHER
Technical Specifications Materials Outdoor: nylon, polyethylene, steel

contemporary ottoman
LA LUNA
Technical Specifications Materials Indoor: maple, polyurethane foam, rattan, rattan peel

contemporary ottoman
RAPUNZEL
Technical Specifications Materials Indoor: stainless steel, urethane foam, wool

contemporary ottoman
LINK
The Link collection bridges object and man through the possibilities of modular seating. Its clean design is complimented with a vibrant woven pattern of natural brown tones. Link provides sophistication to any space in a variety of ...

Piero means "stone". Designed with great detail and used as seating, this product is simply beautiful in all its forms solid colours, marble textures or self-illuminated. Spread Piero around courtyards, gardens, terraces wherever you ...

contemporary pouf
ROCKBABY

contemporary ottoman
ABSORPTION

contemporary footrest
SOLOUNGE
120 x 84 x 33 CM FOOTSTOOL INCL. CUSHION THE STOOL HAS A DOUBLE FUNCTION: IT CAN BE USED AS A COMFORTABLE FOOTREST, WITH A CUSHION TO LENGTHEN YOUR SOLOUNGE, OR AS A PRACTICAL SIDE TABLE, OPTIONALLY AVAILABLE WITH A SHATTERPROOF GLASS TOP

The Boma collection, designed by Rodolfo Dordoni for Kettal, was born from the need of high performances of outdoor environment, without sacrificing the increasing demand for comfort that new products have to face. Therefore the structure ...
See the other products
KETTAL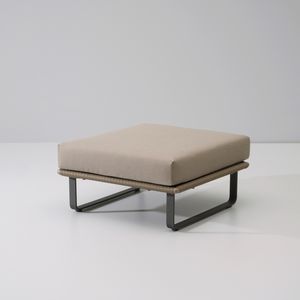 Kettal Bitta is characterised by a combination of aluminium frames , seats of braided polyester and comfortable cushions, teak and stone for the table tops—all completely weatherproof materials. My aim was to create dense braiding that ...
See the other products
KETTAL

contemporary footrest
AHNDA by Stephen Burks
With AHNDA, Stephen Burks has a created another DEDON first — an outdoor lounger with all of the iconic style, ergonomic comfort and luxurious attention to detail that one expects of the finest indoor pieces. Available in wingback and ...
See the other products
DEDON

contemporary pouf
LOU by Toan Nguyen
The LOU lounge system by Toan Nguyen represents both a return to DEDON's roots and major step forward. Nguyen, a master of modular design, has created a collection so casual, friendly and inviting that one almost fails to notice the ...
See the other products
DEDON

contemporary footrest
CIAK by Stefan Diez
Exploration of form, attention to detail and a blend of technological materials are the hallmark features of Ciak, the contemporary director's chair by Stefan Diez. Simple and sophisticated, Ciak is a perfect blend of function and design. ...
See the other products
EMU

contemporary footrest
KIRA by Christophe Pillet
Kira collection by Christophe Pillet is a complete range inspired by "a summer cocktail party, with a light, sensual, elegant ambience". Simple yet sophisticated, the hallmark of the Kira collection is the combination of aluminium and ...
See the other products
EMU

contemporary ottoman
by Maya Lin
CONSTRUCTION AND DETAILS Approved for outdoor useMolded 100% recycled polyethylene stones with integral color, a light texture and a low gloss finishDue to recycled content, black specs can be seen on the surface of the stone SUSTAINABLE ...

contemporary pouf
KOSMOS by Dirk Wynants
As an alternative to the giant lounge surface you create with the adjustable table in lowest position, it is enjoyable as well to have a soft footrest in between two three-seaters. It allows you to sit up straight with your feet on the ...

contemporary footrest
RAPSON
This midcentury modern outdoor ottoman is designed to fit perfectly with any member of the Rapson Collection. Made with 100% recycled materials, the Rapson Ottoman gives you another reason to put your feet up and feel good about it.
See the other products
Loll Designs

contemporary footrest
PLINY
The Pliny Outdoor Ottoman is designed as a complement Pliny the Lounger. This versatile, modern outdoor ottoman can also double as a side table or stool. Both Pliny the Lounger and the Ottoman were designed and manufactured by Loll Designs ...
See the other products
Loll Designs

contemporary ottoman
HIVE by Fabrice Berrux
Our Hive collection is a real hive where people can gather, share and chat. Smart, with a real graphic design, Hive invites you to evolve and enjoy gathering in the open air.
See the other products
Ego paris

contemporary pouf
KAMA by Benjamin Ferriol
The cushioning concept revisited, tables with their ergonomic waist-high tops. Overturn the codes… and make life more fun!
See the other products
Ego paris

contemporary pouf
KOMFY by Éric Carrère
Infinitely modular, this low lounge set is understated and elegant, allowing you to create customized lounge areas. With only 5 structural parts (2 sizes of seating, armrests and interchangeable backrests, in aluminum or stainless steel ...
See the other products
SIFAS

contemporary footrest
OSKAR by Eric Carrère
Chic and timeless. Sublime reinterpretation of a great classic and nomadic furniture setting for relaxation and eating areas, with perfect finishing in anodized aluminum. Chairs come in three versions for seats and backs: standard, ...
See the other products
SIFAS

contemporary pouf
PUL by Francesc Rifé
Francesc Rifé has designed an original and innovative collection created for pleasure. This collection is formed by an armchair, a club armchair, 2 puffs, a coffee table, a corner table, an auxiliary table, a metal table, a container ...

contemporary pouf
WEEKEND by Esther Campos
Weekend is a thirteen terraces and garden furniture collection made up of two sofas (2/3 seats), dining tables, coffee tables, auxiliar and corner tables, a sunbed, a chair and an armchair. Juan Santos has designed them and they have ...

traditional ottoman
KYOTO
Frame: Rattan. Seat: Handwoven Rattan. W 31" 79 CM D 19.75" 50 CM H 15.75" 40 CM OSH 16.25" 41 CM
See the other products
JANUS et Cie

traditional ottoman
QUADRATL
Frame: Powder Coated Aluminum. W 28.25" 72 CM D 28.25" 72 CM H 11.5" 29 CM OSH 16.5" 42 CM Weight 43.25 lbs 19.5 kg
See the other products
JANUS et Cie