decorative paint
UNIFERCAP MEDIO
Enamel suitable for painting different types of artefacts, waterproof, easy to apply, ideal for professional use as it has high compatibility and adhesion, filling capacity and coverage of different types of surfaces. Ensures a finish ...

decorative paint
REMDUR LUCIDO
REMDUR LUCIDO is a high quality synthetic enamel; it is waterproof and suitable for indoor and outdoor application, as it generates a film that is resistant to light and weathering. It can be applied to metal objects, plastic or wood, ...

decorative paint
PUMAFLEX
Product that provides continuous coverage capable of preventing water seepage and the consequent problems resulting from dampness. It is a coating that completely adheres to the surface, with high flexibility, elasticity and mechanical ...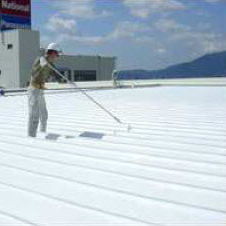 decorative paint
SUPER THERM®

decorative paint
PLASTEX ANTICONDENSA
PLASTEX ANTICONDENSA is a condensate-preventing and thermal insulated water-borne decorative paint. Ideal for internal walls with condensation and mould ( bathrooms, Kitchens and cold walls). The thermal insulation is the main characteristic. ...

sealing paint
EPOXITE STUCCO
EPOXITE STUCCO is a 3K water based epoxy filler to seal cracks and the tile joints of industrial cement floors. It is suitable also for vertical walls. Dilution: ready to be used. Packaging: Kg 3

anti-corrosion paint
NOVALIS ECOANTIRUGGINE
NOVALIS ANTIRUST by OIKOS is a low environmental impact, anti rust coating based on acrylic resins in water dispersion and anti corrosion pigments. The product guarantees excellent adhesion to the support and protects against rust even ...

anti-corrosion paint
NOVALIS CONVERTITORE
NOVALIS RUST CONVERTER by OIKOS is a product that has been specially studied to neutralise rust and to transform it, once dry, into an inert, repaintable composite. Novalis Rust converter protects the underlying surface and blocking the ...

acrylic resin-based paint
RURECOAT 1
RURECOAT 1 is a single component paint in aqueous dispersion based on high reticulation resin, used for the superficial impregnation of concrete.

protective paint
RURECOAT 3
RURECOAT 3 is a light green colour cementitious product containing corrosion inhibitors used to actively protect concrete steel reinforcement.

decorative paint
BIOGRAM/BIOTHERM
BIOGRAM is a breathable wall paint, with specific purpose, suitable for indoor applications in presence of moisture that can cause the formation of mold. BIOGRAM provides good coverage properties, high breathability and ease of application. BIOTHERM ...

protective paint
POLIFAC SMALTO MICACEO
POLIFAC SMALTO MICACEO is an enamel based on synthetic resins, anticorrosive pigments and laminated fillers, suitable for the protection and finishing of metal surfaces. The product is indicated as base coat-finish for ferrous surfaces ...

Plastic emulsion. Method of Application: Brush, Roller, Airless spray gun Color: Colourless Theoretical performance: 12-15 m2/l Repainting: 4-6 hs Finish: Gloss Dilution and cleaning: Water For use as an undercoat sealant on plaster, ...
See the other products
IBERSA PINTURAS

protective paint
FIJACRIL
Waterproofing fixing emulsion. Method of Application: Brush, Roller, Airless spray gun Color: Colorless Theoretical performance: 8-10 m2/l Repainting: 4-6 hs Finish: Gloss Dilution and cleaning: Water For use as a sealant for facades ...
See the other products
IBERSA PINTURAS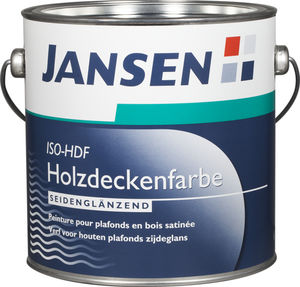 Range of uses Covering I - tin system for new and renovation painting of interior wood ceilings made of coniferous, deciduous or tropical wood and wooden composites. Product properties Water-based, odourless, with good insulating ...
See the other products
jansen

sealing paint
ZINC TOUCH-UP
Range of uses For effective re-working of fresh and processed galvanized parts and for an optical touch-up of bare patches at galvanized parts, abrasion, impact, bore faults etc., which can occur during processing or repair. Product ...
See the other products
jansen

DESCRIPTION Waterborne acrylate sealing paint. Prevents bleeding caused by nicotine, soot, liquid drawing ink and hides dried moisture damaged spots. PRODUCT FEATURES Akrostop is suitable for both new and already painted concrete, ...
See the other products
TIKKURILA

anti-corrosion paint
PANSSARIMAALI
DESCRIPTION Semi-gloss alkyd paint containing active anti-corrosion pigment. PRODUCT FEATURES Metal-sheeted roofs, water channels, down pipes, banisters and various steel constructions. RECOMMENDED USES Metal-sheeted roofs, water ...
See the other products
TIKKURILA

decorative paint
ANCORFER
Protective and decorative paint for metal, paint finish for all standard building substrates (plaster, wood etc.). Interior - Exterior Excellent adhesion Anti-corrosion action reinforced by special additives. Very good resistance ...
See the other products
Comus

heat-reflective paint
ALUMINIUM HIGH TEMPERATURE
Solvent-based metallic paint for pipes and radiators subjected to high temperatures. Interior High gloss and durable, excellent bonding and withstands temperatures of up to 300°C. Improves the efficiency of heating installations by ...
See the other products
Comus

silicate paint
SYLITOL® LITHOSIL
High-quality, silicate-based interior paint. Wet scrub resistance Class 2. Field of Application High-quality paint for interior silicate wall and ceiling coatings, e.g. in living quarters, schools, children's nurseries and public ...
See the other products
Caparol

insulating paint
DUPA-INN Nº1
Solvent-based, single coat insulating paint for interior use. Scrub-resistant and highly covering. Field of Application Solvent-based interior paint, free from aromatic hydrocarbons, with high opacity. Particularly suitable as single ...
See the other products
Caparol

decorative paint
RENAUL 5915
Polyvalent roughcasting paint, ideal as complement to waterproofing systems. 5 years resistance warranty. Perfect in a two-layers system. Matt aspect, provides very high covering, in matching mono-layer tone. Outstanding adhesion on ...

No yellowing pure white. Perfect for walls and ceilings renovation works. High coating and opacifying power. Special for renovation without tightness. Requires summary preparation. Recoverable same day according to the "damp on damp" ...

self-priming paint
CHROMAGUI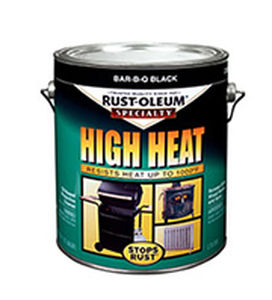 heat-reflective paint
HIGH HEAT BRUSH ON
ABOUT HIGH HEAT BRUSH ON Rust-Oleum Specialty High Heat retains color and finish up to 1000º F. Apply to grills, wood-burning stoves, radiators, engines and other metal items. Provides rust protection and a rich, satin finish. Indoor/outdoor Durable, ...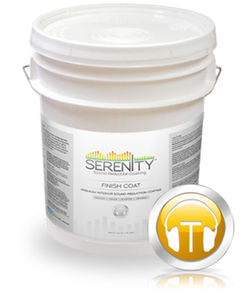 sound reduction paint
SERENITY FINISH COAT
SERENITY Finish Coat To create a paintable, neutral white surface, apply one coat of Finish Coat over the Base Coat. Odorless and dries in under one hour. Non yellowing.
See the other products
360 COATINGS

sound reduction paint
SERENITY BASE COAT
SERENITY Base Coat The core of the Serenity System. Apply two coats of Base Coat on ceilings, walls, plaster and drywall using an airless sprayer. Odorless and dries in under one hour. - See more at: http://www.serenitycoating.com/products/1-base-coat.html#sthash.YnryNChT.dpuf
See the other products
360 COATINGS