Thanks to its vapour open construction, the Indoor Climate Wall is in fact a breathing wall. It consists of a panel with a support structure made of fibreboard, to which a natural, breathing finishing layer is applied, which may consist ...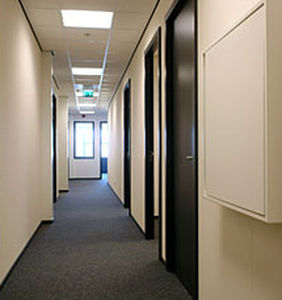 removable partition
IW148
The IW148 wall is an excellent solution for building situations for which a high level of sound-proofing is a priority. As a home-separating wall, the IW 148 is used in renovation projects or in partitioning apartments, hotel rooms, ...

The 100 Partition is the answer to your requirements regarding high partitions with major acoustic insulation properties. It combines the elegant design of the 40 Partition and the stability of a 100mm-thick partition with excellent ...

removable partition
SONIC T10
Noise and reverberation periods have become essential topics in the planning of offices. The sonic T10 acoustic element has been developed as a sandwich panel for flush installation into the T10 system partition. The system reduces ...

Genuine room partitioning: working in private working in comfort The T10 closed partition system can be combined with all Goldbach Kirchner system components. Fully-boarded on both sides, this is used as a separating, non-load bearing, ...


Prefabricated panel 195x 155x8 cm in size with rows of horizontal lines on the visible face. The back has a cavity reserved for Insulating material in order to improve noise absorption.

removable partition
APOGEE

Demountable modular partition wall system based on the patented Straehle steel mullion with variable panelling options and high sound and fire ratings. A wide range of door solutions supplement the system. Insertion of all elements is ...

Strähle partition wall absorbers can be obtained with metal, wood and fabric surfaces. They are installed flush into all partition wall systems. We offer in addition a wide range of perforation and slot arrangements for our absorbers. ...

removable partition
TRIVATI™
Introducing Trivati Architectural Walls Trivati is an elegant, architectural wall system that can be customized to your heart's content. Its flexible tri-channel rail can be fitted with up to three layers of vertical insert panels ...