The French style period from approximately 1730 to 1770, although this king was on the throne from 1715 (the Regence period ran from 1715 to 1723) until 1774. Inspiration taken from plants, hence a curvilinear style.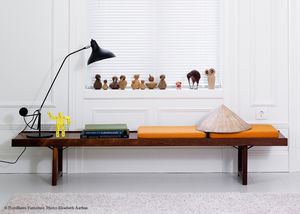 indoor bench
KROBO by Torbjørn Afdal
Length: 1500, 2000 mm
Laminated lacquered wood in oak or walnut. Base in solid light oak or walnut. Technical data: H 340 x W 370 x L 1500 mm / 2000 mm Height: 340 mm or 440 mm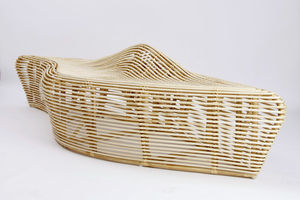 indoor bench
LINGER by Alvin T

Pippy Oak from St Abbs in Berwickshire adds character to this minimal bench and coat rails. The bench has five individual storage boxes each with an individual lid that essentially serves each of the five family members. Each pigeonhole ...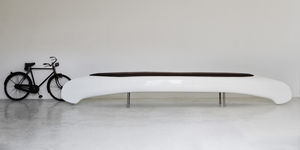 sculptural handmade bench in fibreglass; the structure is in stainless steel and the seat is upholstered in sky leather
See the other products
Il laboratorio dell'imperfetto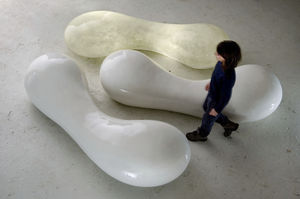 sculptural handmade bench in varnished or translucent fibreglass
See the other products
Il laboratorio dell'imperfetto

dimensions 130cm w x 35cm d x 55cm h 50" w x 14" d x 22" h seat height 45cm (18") description solid oak or walnut bench (shown in walnut) weight approx 25kg/55lbs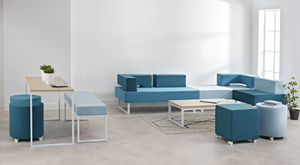 Chicago Modular Seating System uses the bold aesthetics of the Chicago sofa to form a range of configurable seating. The bench style system features two back details, which allow variable combinations and offer comfort and back support. ...
See the other products
Nomique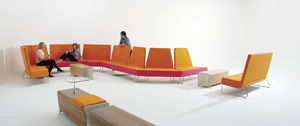 Big small, formal, informal. You decide. Ebb & Flo modular seating gives you the freedom to create space that engages your thinking. The modular design includes four high back Flo units. Two straight units and two internal or external ...
See the other products
Nomique

indoor bench
121140 - banc assise douce

indoor bench
E-POS 684 by Sture Eng & Dan Ihreborn
Bench 684 Frame: wood, polyeter. Fabric consumption at width 150 cm: 1,70 m/ea

indoor bench
FBE ETH SCUL
Solid reclaimed teak bench with antique sculptures. This particular photo is only representative of this style of bench. If you are interested in seeing more photos in this category we will prioritize your request and send you the images ...
See the other products
MATAHATI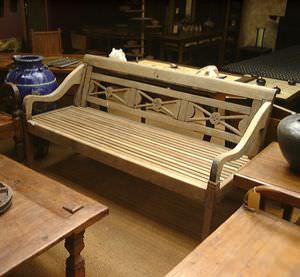 Slatted antique garden bench During the Dutch colonisation, long teak benches with motifs in their back rests were a common sight in both the public gardens and the train stations of Java. We restore antique benches and for the garden, ...
See the other products
MATAHATI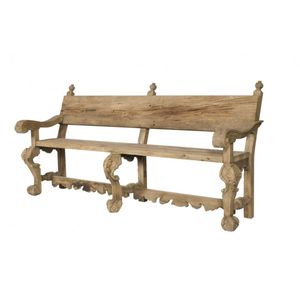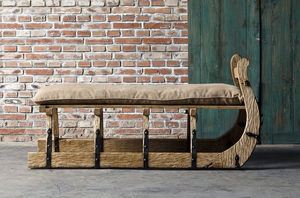 indoor bench
SEIGHS SLEIGH
Length: 175 cm

indoor bench
NEW LEGACY GODFATHER by Shuwa Tei & Intentionallies
Length: 145.2 cm
A strong passion for creating furniture and objects that underline and add structure to an interior has always been a hallmark of Shuwa Tei. His first furniture collection called Fusion to Define the Meanings by Architecture was launched ...

An innovative series of décor objects and compliments. Tables, Chairs, Armchairs, Mirrors, and artwork reproductions made with the skilful use and combination of many different materials. Pregia is specialized in the working of various ...

indoor bench
by Olivier Gregoire
Bench in fibreglass. Can be used indoor or outdoor. Dimensions are 141x35xh48cm Three colors : black, white or raw

Length: 220 cm
Description: Sculptured bench / Materials: Bronze cast seat standing on a stone replica of a phoenician ancre / Year of design: 2005 / Edition of: 30
See the other products
Ounovis

Length: 200 cm
escription: Sculptured bench / Materials: Blend of bronze cast and colored sand / Year of design: 2005 / Edition of: 8
See the other products
Ounovis

indoor bench
PETITE VAGUE & GRANDE VAGUE
Solid mahogany, rattan panel, leather cushions and black stainless steel Material: Wood - Leather - Stainless steel - Rattan Color: Brown Petite vague: 160 (l) × 60 (w) × 36 (h) cm Grande vague: 200 (l) × 60 (w) × 36 (h) cm The ...

Material: Wood Color: Natural 200 (l) × 35 (w) × 42 (h) cm Stood on the same sturdy legs, seating slab honed at the sides to a thin, inwardly slanting edge, the Wing bench clearly resembles its parent table. Here, however, no attempt ...

Length: 195.5 cm
DIMENSIONS: 77 long x 17 wide x 17 high (195.5 x 43 x 43 cm)hand-sculpted in Montana studio from laminate plywood or walnut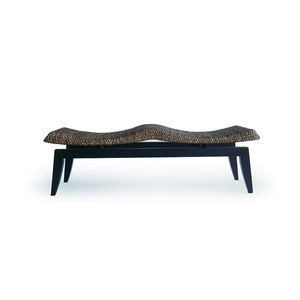 See the other products
Yothaka

See the other products
Yothaka