traditional ottoman
CANOPO
Upholstered pouf, designed by Samuele Mazza. Base with aluminum structure covered in hand-woven synthetic resin. Seat upholstered in completely removable fabric cover. The standard cushion seat version is available in two sizes. Big ...

contemporary footrest
ZULU by Tomek Rygalik
The soft curves and surfaces give ZULU a welcoming and casual feel. ZULU is a family of very soft, ultra-light and comfortable seats. It also includes a footstool to create a versatile, complete solution for a number of configurations. ...

contemporary footrest
KUBO POUF by Gino Lemson
The Kubo collection is also enriched by the class and functionality of Kubo Pouf which complements the armchair and sofas. Kubo Pouf is elegance squared, to ensure that your every moment of leisure is perfect. © Kubo design by Gino Lemson.

original design ottoman
GAIA'S CLOUD
To sit on a cloud has always been everyones dream. Gaia is the real name of planet earth and this particular cloud is dedicated to her. What immediately strikes the eye with its singularity and harmony, like all clouds, is the changing ...

traditional footrest
FOOTBALL

contemporary footrest
BEETLE by Giancarlo Bisaglia
Chair with high and low backrest and matching pouf. Cold-foamed polyurethane shell, upholstered in full-grain leather or fabric on a steel insert, aluminium or chromium-plated steel four-star base.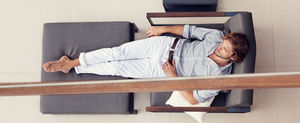 contemporary ottoman
GARDEN EASY by Broberg & Ridderstråle
Elegant and stylish ottoman for outdoor use. A long-awaited addition in our popular Easy Series. Comes with a weather-resistant cushion for comfortable seating and outdoor lounging. This durable all-weather outdoor ottoman is perfect ...

contemporary ottoman
PAT by Pietro Arosio
A practical and useful ottoman which fits well with all models of the Milano Bedding collection. With a simple action Pat is transformed into a practical storage. The cover is totally removable and can be washed according to the fabric chosen.

traditional ottoman
OSCAR
Oscar is distinguished for recalling the art-deco style and the particular quilted fabric, which covers the ottoman. The practical front opening and the folding of the 11 cm thick high resilient foam mattress avoids sitting on the bedding.

contemporary ottoman
BRAD
Beechwood and scandinavian hardpine frame, glued, screwed and doweled. Beechwood feet. Stretch belts seat. Foam seat cushion. Fully upholstered.

traditional footrest
ERWIN
This new padded model completes the range of poufs with new shape variants, round or oval. It is available in five different sizes and as an option on casters

contemporary ottoman
HAMLET
Clean and timeless lines so appreciated by modernists architects and contemporary decorators, this sofa gives the tone of the Hamlet family

contemporary ottoman
PIANO
A fun and playful collection to suit the lifestyle you live. Designed for the young at heart, aluminium powder coated frames, light diffusing Batyline® mesh chairs & stools combined with UV resistant high pressure compact laminate ...

contemporary ottoman
CLOVELLY
A high style, low maintenance collection for the ultra contemporary user. Clovellys Dining Set, fuses modern interior styling with outdoor living. Clovelly dining Clovellys Dining Table broadens Harbour Outdoors successful use of High ...

contemporary ottoman
PIER
Pier is a new transitional collection which blends a classic look with modern features, yielding a style that is light and that makes it uniquely suitable for various settings; both for indoors or outdoors, residential or commercial. Its ...

contemporary ottoman
BALMORAL
Harbour Outdoor introduces a custom self-assembled sofa system never seen before in the outdoor world. A sofa with 12 different possible section configurations and a vast array of colour options. Balmoral offers users utmost versatility ...

contemporary footrest
DEAN
Measurements (WxDxH): 82x90x90cm Seat height: 39cm Upholstery advice: Royal, Bonanza, Luxor

contemporary ottoman
EARL

contemporary ottoman
IGMAN by Harri Koskinen
Igman Ottoman was designed to follow the typology of the Igman lounge chair and it complements the chair both visually and in terms of providing the additional comfort that enables one to easily doze off without needing a bed. The ottoman ...

traditional footstool
BALMORAL
Cushion filling Foam and Fibre Finishes available Antique Whisky, Antique Tobacco, Antique Black, Destroyed Raw, Destroyed Black, Galata Blue, Galata Ebony, Galata, Bruno, Galata Tan, Galata Savvia, Galata Verde, Sioux Charcole, Sioux ...

contemporary footstool
MAGMA
Inspired by mid 20th century design the Magna modular collection of sofas, corner groups and single units that can be built into a variety of sizes for any home. Its soft ribbed cushioned detail creates comforting appeal and its supportive ...

Chesterfield footrest
BENSON
Comfortable buttoned stool, perfect for seating or use as a footstool. Available in Small Square, Medium, Medium Square and Large. Dimensions - CM - (L x D x H) Large 151 x 91 x 42 Medium 133 x 80 x 42 Medium Square 80 x 80 x 42 Small ...

contemporary footrest
SAN DIEGO
Stylish and contemporary with classic button detail this footstool is a statement in itself. Available in Small Square, Big Square, Medium and Large. Dimensions - CM - (L x D x H) Big Square 122 x 122 x 46 Large 140 x 55 x 45 Medium ...

contemporary ottoman
ARENA
Let's celebrate the Colors and amazing Comfort! This part of Fancy Sectional is fitting to all kind of interiors.

contemporary ottoman
FLIPPER

contemporary ottoman
UNIVERSAL

contemporary ottoman
SHIMA by Böttcher Henssler Kayser

contemporary ottoman
U-SIT 70 by Alexander Lervik & Team Johanson
Material Wooden seat frame with foam (density 65kg) that meet the highest requirements for flammability (CMHR quality). The legs is made of finished metal.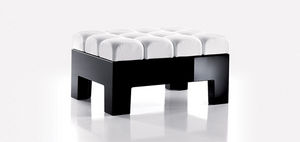 contemporary ottoman
MODÌ by Moredesign
Modì comes to be with the will to interpret space inside and outside the house. It features four modules: the seat, armrest/backrest, corner and glass top which turn into various configurations: a small armchair, a two-seater or more ...

contemporary footrest
NEST by Foersom & Hiort - Lorenzen
A footstool, a coffee table or a multiple-use sculpture made of sustainable natural rattan. The astonishing construction is lightweight yet extremely strong. Nest is designed in Denmark but created in Indonesia by experienced rattan ...

contemporary footrest
STRAW WEAVE by Foersom & Hiort-Lorenzen
Matches the Straw lounge chair in natural or black paper yarn. Can be pushed under the lounge chair seat when not in use. Design by Foersom & Hiort-Lorenzen MDD. Specifications Width 57 cm Height 36 cm Depth 49 cm

contemporary ottoman
MIAMI
Leather and fabric covers. Miami is a modular system with smooth and well defined lines. The leather version only is characterized by an interesting quilting on the back and seat cushions. High comfort is given by seat and back cushions ...

contemporary ottoman
BUCKET by Cory Grosser
The Bucket system offers a three seater sofa, an armchair and an ottoman. The items are made of polyurethane foam with a steel frame. A low density foam rubber insert makes the seat more comfortable. Upholstery is available in all the ...

contemporary footrest
SEGNO