high bar table
MIRAMONDO : HPL HOT SHOT HPL

Height: 90, 105 cm
Length: 110, 160 cm
Width: 40 cm
A kitchen bar meant for very narrow spaces. Its light forms and different options of length and height make it a very versatile product. The legs and the tempered glass worktop are available in several finishes (aluminium, chrome, white and black)

Cristalcolor glossy black worktop, crhomed legs, wheeled version. Taburetes Zoom stools, black seat.

Length: 120, 80, 160 cm
Width: 80, 65 cm
Mercury is designed as a bar or peninsula that can be put on a top or against the wall. Its movable version stands out as the bar can be folded to save room when not in use. The height of the bar is custom made to adapt to any kitchen furniture.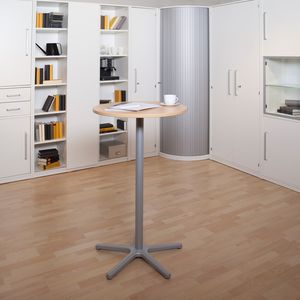 High stability, top quality Made in Germany, guarantee 3 years Versatile: can be used as a bistro table, for decorating, as a lectern For dynamic office work: part-time sitting, part-time standing High quality: desk top of melamine ...

FURNITURE WINE BAR MADE IN FIR TREE WOOD FINISHED NATURAL AND DARK



high bar table
PIX by Laurent Minguet
Height: 107, 74 cm
Length: 60 cm
Width: 53.5 cm
Indoor and outdoor table. 2 adjustable heights. 3 hooks under tabletop for clothing, bags or helmets. Entirely made of steel, 3mm thick tabletop, coated with baked polyester powder finish. 10 standard colors : Acid Green, Black, Grey, ...

high bar table
NOMAD by Laurent Minguet
Height: 107 cm
Length: 177 cm
Width: 60 cm
Indoor and outdoor movable table, mounted on 4 wheels with brakes. Able to store 4 EXTRU bar stools, 8 hooks under tabletop for bags, clothing or helmets. Compact laminated table top, base made of steel coated with baked polyester powder ...

table with built-in ashtray
ELECTRIC
Height: 107 cm
The Electric smokers' table is a timeless classic for smoking areas indoors or in covered outdoor areas. With stainless steel legs and a heavy stainless steel base with a diameter of 500 mm, it represents a highly stable solution presented ...

table with built-in ashtray
R2D2
Height: 109 cm
The R2D2 smokers' table comprises a modular system, enabling free configuration of table tops and receptacles. The smokers' table consists of a stable base with a diameter of 500 mm, a stainless steel covering, table tops made of granite ...

Limes is the name of a series of panel end tables and benches designed for timeless elegance. The entire series is characterized by unfussy design with a clean style. Available in various sizes with different finishes and colors, Limes ...

high bar table
ALBATROS by Labos
Height: 110 cm
Length: 60 cm - 80 cm
Width: 60 cm - 80 cm
Table available in 2 heights with round or square tops in different finishes and dimensions, base and column in painted steel. Dimensions H110 Top dimensions cm ø60 - 60x60 ø70 - 70x70 ø75 - 75x75 ø80 - 80x80

Height: 102 cm
Ferzo, Table With Painted Steel Frame, Top In Stratified Hpl,Dimensions W60 H102 D90 Table with frame in chrome, satin chrome or painted steel. Top in laminated HPL or werzalit

high bar table
CENTRO LITE by Roger Webb
dining and poser height collaboration tables, a slender version of our popular standard Centro range. Solid oak frame with 25mm MFMDF top with reverse chamfered edge. 4 legs except 900mm round top versions, which have 3 legs. Choice ...

high bar table
CENTRO by Roger Webb Associates
Centro is a high quality table and seating range for group project meetings and collaborative working. The solid oak frame and steel support structure coupled with hard wearing laminate top creates a valuable addition to any work space, ...

high bar table
BOBBIN : TBOP by Roger Webb Associates
Coffee, dining and poser tables with a clean design for maximum impact. Complementing many of our café chairs and soft seating products, Button will blend seamlessly into many different working, relaxing, eating and meeting areas Height 1060mm Diameter 750mm Weight 23kg

high bar table
GLOSS by David Fox
Versatile collection of coffee, dining and poser tables to complement the Gloss seating range and many other seating products. Available in frosted glass, white or walnut top finishes. Silver column and four star polished aluminium raised ...

high bar table
SWOOSH by Roger Webb Associates
The collection of Swoosh tables offers a wide selection of styles and sizes to fit any commercial or educational setting. Its minimalist design allows it to fit with many of our other furniture ranges. Coffee, dining and poser tables ...

high bar table
TOKYO by Idelfonso Colombo
Consolle and TV bench in metal galvanized and tropicalized matt yellow; top and sides in "paperwood" antracite and boredeaux. cm. 150x37x90h | 180x37x45h

high bar table
KING & QUEEN by Claudio Bitetti

high bar table
WISHBONE : W02
front view, in figured cherry with signal black metalwork. note: figured cherry is a custom veneer option.

high bar table
PIEDMONT : P90 / P91 / P92
P91, front view, in walnut with matte black metalwork

Height: 108 cm
Length: 78 cm
Width: 78 cm

high bar table
LUCKY by Emilio Nanni
Height: 75, 95 cm
Length: 60, 70 cm
Width: 70, 60 cm
Tables with shaped top, size 60x60 cm. or 70x70 cm., height cm. 75 or 95. Tops Top thickness 19 mm., available in the following finishes: matt white or black lacquered MDF, white or black melamine-faced with matching ABS edge. Base Chrome-plated ...

high bar table
PENELOPE by One & Third
The Penelope collection's Rubenesque silhouettes provide a collision of visual contrasts. Angular lines meet feminine curves, to create a strong frame although visually light. The collection of tables and stools offers an extensive range ...

high bar table
PEOPLE by Nicola Cacco Design
Versions: H 450, H 750 and H 1100, squared surface, rounded or shaped. Material and colours: steel structure painted white, military green, aluminium, anthracite, sand. Surfaces: laminate, melamine, resin, HPL, solid core, MDF from the sample book.

bar table
INPOWER™ by Swave Studio
The inPower™ Bar is a "plug & play" modular counter system designed to provide a functional work and charging station for public spaces. The inPower™ Bar legs have built-in inPower™ Flex modules that provide AC and USB charging. A variety ...

high bar table
COLLABORATIVE
Our new collaborative tables are socially adept, delivering design and ease to social settings. Their polished chrome trumpet base makes a statement. Plus, you have three height options, edge detail choices, and the option of round or ...



high bar table
MINGLE by Sara Larsson
Mingle is a table for restaurants, public spaces, the modern home and many other places. The table series is characterised by freedom of choice, materials and colours. The table has a clean design which together with all the choices available ...

high bar table
HAPPY by Sara Larsson
The Happy family consists of stackable stools and chairs, bar stools and tables. The design is playful with distinct colours elegantly meeting genuine oak. The bar tables are charcterised by the meetings between the table-top and the ...