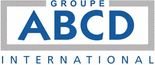 Booth
ABCD INTERNATIONAL
Glass removable partition

SATINE
ABCD INTERNATIONAL
Our 40 and 100mm partitions feature a smart hollow joint which reveals the anodised black or silver aluminium post between 2 solid modules.



This process created in 2008, which is compatible with 6 to 12mm thick glazing and melamine panels with coated edges, underlines the innovative nature of our company.



To combine smart design and economical realism, the two sides of the partition may be treated differently: for example, a luxurious hollow joint and melamine wood on the outside, and joint covers and vinyl-coated plasterboard panels on the office side.



The hollow-joint aluminium partition gives free rein to your desires for pleasant offices.
Other ABCD INTERNATIONAL products
Partitions, Ceilings, Raised floors
Doors & Windows
Offices
Building materials
Insulation
Renewable energy