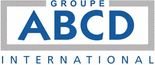 Booth:
ABCD INTERNATIONAL
Swinging door / in wood / fire-rated

ABCD INTERNATIONAL
Characteristics
Opening system:

swinging

Material:

in wood

Technical characteristics:

fire-rated
Description
Single action, double action with 1 or 2 leaves (identical or unidentical). Pre-painted or lacquered finish, raw veneer or varnished laminate, with moldings, protections (aluminium or stainless steel skirting boards, etc.), metal frames made of galvanised steel sheet, traditional stainless steel (masonry partitions or dry walls) for removable rehabilitation.



Fittings: single, double or triple-bitted lock, panic doors with 1, 2 or 3 hinge points, single or double action, anti-unhinging mechanism, ground or lintel pivots, latches, strike plates, bull's eye, electromagnetic cups, electric door openers, access control cups, door checks with compass arms, slide arms, panel with selector, with optional ID control, cremone or automatic casement bolt, access panel units.
Other ABCD INTERNATIONAL products