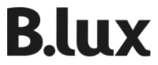 Booth:
B.LUX
Recessed floor light fixture / fluorescent / square

PLICA by Salazar Navarro
B.LUX
Characteristics
Type:

recessed floor

Light source:

fluorescent

Configuration:

square
Description
A fitted low level light consisting of polymer concrete slab that enables the emission of light through cracks on its surface embedded with a coloured translucent material. 30 x 30 centimetres. Available in fluorescent or LED.
Other B.LUX products