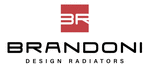 Booth

BRANDONI
Group: BRANDONI
Polycrystalline photovoltaic solar panel

BRP6360064-XXX
BRANDONI
The Brandoni Solare module is laminated with glass, EVA and Backsheet. It contains: 60 Q-cells 3 bus bar 6" multicrystalline cells. The 4mm tempered solar glass in class V1, with semisand finiture gives to the module very high mechanical resistance (up to 5400 Pa) and great energetic performance. The Ribbon, Eva and Backsheet have been selected among the best producer available on the market in order to obtain optimal Technical-aesthetic characteristics. Each module is equipped with a Junction box IP67 with 3 Bypass diodes able to stop the reverse current and a couple of cable with Tyco connectors to make even easier the installation. The
anodize aluminium frame create a very solid structure, easy to fix on the anchor structure.
The quality of Brandoni solare Module is due to a very careful selection of the highest quality raw material; the whole process is
completely automatic and offers very high performance and guarantees a very long duration. In fact the module ensure a power
performance of more than 90% of nominal power for 10 years and of more than 80% of nominal power for 25 years.
Other BRANDONI products
Renewable energy
Bathroom
Radiators, Boilers
Fireplaces, Stoves