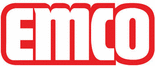 Booth

EMCO BAU-UND KLIMATECHNIK
Group: Emco
Products

Catalogues

News

Exhibitions
Dust control entrance mat

EMCO KADETT : 515 R
EMCO BAU-UND KLIMATECHNIK
emco KADETT With ribbed carpet insert (R) Typ 515 R
The specialist for entrances with security tagging equipment. Ideal for picking up fine dirt.
Roll-up, extremely hard-wearing entrance mat for laying on the floor. Mats produced to fit width and walking depth specifications perfectly, without the need for alignment profiles. Any geometric shape is available.
Other EMCO BAU-UND KLIMATECHNIK products
Carpet, Resilient flooring