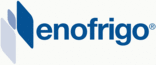 Booth:
Enofrigo
Upright commercial wine cellar

CALIFORNIA COLD SILENT
Enofrigo
Structure with insulated laminated
panels.
Solid wood door frame with
glass bay.
Static refrigeration digitally control-
led, bottle storage on 4 levels with
different temperatures.
Wood and steel unit for horizontal
storage of 89 bottles.
Door lock and internal lighting.
Noise level: 41,4 dB(A).
Available colours: dark walnut,
pale oak and natural.
Other Enofrigo products
CALIFORNIA
Music
Music Maxi
Music Luxus
Gran Buffet Music
Gran Buffet
City Line
Quarzo
DROP IN
BASE RF
BASE V
BASE BM
SALSA
VALZER
WINE LIBRARY
WALL
MIAMI
CONSERVATORE
GRACE
EASY WINE
TRITTICO
MADIA
TROLLEY
MARMOLADA
MONTELLO
CINQUE TERRE
DISPLAY ENO
DIANA
TRENDY
GRAFFITI
JOKER
JOLLY
BRUNCH
BAKERY
VIESTE
MIAMI DOLCI
SHINY
GARGANO
FLORIDA