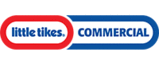 Booth

little tikes
Group: PlayPower
Products

News

Exhibitions
Climber for playground

INFINITY® BOOMERANG
little tikes
Description

Provides a revolutionary shape and design giving kids a challenging and exciting climbing event.
Value of Play

Play is essential to the healthy physical and mental development of a child. Play helps kids exercise creativity and develop imagination, dexterity, and physical, cognitive and emotional strength. Children learn how to interact, face fears, cultivate confidence and enrich their competencies and resiliency all through play.
Inclusive Play - Fun for All

Our products support a wide range of abilities, Variety of play patterns helps children of all abilities stimulate their senses and boost confidence through interaction . Whenever possible, all children should have meaningful inclusive play experiences.
Other little tikes products
Public spaces
Sport and wellness