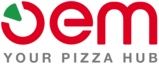 Booth

OEM
Group: Ali group

Commercial electric 2 chamber pizza oven

2000.8 : S 99/2
OEM
Inside dimensions
cm L x P x H 93 x 93 x 14
Outside dimensions
cm L x P x H 141 x 131,2 x 82
Kw/h - Kw/max - Volt 14,6 - 21 / 400~3N
Max. temp. °C 400
Weight Net/Gross Kg 460 / 540

The SERIE 2000.8 ovens are particularly suited to bake pizzas on firestone or in
baking-pans.

The power adjustment in each chamber is carried out by two independent
commutators (Min - Max), one for upper resistances, the other one for lower resistances. According to the product to be baked, different Ceiling/Bottom power combinations are possible. To display the real baking temperature, each chamber is equipped with a digital feeler thermometer.
Other OEM products
Commercial kitchens