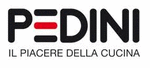 Booth
Pedini
Contemporary high gloss lacquered kitchen

ARTIKA
Pedini
A modern operative centre
where you can experiencee warmth,
technology and kitchen functionality.
Artika allows free and open movements,
goes beyond the classic concept
of a horizontal kitchen and re-draws
it completely in tune with new
demands of home spaces. Whether
modern or traditional, island or galley,
Artika resolves any problem of space
and finish.
Other Pedini products
Kitchen
Bathroom