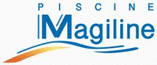 Booth:
PISCINES MAGILINE

Inground concrete swimming pool (polymer formwork)

MAGICLASSIC
PISCINES MAGILINE
MAGIclassic the rectangular pool, available in a wide choice of dimensions, customized with a wide choice of steps.

Have complete freedom to choose the length and width of your pool. Small or large, depending on what you fancy, conceive and design the pool that will best suit your garden.
Other PISCINES MAGILINE products
Swimming Pools
Steps
Pool liners
Pool Filtration
Pool Lighting
Well-being
Pool Heating Solutions
Safety