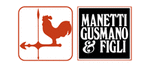 Booth
SANNINI
Products

News

Exhibitions
Terracotta paving tile for exterior floors

POGGIO SANNINI
SANNINI
Poggo Sannini blends all the charm and plasticity of the traditional form of
manual working, proposing a sapient, innovative fusion between ancient
methods and the need to obtain a product that is more regular in its
dimensions and surface. The productive system, again involving the repetitive
creation of single pieces, uses the clays of the Sannini pits, confirming all the
qualities, which have made Impruneta famous as a place and symbol PoggO
Sannini can be used both indoors and outdoors, for floors, walls, or as ceiling
tiles, of 3 cm thickness. On request they may be up to 5 cm where the bnck
attains the solidity of a vehicular traffic-resisBntproductlike a hand made tile,
it requires a traditional mounting method with 5 mm joints and a post-laying
treatment. Flash version is also available on request if a ready-to-use product
is required.
Other SANNINI products
Tile, Mosaic, Paver
Interior accessories
Partitions, Ceilings, Raised floors
Doors & Windows
Public spaces
Facades, Curtain walls