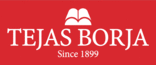 Booth:
TEJAS BORJA
Chimney pot / terracotta

MATALLIC KASTOR CHIMNEY
TEJAS BORJA
Characteristics
Description
Dimensions: 11,5 (ø) x 4,7 cm. / 4,53 x 2 x 2 in.

Accessory to solve solves the evacuation of fouls fumes that are channeled previously from inside the building. Also be used to ventilate the underside of the tiles through microventilation chamber.
Other TEJAS BORJA products