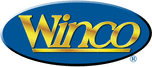 Booth
Winco Mfg, LLC
Recliner armchair for healthcare facilities

6700/6704
Winco Mfg, LLC
The Winco 6700 premium clinical recliner has fully upholstered sides that add contemporary style, modern form and comfort for your patients. Durable and comfortably contoured urethane arms protect the upholstered finish while providing a sleek and modern style.
The 6704 substitutes pedestal feet instead of casters for a home furniture look.
Both models feature LiquiCell seating for more comfort, reduced fatigue, and to relieve pressure over time. Choose Optional heat and massage to experience the pinnacle of comfort.
Other Winco Mfg, LLC products
Sport and wellness
Armchairs, Chairs
Offices