The Online Architecture and Design Exhibition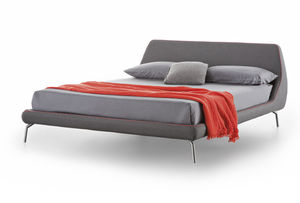 ... simple, lightweight structure stands on metal feet. A single embrace from the headboard to the bed frame. Available dimensions Double bed - XL double bed Structures self-supporting Feet burnished ...
See the other products
Ennerev Materassi
Volume 1,00 Measures 188 x 222 x 90 (colchon: 180x200) Packaging 180 x 202 x 18 / 190 ...
See the other products
Angel Cerdá
double bed
GHOST by Antonella Frezza
Upholstered bed covered with soft leather or with different kind of completely removable fabrics. Feet in satined metal, available in different dimensions. The bed Ghost is also available with raisable ...
See the other products
Emmebi Industria Mobili
double bed
ELITE by Alessandro Andreucci
A new bed within Olivieri range . Fabric or leather, multilayer structure, different density shaped padding and visible sewing. Precious details, either on structure and padding, for a product of high quality value.
See the other products
Olivieri
dimensions:outside 192 x 212 x 220 cm for matrass 180 x 200 cm outside 212 x 212 x ...
... let yourself go. The LARGO extended headrest embraces the bedside consoles and stretches past the bed. The cross seam of the head section makes the bed appear lower and wider than it is. A place to regain ...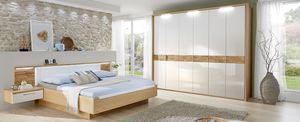 Cesan has a beautiful design in wildoak. You can choose between plain doors and doors with solid part design. There are also three options for the headboard - wooden, upholstered white and upholstered brown. Find your perfect style.
See the other products
Disselkamp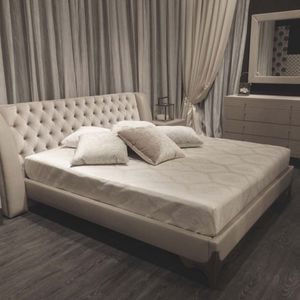 double bed
RUBINO by Norberto Deltinetti / Monica Bernasconi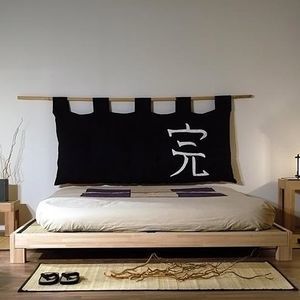 ... those suffering from problems connected with magnetic fields. In fact the absence of metal parts avoids the problem of the bed acting as a receiving 'aerial'. It has been developed to incorporate the Tatami mat mattress ...
See the other products
Cinius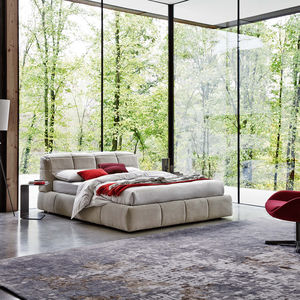 double bed
DUNN by Spessotto & Agnoletto
Dunn is a fully-quilted bed, designed to suit anyone looking for comfort and style. The headboard houses headrests aligned with the back panel that can be positioned to suit individual needs. The headrests ...
See the other products
Ditre Italia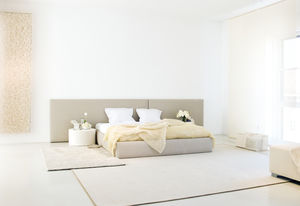 ... of 10 colours. Requires bed headboard. Headboard to be ordered separately. Size 47010 Bed 80 x 200 / 90 x 200 / 90 x ...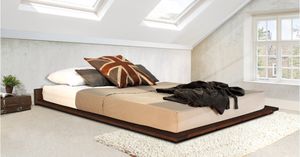 tatami bed
LOW MODERN ATTIC
... choice of bed. This low design of the bed frame provides a spacious feeling and offers an alternative to the standard wooden bed frames by providing an excellent space saving solution ...
See the other products
Get Laid Beds
The Kaagaard bed is cheap, modern and timeless. It can be purchased in several sizes. This bed frame fits an 180 x 200 cm mattress, ...
See the other products
E.S. Kluft & Company LLC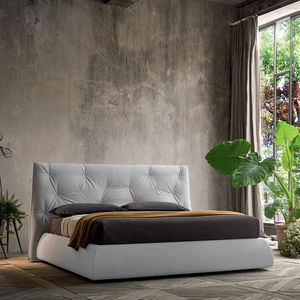 double bed
BED STORIES : LENNY
The headboard's base widens and "contains" the bed. Also the bed frame widens downwards but with a soft and evident curve, that anchors it to the floor.
See the other products
Felis Felix s.r.l.
Anniina is our product range's classic. Massive bed exhales quality and stability. The bed is a real eye-catcher in the bedroom. A beautiful combination is created by adding Anniina bedside table next ...
See the other products
Kiteen Huonekalutehdas Oy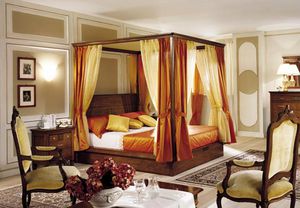 See the other products
Zilio Mobili
double bed
TANTRA by Bruno Rainaldi & Tecno Mussi
Description Bed with a grosgrain edge which emphasises the fan shaped headrest. The covers can be removed completely and the bed is available in French, double and king size versions. Technical Features Steel ...
See the other products
Mussi Italy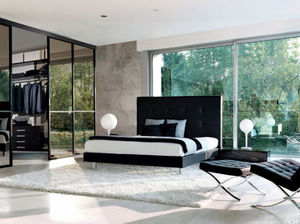 double bed
HENRY : LET001
Henry bed with high headboard (120 cm high), squared and covered with extra black button-tufted leather. Low ottoman, covered with extra black leather with (standard) feet fi nished in buffed aluminium. cm ...
DIANA is the bed for the people who are not satisfied with the sleeping minimalism. The warmth of fabrics with decorative elements are the components of today`s glamour style without excessive exaggeration, without numerous ...
See the other products
SITS Sp. z o.o.
... process using a state of the art 5-axis CNC machine. Internal dimensions width90 ǀ 100 ǀ 120 ǀ 140 ǀ 160 ǀ 180 ǀ 200 Internal dimensions lengths200 ǀ 210 ǀ 220 Outside dimensionsWidth ...
See the other products
dormiente GmbH
... powered hinge for easy lifting - mattress not included Mattress Size Mattress size Will fit 180 x 200cm EU | '180cm ' Seats Prices ...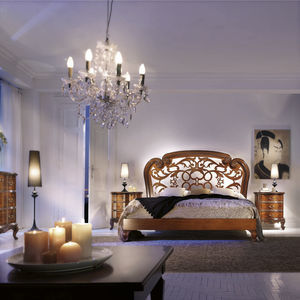 Opera double bed (180x200) with carved headboard W. 207 D. 208 H. 150 Finish: D303 Noce
See the other products
Bbelle
... this generous, sturdy bed frame. The frame is constructed from white oiled solid ash, with brushed brass feet. The generous headrest is covered in a soft natural linen, providing comfort and creating a clean silhouette. ...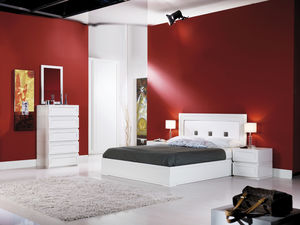 A dynamic, versatile and innovative collection, that suits your house in everything and for everything, a collection that will let you express in total liberty, without limits, if not that of your imagination. Q-BOX, a name, only a name ...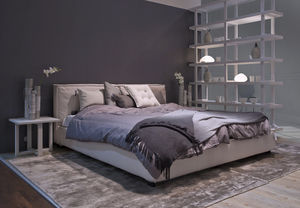 Width x Depth x Height 226 x 208 x 94 cm Width x Depth x Height 226 x 186 x ...
See the other products
Furninova AB