The Online Architecture and Design Exhibition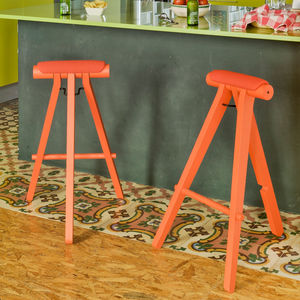 traditional bar stool
PERIGALLO
... local fruit. Domínguez, García & Ibáñez borrowed this traditional idea and have given it a new use. Sancal's Perigallo is a stool that can be folded away when not in use, making it ideal for hosts who suddenly find ...
contemporary bar stool
RICHARD
Sizes (cm) Total height: 80.00 Width: 37.00 Seat height: 80.00 Depth: 36.00 Upholstery Lloyd Loom weave Glides Nylon or felt glides available upon request. Frame Hardwood Maintenance Our indoor Lloyd Loom furniture can easily be maintained ...
contemporary bar stool
NIWA by Robby & Francesca Cantarutti
The Niwa collection is made of a chair and a stool realized in die-cast aluminium with extruded aluminium legs, designed both for contract and residential use. The rigorous and embracing body recalls the shape of a ...
See the other products
FAST SPA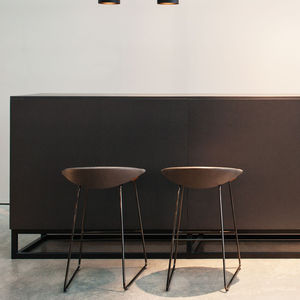 contemporary bar stool
MICK by Niels Bendtsen
... we had in mind when we designed 'Mick', our bar stool. With a seat consisting of two hollow, geometric shapes, the stool gives your body the kind of support you need, providing firm seating ...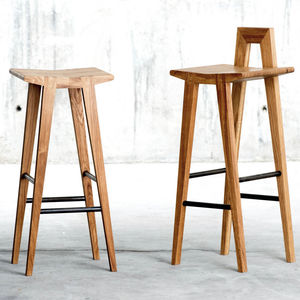 contemporary bar stool
GRABLE
... inspiration for this piece. The Grable stool has an elegance and refined design. Detailed handmade joinery work completes the look. It is easy to appreciate the mortise and tenon joints of the pieces of the stool, ...
contemporary bar stool
ELEPHANT by Carl Öjerstam
... design of the Elephant bar stool/bench reminds us of the stools used in circuses. It has a very robust design and, as it looks the same from all directions, a configuration with Elephant ...
See the other products
MATERIA
Scandinavian design bar stool
SPINE by Space Copenhagen
In 2014, Space Copenhagen built onto the Spine series with the backless barstool Spine Stool. Spine Wood Base Stool is available in both bar and kitchen counter heights. Space ...
See the other products
Fredericia Furniture
contemporary bar stool
BESO by Khodi Feiz
... chair programme created by our Dutch designer Khodi Feiz. Our Beso collection includes besides a chair, an armchair also a barstool. Beso is available in a wide range of upholstery and base options, which makes it the ...
contemporary bar stool
TWILIGHT™
Flared back design is available in wood or with an upholstered cushion, with or without arms. Contemporary solutions for environments that require mobile flexibility, whether used for meeting rooms, guest seating, or multi-purpose ...
contemporary bar stool
STONE by Sylvain Willenz
The STONE collection consists of a dining / meeting table, a chair and a barstool, characterized by a strong and very human feeling. Table, Chair and barstool, are distinctive assemblages of hefty form ...
contemporary bar stool
VALERIA
The Valeria Collection of chairs, armchairs and stools is known for its durability and strength provided by the solid oak frame. The exquisitely woven bands are a subtle blend of traditional and modern. The design is ...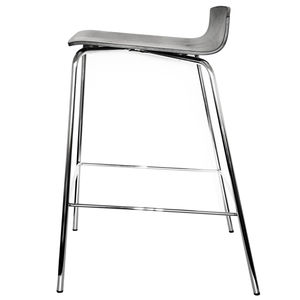 contemporary bar stool
CANTO
canto is a classic barchair . It convinces with its comfort and simple, timeless design.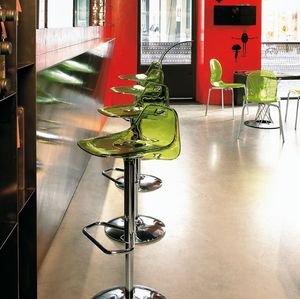 contemporary bar stool
KIRON by Archirivolto
Seat made of polycarbonate. Its chrome-plated steel frame, featuring a gas mechanism, permits height adjustment and total rotation. Height: 85 cm (33,5") Seat height: 54/73 cm (21,2"/28,7") Width: 44 cm (17,3") Depth: 44 cm (17,3")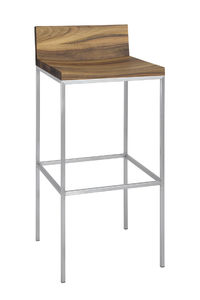 contemporary bar stool
ST07 GRACE by Philipp Mainzer
... legs with four cross beams. The seat is shaped with a radius to provide comfort. The clear lines and the large seat of this stool offer an elegant appearance while GRACE can be used from two sides. GRACE is available ...
See the other products
e15
contemporary bar stool
LAST MINUTE
Indoor & outdoor stool. A rotomoulded polyethylene seat with lacquered steel frame and stainless steel footrest. Its structural design has become a contemporary classic. Now available the upholstered seat version.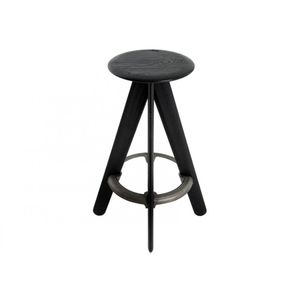 contemporary bar stool
SLAB : WOS01BL/WOS01NA
... deeply brushed to expose the grain and finished with either a black or natural lacquer. The Slab collection consists of a bar stool, chair, dining table and desk. SKUWOS01BL FinishPainted FamilySlab UpholsteredNo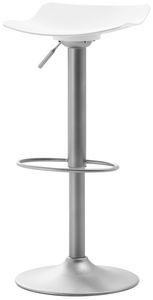 contemporary bar stool
TORUP
Torup barstool with gas cartridge. As shown, white plastic/brushed steel. H59½-84½xW37½xD41cm.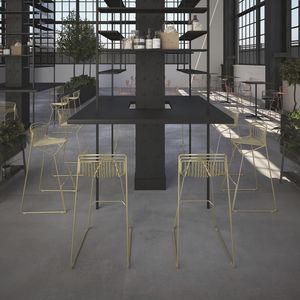 contemporary bar stool
RIBELLE
... of two versions: chair and stool. The strong aesthetic identity does not affect the functionality that a chair has to have, in fact the front angles of the seat are cut to facilitate the end user to get up, also for ...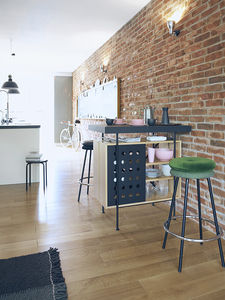 contemporary bar stool
BIG TOM
... vidual barstool for both private and commercial interiors. The stool is available in different heights, with the lower version (seat height: 74 cm) making for a great seat at the kitchen counter. With ...
contemporary bar stool
ARKW6
Arki-Stool joins Arki collection which reviews the industrial look in a functional way. A barstool with bleached or black stained solid oak seat and legs, swivel and with gas lift device to easily changes ...
See the other products
PEDRALI
contemporary bar stool
H by Xavier Pauchard
Features H 0,65 × L 0,4 × l 0,4m 4,6kg Stackable H 65 Stool raw steel varnished H 65 Stool painted H 65 Stool Outdoor Treatment painted
See the other products
TOLIX
contemporary bar stool
MORPH BAR by Formstelle
... distinguish the bar stool MORPH BAR. The stool fits nicely as an object into modern surroundings, where its wood character and filigree design deliberately stand out. ...
contemporary bar stool
FUN
See the other products
Mobalpa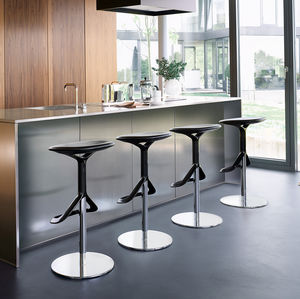 contemporary bar stool
LOX by PearsonLloyd
... The sturdy base plate grounds the flowing forms of the seat and footrest. A sign of cultivated enjoyment. The swivelling barstool is surprisingly comfortable and can be ad- justed to just the height you require. The ...
See the other products
Walter Knoll
contemporary bar stool
KAGE
Stools with fixed cover. The list of fabrics and leathers available fo this chair is available in our Reserved Area.