The Online Architecture and Design Exhibition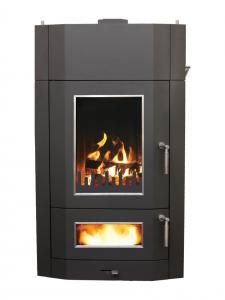 pellet boiler stove
JUPO 15K
All major components of the stove are made ​​from high quality boiler steel H10. Ventilation handles allow individual regulation of the energy distribution air / water. The furnace provides a heat output ...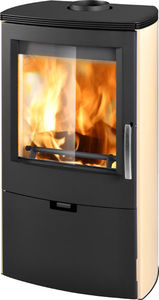 wood boiler stove
FALUN II AQUA
Heat output: 8,000 W
Nominal heat output [kW] 8 Regulation range of unit [kW] 4 ÷ 12 Heating capacity [m3] 98 ÷ 190 Efficiency [ 80,85 Fuel ...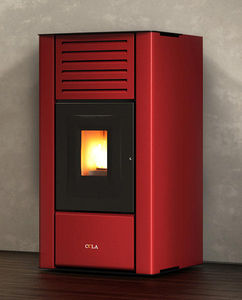 pellet boiler stove
PETIT
Heat output: 11,600, 3,450 W
Varnished steel coat - varnished cast iron door - manual cleaning system for heat exchanger - remote control supplied - optional kit expansion card for sanitary valve and 3-way ball valve
See the other products
COLA GF WÄRMETECHNIK
pellet boiler stove
BELVEDERE 18
Heat output: 18,400 W
Belvedere 18 is a pellet thermo-stove with a smooth and sophisticated design. With as much as 13.9 kW transferred into heating water and 4.5 kW into the environment (with the fans on), you can comfortably heat houses ...
See the other products
Klover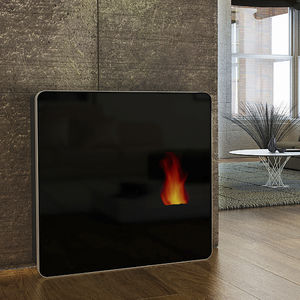 pellet boiler stove
MONOLITIK
Heat output: 13,000, 16,000, 19,000 W
... sustainability. ​ ​ Double, service and aesthetic doors with glass as standard offer a stunning view of the fire. When ignited, the stove fire is a pleasure to watch and produces a pleasant screen effect. The Monolitik ...
See the other products
KALON
pellet boiler stove
DUPLEX 60
Heat output: 57,700 W
Efficiency to water 94 % Weight 510 / 560 kg Minimum Consumption 2 / 12,8 kg Ash Drawer Volume 30 / 20 LT Max Operating Temperature 95 °C Exhaust Fume Temperature 63 / 143 °C Required Draft 12 Water Content 125 Tank Capacity 110 Operating ...
See the other products
Moretti Design Gruppo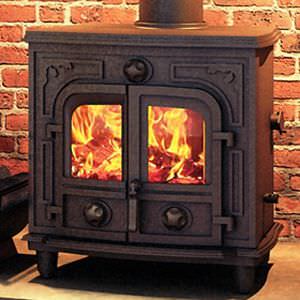 wood boiler stove
HERCULES
The Hercules range of boiler stoves are powerful. robust and capable of performing the most demanding task. These stoves have been thoroughly tried and tested to withstand the harsh rigours ...
See the other products
Broseley Fires
wood boiler stove
STOCKTON 11HB
... rating of 13kW (45,000 BTU). The Stockton 11HB Boiler includes as a flat top, multi-fuel stove model (with external riddling) which means that is able to burn both logs and smokeless fuels. This boiler ...
See the other products
STOVAX & GAZCO
wood boiler stove
RONDO 490
Technical specifications Wood stove with wather exchange system for central heating Heat Power: 15.500 kcal/h / 18.02 KW Power given back to wate: 10.800 kcal/h / 12.56 kw Range: 80 TO 190 m2 Self-cleaning glass ...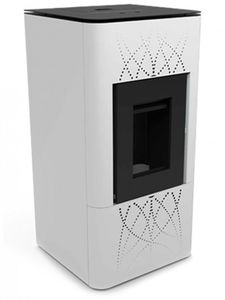 The stove Biodom H20 combines the warmth of classic stoves and pellet boilers for central heating. The Biodom offers an extraordinary pellet stove Biodom H2O of different ...
pellet boiler stove
HYDRO: HR EVO
Completely steel covered Automatic grate cleaning system Touch screen display
See the other products
Ravelli
pellet boiler stove
VARSAVIA
... maintenace: YES Alarms'memory: YES Safety motor screw: YES Chimney draught requirements: 10 Pa Pellet tank capacity: 35 kg Boiler capacity: 18,4 lt Pellet consumption (kg/h) : 5.6 kg/h / 1.6 kg/h WITH H2O KIT: COLOURS steel ...
See the other products
KARMEK ONE SRL
wood boiler stove
VARESE 2 W
WASSEROFEN KLASSISCH Heiz- und Brauchwasser im ganzen Haus Hoher Wirkungsgrad Riesiger Brennraum Masssive Gusstür Gussmulde Mehrpunkt Sicherheitsverschluss
wood boiler stove
350 GREENSWITCH™
The 350 GreenSwitch™ is a room heating stove with thermostatic boiler. It has an operating range of 14.7kW/h but gives only a modest 3.6kW/h to the room and a generous 11.1kW/h (38,006 Btu) to water. ...
See the other products
Esse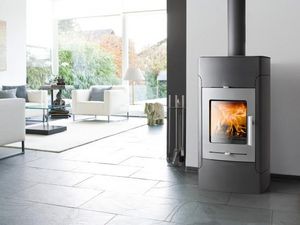 wood boiler stove
BELAQUA
See the other products
HAAS + SOHN Ofentechnik GmbH
wood boiler stove
K1 DELPHIN
Fireplace on the water can run as a separate system or in combination with other heating systems. Half of the heat that produces fireplace directly delivers to room where it is located, and the other half through the central heating system ...
See the other products
Color Emajl Doo
wood boiler stove
ECLIPS AQUA
Heat output: 3,000 W - 10,500 W
... Eclips series is connected to your central heating system. This system distributes the heat of your stove throughout your house. The unique location of the stoves heat exchanger enables the wood burning ...
wood boiler stove
13/10.2
... the interior boiler VERNER 13/10.2 with minimal demands on service, with optimally balanced performance, modern design and excellent technical parameters. A new generation of interior boiler VERNER combines ...
See the other products
VERNER a.s.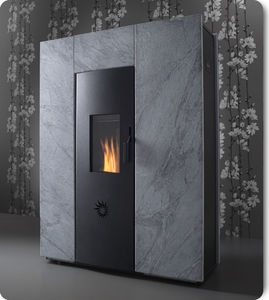 pellet boiler stove
TESI H2O
A boiler as stylish as a stove. Antique white, soft touch stone cladding. Also available in ollar stone and white or red metal. Takes up a little space and easily fits in the home where it emits over ...
See the other products
CS THERMOS S.R.L.
multi-fuel boiler stove
EB7HE
... peace of mind. Produces 50% more heat to water than boiler stoves of similar sizes. 50% quicker to raise water to operating temperature. Long internal flow path water is in contact with the boiler ...
See the other products
Arada - Stratford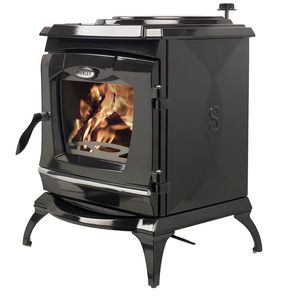 wood boiler stove
ARDMORE
See the other products
Falcon