The Online Architecture and Design Exhibition
contemporary entryway cabinet
ALFRED by Florent Bouhey Fayolle & Roman Pin
All elements are removable and can be placed anywhere on the grid. Horizontally or vertically, Alfred takes the aspect you want. Material & colors MATERIAL & COLORS Structure in folded metal sheets (2mm) Elements in folded metal ...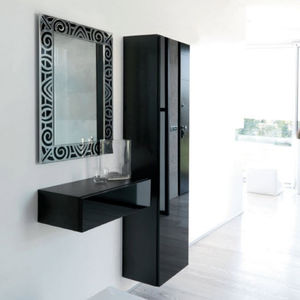 contemporary entryway cabinet
LINK1 : 003
Entrance unit Link1, wenge structure, black painted glass fronts and doors. cm 130x32x170h
See the other products
unico italia
contemporary entryway cabinet
... thin and slender base. Initially in height 120 then 80 and 40 cm to offer different perspective. The low cabinet 40 cm becomes a vintage TV cabinet that can be integratesd into a universe of the 50s or ...
contemporary entryway cabinet
COMPACT
"An economic house, or a house for the price of an apartment" - a slogan that reflects the concept of this house perfectly. Although such a house is classified as being economic, it has not lost the fine qualities of a traditional house. ...
contemporary entryway cabinet
ROBIN WOOD RW3
All-in-one storage solutions Furniture Tidy up your entrance hall with WA.DE.BE.'s all-in-one storage solutions. RW3 includes a horizontal coat rack with 3 pegs, a book shelf, a courtesy mirror, a key hook, lighting and ...
contemporary entryway cabinet
HF-022
This is an original piece of furniture for the hall, on which with a little imagination, on can picture "Arsène Lupin" hanging his over-coat after one of his night prowls.
contemporary entryway cabinet
MAGNETIKA ENTRANCE HALL
The Magnetika system is the perfect solution to create a functional corner in the entrance hall of your house. The coat hanger can be positioned high or low according to the needs of adults and children. The magnetic ...
contemporary entryway cabinet
CUSTOM WOODWORK Beyond Wood collection includes libraries, tables, stairs, wall coverings, radiator covers, doors, kitchens and bathroom furniture.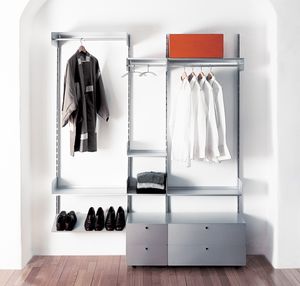 contemporary entryway cabinet
K1
Wall system composed of uprights, shelves and containers. The variety of heights, depths and lengths of the components allows the realization of bookcases, wardrobes and exhibitors. The elements, freely positioned, gives you the maximum ...
contemporary entryway cabinet
DOOROBE by Henrik Silfvernagel
With a simple metal bracket suspension, the Doorobe provides a unique storage solution for your existing door. Thus, you make use of an otherwise unutilised space. The Doorobe comes with a clothes rail, storage in the form of drawers, ...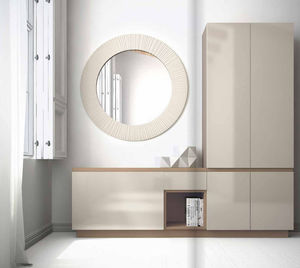 contemporary entryway cabinet
DINNS
See the other products
Vettas Mobiliario
contemporary entryway cabinet
CALYPSO
The furniture for shoes, handbags, scarves and everything else you like to takes with you when leaving the house. The bench makes changing shoes really comfortable. Space for handbags.
contemporary entryway cabinet
ETTA by Dossofiorito
Etta, a multifunctional furniture that display and store objects, and act as a space divider. Composed of a platform with 4 removable elements – a small round shelf, two shapes of uprights (especially conceived to support different typologies ...
contemporary entryway cabinet
NOBLE
Our lightweight Noble wall rack is especially designed to sit against your wall and includes two keyhole brackets on the reverse for securing in space. Each wall rack includes a simple low shelf at the bottom, shelf with wide drawer in ...
contemporary entryway cabinet
MI084
Sirianninursery is a project designed to make cozy children spaces. In the search for solutions and in the choice of curious and challenging shapes, we decided to take a style from the point of view of children. Kindergarten becomes the ...
See the other products
CAMILLO SIRIANNI SAS