The Online Architecture and Design Exhibition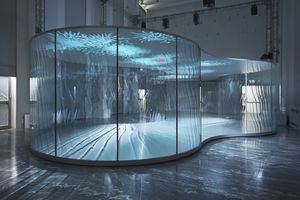 removable partition
LASVIT LIQUIDKRISTAL by Ross Lovegrove
... models, the behavior of glass was simulated under controlled thermo induction. This produced a highly informed line code, which serves as the blueprint for the production process, where highly precise temperature control ...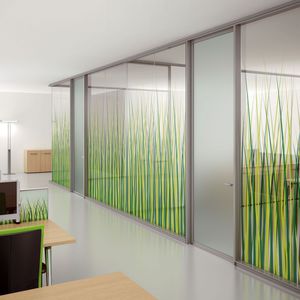 fixed partition
P900 by Daniele Del Missier & Faram I+D
The new P900 screen was the result of a research and testing project carried out by FARAM on dividing walls. All aspects have been considered in order to make a complete, elegant and functional product that can be adapted to any situation. The ...
See the other products
Arlex
Is an essential element for multi-use spaces. Allows for reconfiguring the office and passing from a large space to several smaller ones in a quick and simple manner, by merely exerting a slight pressure on the divider.
See the other products
OFITA
... to the occasion with its partitions in clear and silk-screened glass or in the special dual-pane version between which photographs or decorative fabrics can be inserted. For increased privacy of each ...
See the other products
Codutti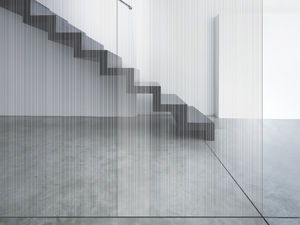 fixed partition
STRIP MATÉ DOUBLE FACE
Base material: monolithic float glass to UNI EN 572 1-2: 2004/ laminated to UNI EN 1449:2005. Description and characteristics: both sides of the plate are chemically and permanently etched. The texture is given by the ...
See the other products
VITREALSPECCHI SPA
removable partition
AL-OFFICE FRAME
Transparency in detail. AL-Office is a dry glazing system. It includes a frame and door frame system. A system easily assembled and installed producing maximum transparency.
... thick aluminium door jamb profile comes with a quick and easy-to-install internal snap-on glass stopper. This system can even be furnished with 10 mm thick tempered glass or 10/11 mm thick laminated glass, ...
sliding and stacking partition
CRYSTAL
Retractable top and bottom seals to lock panels securely in place - Requires no floor attachments - Easy to move and set-up - Superior Acoustics Double Glazing with 3" air space - Superior Acoustics - Allows for optional ...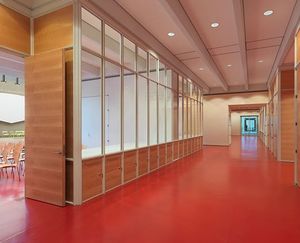 removable partition
FIREFRAMES® SERIES
45/60/120 Minute Fire-Rated Frames Fireframes® Aluminum Series combined with Pilkington Pyrostop® glass, provides a barrier to radiant and conductive heat transfer. The narrow aluminum profiles allow unlimited areas of glazing in fire ...
The automatic sliding wall system for an elegant room partitioning. The track rail integrated in the ceiling as well as the invisible drive technique allow achieving sophisticated solutions in elegantly designed interior areas.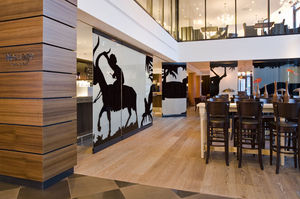 ... almost silent operation thanks to the high-quality precise roller bearings Minimal use of force required to manually slide the glass elements Individual screen printed patterns If the MSW shop front is kept closed, ...
See the other products
GEZE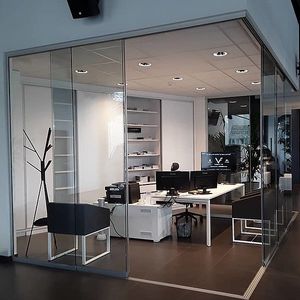 sliding and stacking partition
SF 20
... gaskets are fitted horizontally at the top and at the vertical frame on the inside and outside 8 or 10 mm tempered safety glass panes(ESG-H) Inclined floor construction and length-optimized webs End caps for lateral ...
See the other products
Sunflex Aluminiumsysteme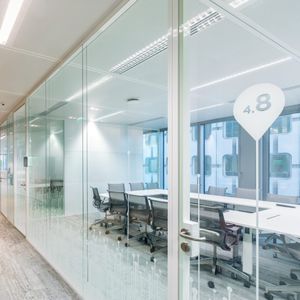 removable partition
ULTEEM : VERRE AFFLEURANT SUR CADRE
FLUSH BONDED GLASS ON FRAME The epure ... in Ulteem mode This finish highlights the prospects of a single line. It energizes spaces, erases breaks. Sound insulation up to 52dB (Rw)
See the other products
CERENN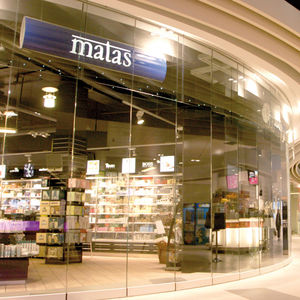 sliding and stacking partition
PARKING : SV-P150
SV-P150 The SV-P150 means flexibility. It is an ideal solution for creating different environments in areas that are close together. For medium weight commercial use. FEATURES A creation designed to create spaces for multiple uses ...
See the other products
SAHECO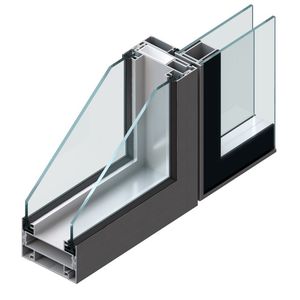 removable partition
PF-100 S
A part of FEAL's offer is decoration of internal space/interior design. As basic product of such usage is partition wall of the PF-100 series. Depth of 100 mm with suitable infill will completely satisfy concerning the ...
See the other products
FEAL Croatia Ltd.
removable partition
1:10 By Mario Ruiz
When skin is everything This is the leitmotif of 1:10, a reusable, demountable, modular partition system designed by Mario Ruiz which stresses the concept of "skin". Skin as coating, as the visible part of a whole. The ...
See the other products
Dynamobel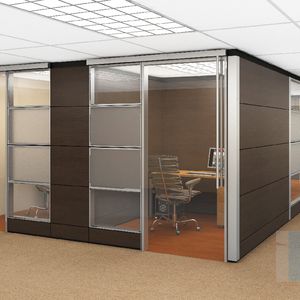 removable partition
DUO SEGMENTATION : REFLEX
... offers an STC of 42 – all helping you focus on the task at hand. Glass options range from clear to coloured, frosted to patterned, single or double glazed. Our doors can be glass ...
See the other products
IMT
fixed partition
KRISTAL TWIN
... :2010 and UNI EN ISO 717-1:2013 for the glazed and blind partition. Its solid structure allowed to obtain also the resistance certification to impact with hard and soft body according to the UNI 8201:1981, ...
See the other products
Arcadia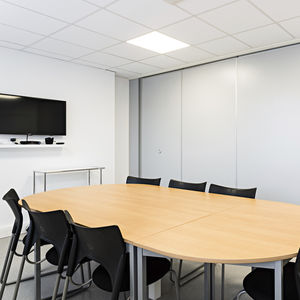 sliding and stacking partition
ZEPHYR
Durable, reliable, functional, with good acoustics and many decor opportunities, the ZEPHYR movable wall is the obvious answer to all the needs for space optimization. It has become a natural solution for multipurpose halls, culture ...
See the other products
ALGAFLEX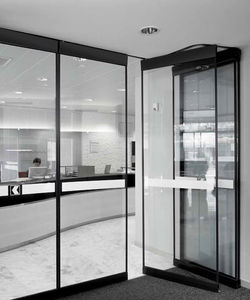 sliding partition
Sliding Wall Systems (STW)
The collapsible sliding-wall system from Gilgen Door Systems optimises space usage while offering an impressive combination of design and function. Exhibition areas, conference rooms, business facilities, schools and hotels; anywhere, ...
removable partition
COLOR DUO
A vast range of alternatives are available: wall with double glass, single offset glass, single centre glass, for horizontal floor and ceiling-mounted profiles. Duo allows the best possible solution for all types of project, with a perfect ...
See the other products
Nordwall International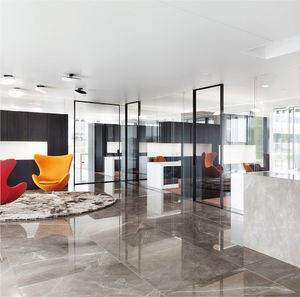 fixed partition
GEMINO INTEGRATED
Acoustic wall concept with minimalist profiles (type GX) Integration: framing is invisibly integrated into the floor, ceiling and/or walls Elegant and pure design, applicable in numerous styles Advantages Typical Gemino aesthetics and ...
See the other products
AVC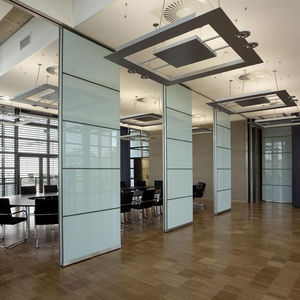 sliding and stacking partition
PREMIUM EASYMATIC
The Nüsing company, with its policy of continuous R+D work, has positioned a state-of –the-art and reliable product in the movable wall sector of the market. It's up to you whether you use the whole room as a single, large unit, or ...
See the other products
Nuesing
removable partition
MILONGA
... vertical interruption. As well solid panels are presented with the same refined detailing in the way they are connected with glass panels, where the two materials simply meet with no joints visible. Milonga is designed ...
sliding and stacking partition
PA-200 PARK LINE 1
Sliding stacking system with glass fixing profiles made to measure upon client's request, no need to make holes in the glass.
See the other products
METALGLAS