The Online Architecture and Design Exhibition
removable partition
EXECUTIVE
Hidden movable partitions and partition walls: the essential element for dividing office spaces MAINARDI SISTEMI s.r.l. works in Italian and export markets, offering more than 20 years experience in ...
See the other products
Mainardi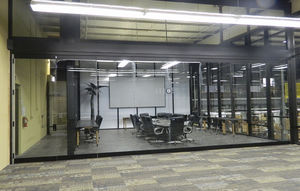 ... for easy operation of the panels, as well as a quiet maneuver. Clear Glass Walls are recommended for interior use or as a wind break due to low air and water performance. Clear Glass Walls are ideal ...
See the other products
Solar Innovations, Inc.
removable partition
PRIMACY
... Panes: Panes 1 or 2 glass pieces. / From 3+3 mm. to 8+8 mm. thick. Soundproofing: 50 dB. Doors: Blind, pane or mixed. / Frame panel or rail. / 40, 50 or 113 mm. thick. / Hidden hinges. Possibilities: Blind, glass ...
See the other products
PREMO

The Minimalist System that maximizes glass for design without limits p20 stylishly captures the look of near seamless glass frontages. Our slimline 20mm framework is the closest that you will get to size ...
See the other products
planet partitioning
removable partition
E / EW / EI
... thermally broken narrow aluminum extrusions and filled with a proprietary fire blocking material, Aluflam's storefront glass partition systems are available in 30, 45 and 60 fire resistance ratings and ...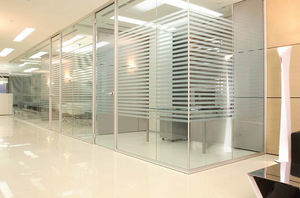 fixed partition
LIGHTWALL
Partitions and sliding doors that can be incorporated into blind partition walls and wall storage units, worktops made from stratified or toughened glass married with aluminium structures ...
See the other products
Elitable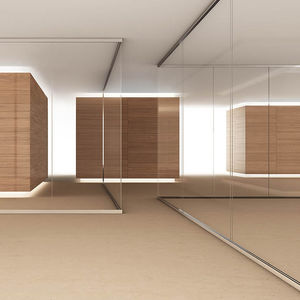 removable partition
TRUELIGHT TL41
... extruded aluminum profiles designed to house safety glass panels, special glazed panels with wood or fabric, veneer coated panels. Top and bottom tracks allow the perfect leveling of the partition ...
See the other products
VETROIN
... of automation. The glazed with breastwall AZ® application is composed of glazed modules with two-sided solid breastwalls. The solid part is fitted out with 13-mm SE plasterboards or 12-mm melamine coated ...
See the other products
Tiaso
removable partition
COLOURLINE
Colourline is our demountable framed partitioning system for quick on site installation. Featuring pre-glazed windows and pre-decorated panels, no system could be more flexible or quicker and simpler to install. There ...
See the other products
Apton Partitioning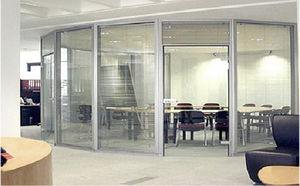 removable partition
FLEXICA
... from being a flexible, relocatable office partition, Flexica can be combined with other Triplan product ranges. Modular, relocatable partition system Minimum assembly time Combines with all Triplan ...
See the other products
Triplan
sliding and stacking partition
GWS : DRS / 100SR-G
... Track™ suspension system simplifies setup and storage 2-year warranty on all systems Compactline By providing large glazed areas with distinctively curved transitions top and bottom, the Compactline arc adds harmony ...
See the other products
Modernfold Inc.
removable partition
FOSCARI by Albino Celato
... their creations. Enhanced by rich finishes as polished stainless steel, natural black or paint finished sheet metal, this partition feature is perfect for decorating both classic and contemporary interiors.
See the other products
DE CASTELLI
... thickness of 50 mm and a width of 600 mm. The elements can be executed as a solid element or with glass panels. The glass wall element will be executed with float glass (5 mm) or double glazing.
fixed partition
GEX GlassLED
... GlassLED system is very adaptable, with a wide range of aplications. The best results are obtained with CNC engraved glass, for partitions or railings.
See the other products
Glass Expert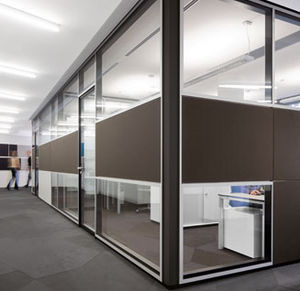 removable partition
R-PLATFORM by Johannes Scherr
An intelligent modular system for setting up double-glazed office and corridor walls. The R-Platform is a double-glazed room system that offers a wide range of design possibilities. It sets new standards ...
removable partition
RF CORRIDOR WALL by Johannes Scherr
... arrangement of the door and glass elements (hinged or sliding door, with over door panel or at room height), as well as optional electric horizontal blinds. Bonded joint optionally light grey or black. In its double-glazed ...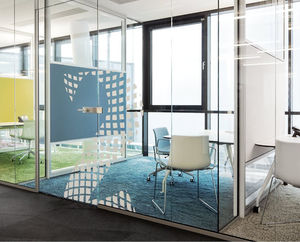 removable partition
RG by Johannes Scherr
The use of glass provides maximum transparency in the office space. Pure transparency. The formal minimalist RG glass wall retracts and supports the architecture of the room. The single or double-glazed ...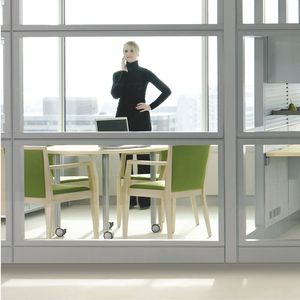 removable partition
LEVERAGE
Leverage® makes it easy to customize the office, allowing you to specify the desired level of features for each workspace in order to meet diverse needs, while achieving a crisp, clean look at an affordable price. LEVERAGE FULFILLS ...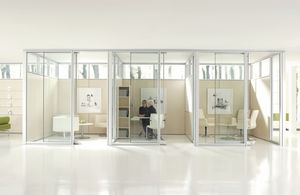 removable partition
ALTOS
Altos is an innovative architectural wall system designed for maximum functionality while maintaining a clean aesthetic. Simple and efficient, Altos facilitates cost-effective reconfiguration or full relocation as required. Its unique ...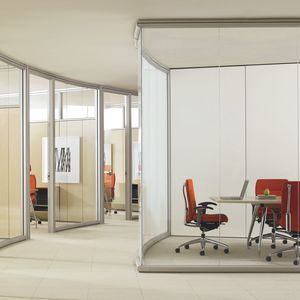 Optos is a glass storefront system featuring a rectilinear profile and minimal structure. It presents a refined, seamless look through a continuous run of glass. Designed to adapt to building structures and floor plans, ...
folding partition
PANORA KINETIC
... Dimensions : W 1.6m x H 2.50m Glazing : 6mm Tempered Glass Operation : Semi-automatic (opens manually - closes automatically) Elegant and functional moving glass system with structural glass ...
removable partition
DIGERO
aluminium and steel frame partitions in the opening as well as fixed design
Mapier Group realizes both indoor and outdoor walls in glass, railings, steps for stairs and floors in a particular glass carrier which is thicker than normal one, and able to support a certain weight. We can make ...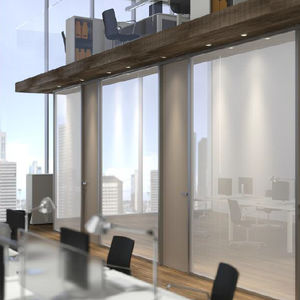 ... infill panel for partition walls and furniture and as ceiling to give to the internal space an elegant design touch. The GammaStone AIR panel represents the best solution on the market to achieve finished walls in ...
pivoting/sliding partition
SENSE
... The minimalism of the profile, its robustness and versatility allows spans with dimensions up to 1500x3000 in laminated glass 4+4 (other finishes or materials by request).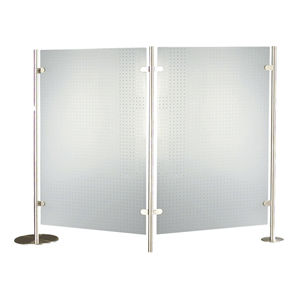 The Lume partition system, with vertical tubes in stainless steel and partition panels in toughened glass, presents a high-quality appearance. The vertical tubes are available in 2 heights with round ...
fixed partition
ENCLOSE by Studio & Partners & Nathan Shedd
With options such as glass, metal, laminate, wall coverings, wood and more, there are many ways to define design with Enclose. Ready. Set. Change. Enclose walls let you pull any space together in minutes flat. The unitized, factory-built ...
See the other products
Haworth
LCG® Dynamic Glass Windows and Interior Partitions provide flexibility, visibility, privacy and projection to high-end projects worldwide. LCG® allows natural light to enter a space and an open atmosphere ...
sliding partition
DV603 DOUBLE
The DV603 series, a 6 cm thick double-glass partition wall, highlights lightness and clean lines. The main features are: outer profiles in aluminium, laminated glass sheets, melamine or veneer panels, ...
See the other products
Della Valentina Office