The Online Architecture and Design Exhibition
Ceramics: wall ceramics with flute fine, ceramic niche Glaze: savanna light
Finnish sauna
CLUBWELL® : LE FINLANDESI®
... and I feel deeply purified. In the sauna for the mind, in the sauna for the body, in the heat of the sauna, the pleasure of feeling good with yourself, the pleasure of feeling good with ...
See the other products
SAUNA ITALIA SPA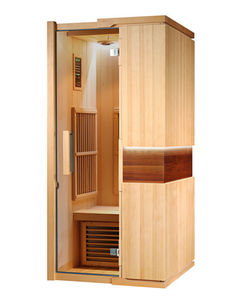 1 PERSON SAUNA ROOM STANDARD: - Interior Wood: Hemlock - Exterior Wood: Hemlock with Cedar Strip - Power: 1400W - Infrared Heating Panel - Control Panel with AUX/FM - Color LED Strip + Spot Light - 6mm Clear Tempered ...
See the other products
LEKING WELLNESS
... The Harvia Variant sauna represents the modern Finnish sauna at its best. The benches, as well as the sauna interior, are designed ergonomically and following original Finnish sauna traditions. The ...
See the other products
PROCOPI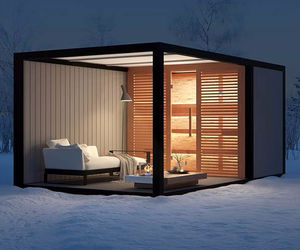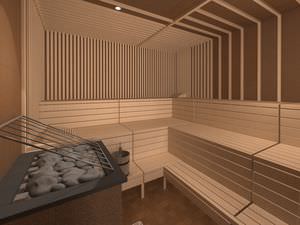 The bio sauna operates at a temperature of approx. 60 to 65°C, with a humidity level of 55%. This combination of heat and moisture has a caring and beneficial effect on hair, skin and respiratory system. A special heating ...
See the other products
INViiON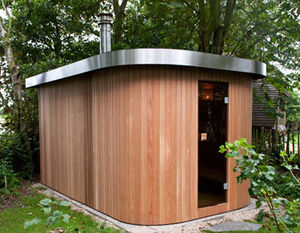 ... decoration for the garden and extremely comfortable to use. The sauna comes in three versions: wood fired, electric and infrared. We use only the best materials - Western Red Cedar for the outside and ...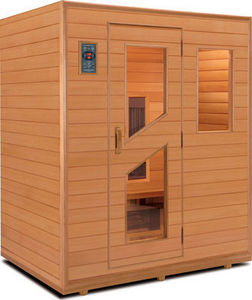 infrared sauna
HCE/HCED 150
What happens to your body in an infrared heat cabin? And what creates the feeling of relaxation? The long-wave infrared heat in our cabins heats your body and stimulates your blood circulation. Your metabolism is activated and you start ...
See the other products
HEALTH COMPANY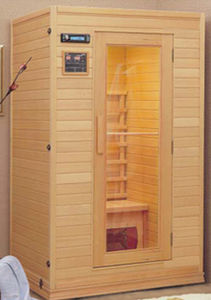 See the other products
OTOTOP S.R.L.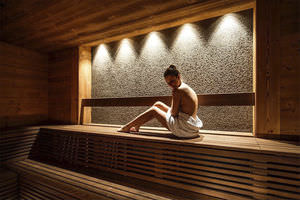 Saunas of every shape and size - completely according to your individual wants and needs. Ready to use sauna installations for private sauna enthusiasts and large sauna ...
See the other products
Hofer Group GmbH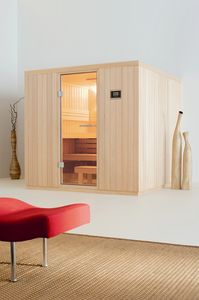 ... as the size of this sauna can vary in intervals of 10 cm. You can choose the exterior cladding in Scandinavian fir-tree or in hemlock wood. It can also be equipped with supplements as a mirror, windows and towel hangers. ...
See the other products
Freixanet Saunasport
See the other products
CLAIR AZUR
with shower connection front, 2220 mm Additional information Power supply 380-415V 50/60Hz, Please add the furniture colour code at the 5th and 6th digit code when ordering Design by EOOS Dimension 2350 x 2205 x 2220 mm
See the other products
DURAVIT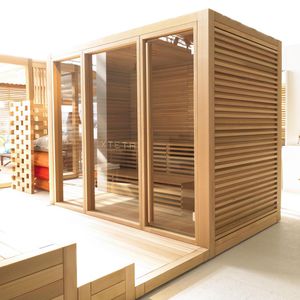 home sauna
ZEN by Ludovica + Roberto Palomba
The wellness par excellence in an elegant structure where to breathe relax. Sauna in handcrafted Canadian red cedar solid, projected for an outdoor use.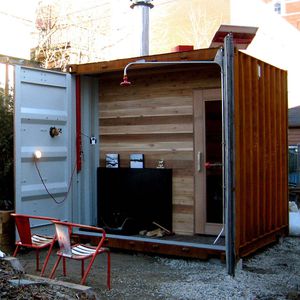 This traditional wood-burning sauna is built into a shipping container. The Sauna Box is completely self-contained with solar power and a wood-fired stove. The box comes standard with ipod stereo, guitar ...
Infrared-seat-cabin made by Redwell! With the innovative product "Relaxwave" you'll keep a cool head in the infrared-seat-cabin. The obstructed infrared heating with its wattage of 1.320 watts or its wattage of 1.420 watts keeps a ...