The Online Architecture and Design Exhibition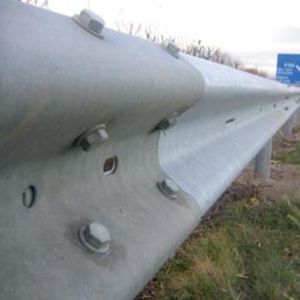 High quality precision-engineered systems We pioneered our vehicle restraint system back in 1962. Over 50 years on, we are still leading the way. Our generation of systems provide enduring benefits for road users and the highways ...
See the other products
TATA STEEL
protective barrier
WILSHIRE
A contemporary picket style that's perfect for pools Precision pre-routed posts --no brackets or adhesives required "Good neighbor" design 7/8" x 1-1/2" picket style 3', 4', 5' and 6' High, 8' Wide 2" x 4" bottom rail with steel reinforcement ...

protective barrier
FLEXMAC® DT
FlexMac®DT is used as a rapid to deploy barrier for flood protection, raise embankments and provide buttressing support for temporary works. It consists of a multicellular structure made of hexagonal double twisted ...
See the other products
Maccaferri
... ANTI-RAM BARRIERS IN THE DRIVEWAY ZABAG WEDGE BARRIERS If there is only limited space in your driveway for a gate, an alternative could be an automatic anti-ram barrier that secures ...
See the other products
ZABAG Security Engineering GmbH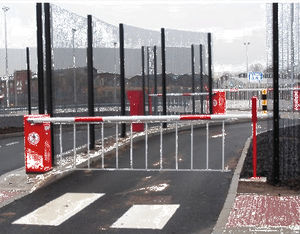 access control barrier
BROUGHTON 402
... range of automatic barriers are fast, robust and thoroughly developed. Our barriers are packed with features, making them the most versatile, cost effective and high quality barrier systems ...
See the other products
HERAS
See the other products
Aximum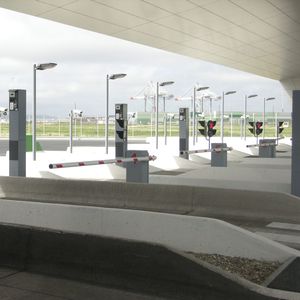 traffic management barrier
TOLLPLUS 261
... this sector requires a high level of safety, reliability, robustness and low maintenance. Automatic Systems TollPlus 261 barrier meets these needs whilst offering flexibility, a compact footprint and a wide range of ...
See the other products
AUTOMATIC SYSTEMS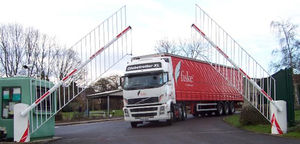 access control barrier
FB
See the other products
Frontier Pitts France
access control barrier
EGATE®
... for regulating the flow of people at entrances or exits. Barrier-free passage with variable access widths. Automatic arm reset Future-proof thanks to flexible software solutions Swivel barrier made ...
See the other products
wanzl
protective barrier
UTYL by Flavard & Saguez
... Measurements h x L x w: 890 x 1 200 x 40 mm Weight: 16.5 kg Fixation Buried 300 mm. Identité couleur standard WOOD: Brume METAL: Black 100 sanded Item number Ref. PMR0544
See the other products
AUBRILAM
access control barrier
615 RAPID
Technical specification Max Beam Length 2.5m Approx opening time 3 sec Use frequency 40% Key features Hydraulic operator with opening and closing lock Ideal for medium transit frequency and for controlling small and medium private ...
See the other products
FAAC
crowd barrier
OPTIMA 4 : 119602
See the other products
DOUBLET
protective barrier
PEDESTRIAN 300
Transit in front pedestrian metal for delimiting public spaces. Structure consisting of support posts and top arches in galvanized steel round tubes, horizontal crossbars and inner cruciate in galvanized steel round tube ...
See the other products
DIMCAR s.r.l.
access control barrier
TWINGLOCK 900
The All-Glass Two Wing Access Gate When a basic level of security is required in a limited amount of space, the Twinglock 900 access gate can offer a simple and effective security solution. Consisting of two stainless steel columns with ...
See the other products
Boon Edam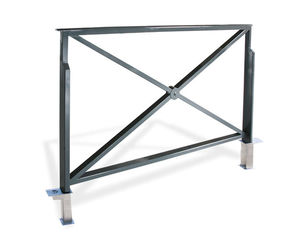 protective barrier
ST-ANDRÉ
Galvanised iron steel with epoxy primer coating and grey RAL 7016 polyester powder coated finish. Recommended anchoring: Concrete foundation.
See the other products
Benito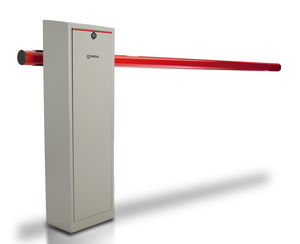 access control barrier
NET
Electromechanical traffic barriers Ideal for car parks, shopping centers, hospitals, official buildings, industrial pavillions,... Left hand and right hand easily interchangeable. Intensive use Safety. Obstacle detection ...
See the other products
ERREKA
access control barrier
ENTRANCE GATES
... cannot be avoided. With the shopfitting solutions offered by SCS, you have a wide selection of entrance gates to choose from: metal gates, safety gates, gates for trolleys and four-arm turnstiles.
GBE barriers: A highly cost-effective barrier thanks to simple installation Featuring high-tensile steel wire and an exceptionally straightforward installation method, this product is ...
See the other products
Geobrugg AG
protective barrier
Freestanding Barrier
The Freestanding Barrier is designed to complement an exhibition and gallery environment, and discreetly remind visitors not to touch. The stable steel base and upright supports an elasticated cord that defines restricted ...
See the other products
Absolute Museum & Gallery Products Ltd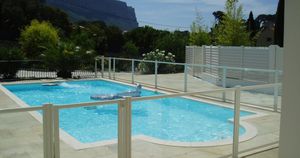 The Hydro Aluminium barrier is a safety barrier designed to limit access to the pool for children aged under 5 (it can be installed for pools of any shape). However, a barrier cannot ...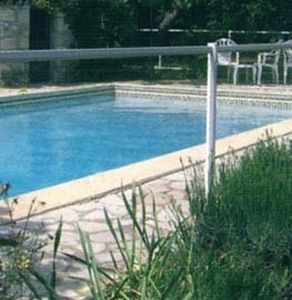 ... prevent children under 5 from getting dangerously close to the edge of the pool,Piscines Magiline offers a range of safety barriers for pools that adapt to all models.
protective barrier
REDNET: RN4/10-25
Description Infrared photo electric beam for 10m to 25m range sensor head to fit to Rednet Beam Tower 1 year warranty. The warranty policy shall not applied in case of misuse, improper installation or maintenance, negligence, accidents ...
See the other products
OPTEX Europe
protective barrier
LILIUM
A noble, authoritative series of street furniture, mainly designed for modern settings. Side tracks serve to house the elements that characterise the different functions of this product: clock, sign boards, glass panels for the shelter, ...
See the other products
NERI
access control barrier
CH
Automatic barriers – with a wide range of applications Whether you wish to control paying access to open-air parking facilities, a multi-storey car park, a security area or a tunnel, or merely wish to protect your premises, ...