The Online Architecture and Design Exhibition
contemporary table
A8000FT
Height: 53, 72 cm
Length: 125 cm
Width: 75 cm
... look. Dimensions Table Top Length (cm): 125 Table Top Width (cm): 75 Table Top Thickness (cm): 34 Table Height (cm): 53 / 72 Tube (mm): ...
See the other products
Forma Marine
contemporary table
WAVE by Villa Michele
Height: 75 cm
Length: 231, 230 cm
Width: 94.6 cm
... corian, metal and wood) creates a new concept, perfect for furnishing any kind of outdoor area. Actually in this line dorian conveys colors, metal conveys solidity and wood conveys elegance. The table ...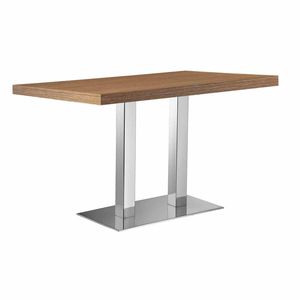 contemporary table
XT 490 Q
Height: 72 cm
Length: 130 cm
Width: 70 cm - 80 cm
Table frame with base cover in glossy or satin stainless steel, column in glossy or satin stainless steel, or wood. Measures Base: 40x75 cm Column: ...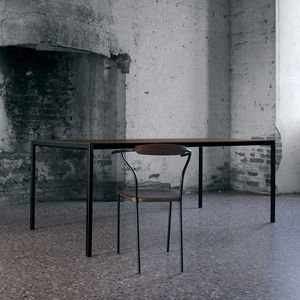 contemporary table
SINTESI : ST02
Length: 300 cm
... finish (Y34 walnut). The frame underneath is in powder painted steel, finish (C08 black). Simple construction and the essence of materials bringing a "Sintesi" extendable table to life. The steel ...
contemporary table
SOLITÄR
frame: stainless steel 8 x 8 cm, table top: solid suar approx. 10 cm, each piece is unique
See the other products
Jankurtzmöbel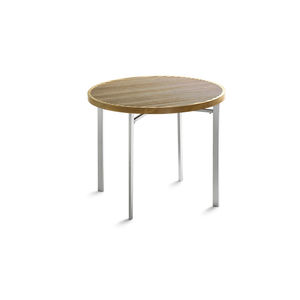 Height: 75 cm
Length: 90 cm
Width: 90 cm
contemporary table
BASIC MIRROR
Length: 200 cm
Width: 100 cm
Rectangular dinning or working table Blasted stainless stell frame under the top Black granite top, 2 cm thickness Mirror stainless steel feet, "basic" model Standard dimensions ...
contemporary table
2xS45-02-52-TOPSV120x70
Height: 73 cm
Length: 180 cm
Width: 90 cm
Table with two solid steel base. Available base sizes 45 / 50 / 55 / 65 cm. Maximum top size 180x90 cm. Finish; chrome / epoxy painting / stainless steel.
Height: 46 cm
Length: 107 cm
Width: 107 cm
FRAME: POWDER COATED STAINLESS STEEL. TABLE TOP: GLASS- INCLUDED. W 42" 107 CM H 18" 46 CM L 42" 107 CM
contemporary table
BALCONY by Thomas Albrecht
... appearance. The stainless steel frame supports slats in solid teak or synthetic material in attractively fresh colors. The BALCONY Folding-Table is extremely practical: it folds down ...
See the other products
WEISHÄUPL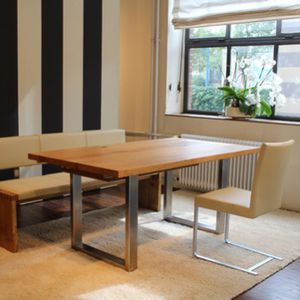 contemporary table
ADORA 08
Height: 75 cm
Length: 165 cm - 300 cm
Width: 90 cm - 100 cm
... 100 cm Table Height:ca. 75 cm Its unique look makes the Adora 08 table a star in every respect. NEW – Also the Adora 08 is now available with the TWISTER extension (in conjunction with a massive tabletop ...
contemporary table
MUTANTE
... with a surface top covered in stainless steel, both surprisingly light and luminous. On the one side, the metal comes to meet the edge, with no visible solder, adding to the sober ...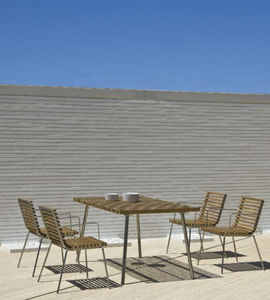 contemporary table
TRAMA 121 by Serraydelarocha
Height: 75 cm
Length: 150 cm
Width: 90 cm
... you raise your head and realize that you couldnt be happier. Tube-shaped feet in stainless steel quality 304 and diameter 35 mm, fixed to the tubular stainless steel top of 50x25 mm ...
garden table
by Massimo Zanchetta
At the poolside. Whether under the sun or under the stars: create your own atmosphere.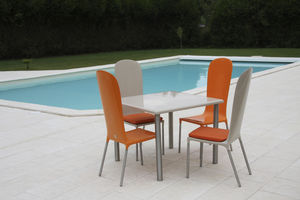 contemporary table
PASSION
Dimensions Length 100.00 ft Width 100.00 ft Heigth 75.00 ft Heigth (out of base) 0.00 ft Weight 29,00 lb Materials used : resin and fiber glass structure Feet with outside processing and painted.
See the other products
Art'Mely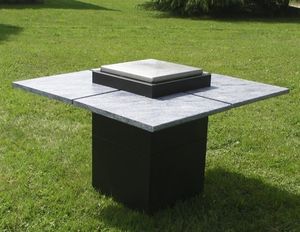 Height: 82 cm
Length: 118 cm
Width: 118 cm
This high outdoor table incorporates a hotplate heated by a Vulcania® burner for cooking or heating food. The four support slabs are available in Slate, Granite, and Quartz. The slabs are fitted on a metal ...
Delicate metal frame, highly stable supports and sensible functions: Prato, the new model in the basic range. Natural or black brushed with a stainless steel look, Prato offers modern tables ...
contemporary table
FUMADOR
... the FUMADOR smoking table. The "fumador" is a completely weather-resistant and easy to clean unit. With its three stools and a three-piece stainless steel ashtray access up to six people can be accommodated ...
contemporary table
CONVIVIO UNIT
Height: 75 cm
Width: 280 cm
A large table with countertop hob-bowl unit all in one. Dimensions of table Width 280 cm Depth 190 cm Height 75 cm Dimensions of hob-bowl unit Width 160 cm Depth 55 cm Height 8 cm Materials and Characteristics The ...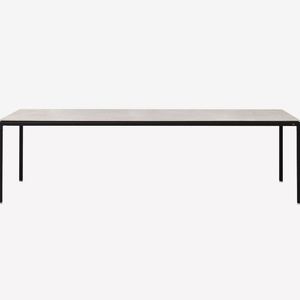 contemporary table
VIPP972 / VIPP971
Height: 72.5 cm
Length: 240 cm
Width: 95 cm
Table, large The Vipp table is a large table for the dining room or kitchen. Also available in a medium-sized version, the table a steel frame with soft ...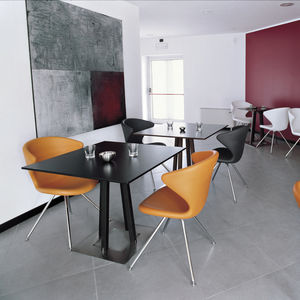 contemporary table
SELLA by Peter Maly
Height: 73 cm
Length: 90 cm
Width: 90 cm
Contemporary table in beech wood with basement in stainless steel. Available in different sizes.
contemporary table
CONVIVIUM
structure in stainless steel with slatted top, available in all the wood finishes.
interactive table
NESTING NATURE
Height: 37 in
Length: 52 in
Width: 33 in
... Height sized appropriately for your age group. Table legs "nest" inside the table below when tables are stacked on each other - at 38 lbs can be lifted by two people. Two will "nest" ...
See the other products
Nature of Early Play