The Online Architecture and Design Exhibition
Hardwood bench floating atop polished granite blocks Cube features a simple combination of FSC-certified hardwood slats, polished grey/black granite and stainless steel, which creates an almost meditative atmosphere. ...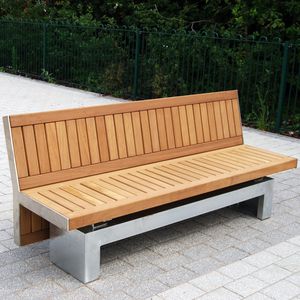 ... Sheldon, FSC iroko hardwood or softwood, granite and stainless or mild steel seat, is a premier, contemporary, slatted seat or bench with optional armrests. The seat slats are manufactured from 70mm and 32mm thick section ...
public bench
D'UOMO by Firenze Design Lab
Length: 4,800 mm
... reinvention of the shape of the nineteenth century traditional bench. The bench is available with two or three cast iron supports and it is possible to have the bench seat realized with ...
Bench entirely in polished granite (seat and three legs), total length 4 metres.Special colour: black with white specklesTechnical informations Ref.: BA71P Sizes: 400 cm x 70 cm x 40 cm Weight: 2,2 tonnes
See the other products
Francioli Creation
public bench
HAZY MAZE 4630 /4631 /4632 /4633 /4634 /4635 /4636
The Hazy Maze concept is comprised of an arrangement of highly sculptural granite blocks. These provide informal seating arrangements, space to incorporate plants, and effectively act as a traffic calming system. The scheme can be designed ...
See the other products
Square
See the other products
QUARTZO DESIGN
Length: 150 cm
Bench in reconstituted or natural stone. Moulded or carved and wheathered by hand. Details H. 47 x P. 40 cm - 220 kg - 1 element on 1 palette 80 x 120cm
Length: 2,000 mm
Bespoke Seating Because ASF's seating is all manufactured, cast and fabricated on site and to order there is complete flexibility with regards bespoke seating designs. Made not just to any design, but for any gradient, profile, curve, ...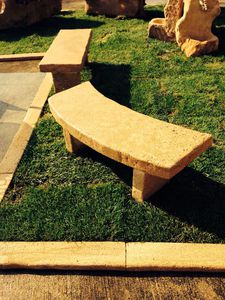 ... box : box in natural stone and perfect for all types of plants and flowres Gazebos with stone columns the columns can be of different heights ranging from 80 cm up to 240 meters Niche -real votive ...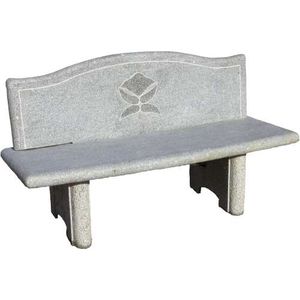 Length: 140 cm
All items are hand made on natural granite. Therefore all given dimensions and weights can never be exact. All items are available in gray and yellow granite. Dimension (cm): 140 Weight (kg): 300
See the other products
PANGEA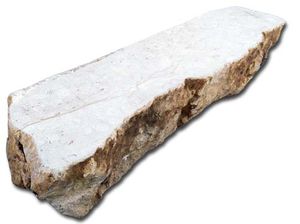 Length: 200 cm
Cut stone ends and galvanized steel frame with provision for under seat lighting. Treated hardwood surface with or without 'anti-skate' bars. dimensions Length 2000mm, width 615mm, height 455mm. options Unfinished timber ...
See the other products
Omos Ltd.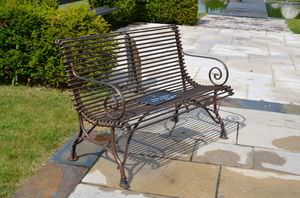 Length: 120 cm
Architectural salvage stone window surrounds, pediments, dormer windows, lintels . antique garden & landscape features. BCA supply authenticity to projects across France, Europe and worldwide.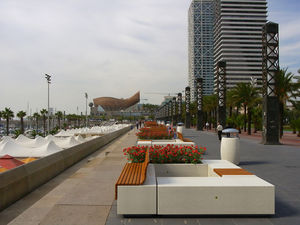 public bench
BELLITALIA DEMETRA
Bellitalia Demetra Precious Stone Bench is a stylish and durable bench which offers comfort and amenity to all users. This modular linear bench features a self levelling ...
See the other products
Marshalls plc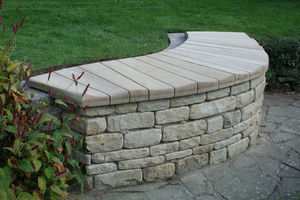 ... oak wood with stainless steel fittings. Often site specific works. Xyloripple Private garden, Bedfordshire - sculpted bench seat with stonework front to conceal ornamental pond pump workings.
STREET FURNITURE - This line - bench, tables, bike stands and litter bins - is identified by a semi-circular support element that is both stylish and pleasing to the eye. The use of Vasart concrete as a construction material, ...
... eliminate the perception of conventional and bulky stone furniture. The utilization of ready-made standard or customized components in fully knock-down or pre-assembled system maintains its sturdy stone ...
* Huge selection of stock designs * Custom designs available * A range of materials to meet your needs Applications * Pool decks * Saunas * Residential * Churches * Shopping plazas * Courthouses Options ...
See the other products
The Stromberg Group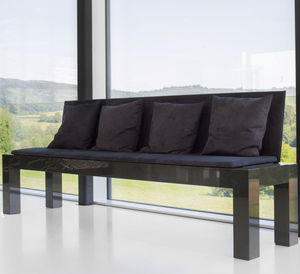 Frame material: Granite (nero assoluto) Material seat cover: Alcantara (black) Dimensions: Height 45-87 cm / width 220 cm / depth 50 cm Weight: approx. 160 kg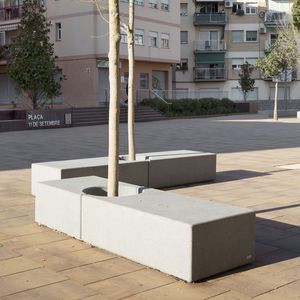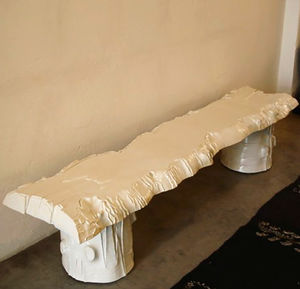 original design bench
MOBILI ALL'ARIA by Bertozzi e Casoni
Indoor and outdoor projects in MONOLITE IPERGRES® are characterized by a double "soul": functional and decorative, and can be installed in any weather condition. Stools, tables, stands, chairs and decorative panels, can give the best ...
Length: 321, 300 cm
The Granit Curb is very popular because of the ideal gliding properties of the sliding surface which is made of finely polished granite. Tricks like Tailslides, Noseslides or Grinds are made and many combinations are possible. During ...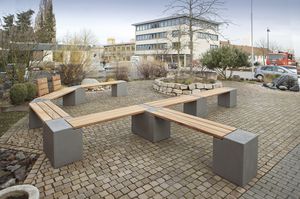 silkstone and rinnit platinum white with basic protection RPF 1 with Teflon® flexible design due to angle and cross elements middle elements can be put together individually wooden covering and backrest easy to ...