The Online Architecture and Design Exhibition
original design bench
GIRELLA by Ron Gilad
... Wallpaper*.The curved form seemingly defies logic, begging the question "But how do you bend stone?".It's beautiful simply as an objet d'arte or can also be used as a bench seat.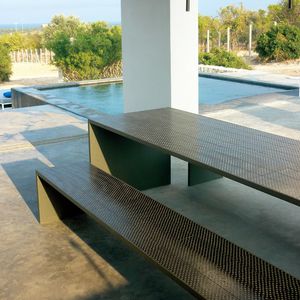 ... glazed bench suitable for indoor and outdoor. BENCH can be made in various size and thickness, with the designs and colors of the various SERIES, excluding: KOMON TATTO and LUMINESCENT Materials: PLL ...
... Bottom): Honed/Smooth Finish Sides: Honed/Smooth Finish Quantity per container: 27 ton per 20 feet container Asian Stones manufacturers Sandstone Benches and Tables that add a beautiful grace to a gardens or ...
public bench
PAVÉ LOG by Enzo Berti
Length: 160, 200, 240 cm
Pavè Log is a refined bench for both indoor and outdoor. A unique larch beam (or heat-treated ash for outdoors) spans the marble bases. Its natural finish underlines the organic appeal of the whole collection, giving ...
contemporary bench
TRACKS by Dan Yeffet
Bench and stools in travertine and US walnut, mat varnish Bench (L. 140 x W. 28 x H. 39,5 cm) Stools (L. 27 x W. 28 x H. 39,5 cm) Made in France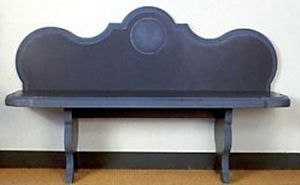 public bench
BENCH IN ITALIAN SLATE
Traditional Bench in Italian Stone Top Quality certified
Length: 3'00", 4'00"
Stone Properties Benches cut from our Valders material are available with a smooth, honed surface and hand rock faced edges. Bench products can be ordered through either our Eden or Valders facilities. Availablity Honed ...
See the other products
Eden Stone Company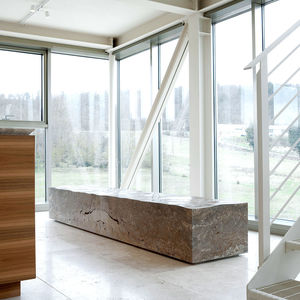 contemporary bench
BANCA byMarco W. Fagioli ed Emanuel Gargano
The Old Italian word "Banca" means "bench". In old times, benches were used as desks where soldiers were paid and transactions took place. This new Vaselli stone seat retrieves the value of an object ...