The Online Architecture and Design Exhibition
Specifications ADA: YesAge Range: 2 - 12 yearsAttachment Deck Height: 6" to 6'-6"Fall Height: DECK HT. Weight: 500 lbs (227 kg) Additional Notes: Lengths 8' 10' & 12' Available Left or Right Hand
See the other products
MIRACLE
playground balance beam
RM-48-10
Project Description Capacity: 4 children Play Area: 20′ x 13′ (7,0 m x 4,0 m) Fall Height: 12″ (30 cm)
See the other products
GO ELAN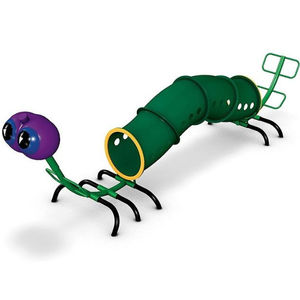 playground tunnel
CATERPILLAR
Children can climb up and through the body of the caterpillar with this play functionally linked climber. The crawl tube provides an exciting passageway through the caterpillar with spy holes for visibility into and out of the tunnel, ...
See the other products
GameTime
playground sandbox
FIRSTPLAY™ TODDLER : DESIGN #4
"FirstPlay Toddler can play an important role in a child's physical, mental and social development. These colorful and interchangeable panels let toddlers step, slide, peek, sketch and pretend. Design #4 features the Sand & Water Panel, ...
See the other products
PLAYWORLD
public space soccer field
AGOFOOT
The All Metal Agofoot is a field designed for playing Futsal. The Agofoot is made of the following elements: 2 Futsal sportswalls and 2 goals inside the pitch No basketball panels and no multi-purpose posts 2 openings in the side fences ...
See the other products
AGORESPACE
multisport goals
GOAL POSTS
The basic goal posts are those in which the goalkeeper has the task of stopping the shots that are taken, with the advantage that s/he is on an inflatable mat and is therefore more able to jump, being assured of a cushioned fall. In ...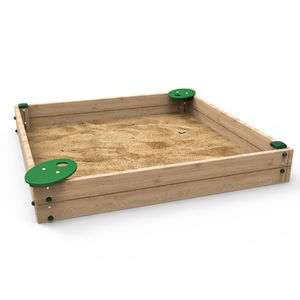 See the other products
Benito
modular for toddlers soccer field
24' x 12' x 6'-4"H 7.32m x 3.66m x 1.93m Soccer Goal Themed Panels with Velcro, Toddler Soccer Field Themed Surface, Gated Entrance, Thick Soft Foam Toddler Barrier, Lexan Panels
See the other products
International Play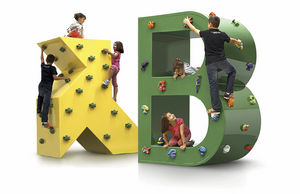 fixed climbing wall
LETTERS AND ORIGAMI
Great for schools, parks, promotional events and more. Climbable Letters A to Z and Origami Large and Small are a great way to bring play and education together. Take a further look at these ready-to-install climbing elements that will ...
playground interactive panel
E-WALL
Learning with movement – appropriate for all ages and subjects. The e-wall can be installed either indoors or in the playground. Pupils or teachers create exercises via a simple to use app. Students then answer the questions by ...
See the other products
Bluestream
cable slide for playground
010İP
1. (LLDPE-Lineer Low Density Polyethylene) is processed with rotation and injection processes. 2. The light sensitivity is between 6-8 scale. In these type of coloring materials zinc is not found. And theNew generation playgrounds can ...
See the other products
Metod Park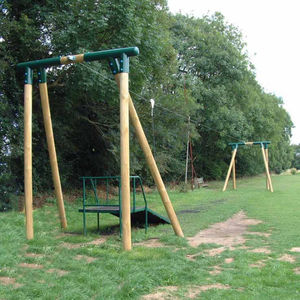 cable slide for playground
ZIPWIRE
is a great asset in any public playground, appealing to all ages of children (and indeed grown-ups have been known to have a go too!). The Setter Zipwire is an original mix of large diameter logs, deeply fixed into the ground, combined ...
See the other products
SETTER PLAY
playground balance rope
ELASTICO : ELE0001SJ0WE
See the other products
TLF
playground sandbox
MAE-005
Use Zone: 160x210cm Height: 30cm Wood: Pine With Eprenye Safety Zone: 260x310cm
See the other products
Mertoglu
fitness trail balance beam
SHP2009-7-20
Functions: Develop posture control Improves cardiovascular endurance
See the other products
Greenfields Outdoor Fitness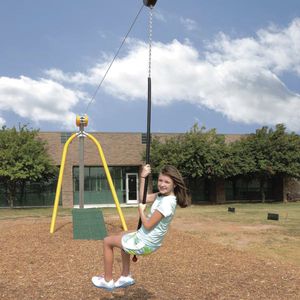 cable slide for playground
MANTIS
Bring the feeling of flight to your playground with the Mantis cableway! The innovative design provides a controlled yet thrilling ride for children who want to soar!
See the other products
little tikes
Climbing is an excellent source of exercise for kids on the playground! Our climbers provide places where children can work on their communication and social skills while also enhancing coordination and core strength. PDPlay's climbers ...
See the other products
progressive design playgrounds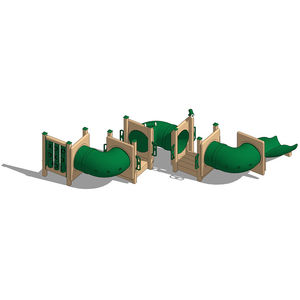 playground tunnel
TODDLER MAZE
Product Name: TODDLER TUNNEL MAZE Series: Playgrounds Ages: 6 - 23 months Accommodates: 15-25 ADA Accessible: YES Safety Zone Required: 19' x 33'' Weight: 839 Catalog Page: 29 Materials: RSP Post material (Recycled Structural Plastic ...
See the other products
Nature of Early Play
playground water play feature
115654
See the other products
HABA France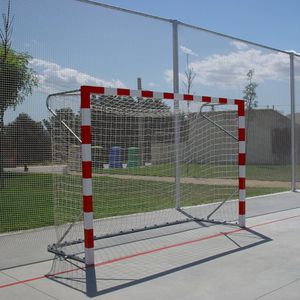 TP SPORT portable Goal set for the handball and indoor football practice with regulatory measures 3x2 meters and produced as per norm UNE EN749:2004. Our competition goals are available in two different frames: made of steel profile ...
playground tunnel
MOVING EC-625
Combine rocking with climbing or crawling and you'll see what great activities the moving tunnels bring to the playground.
See the other products
BigToys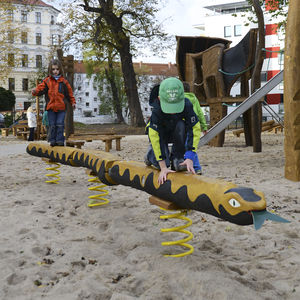 playground balance beam
1.103.3
Dimensions: Length: approx. 6.2 m Width: approx. 0.2 Height: approx. 0.6 m 1 - See Saw, Rocking Equipment 6 - 12 years ~ 6 children 0,6 m from 3 30,0 m² ~ 210 kg; biggest ~ 70 kg 2 installers at 2 h; + technic 3 ground anchors
See the other products
SIK-Holzgestaltungs GmbH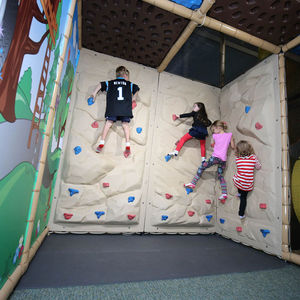 fixed climbing wall
ROCKS COURSE
Wall mounted or placed inside a playground is a great place for these rock and fossil inspired traversing walls. 4×8 modular panels create wall lengths or room sizes as long as desired. HEIGHT 8′ DIMENSIONS 4×8, 8×8 or Custom USER ...
See the other products
Soft Play LLC
HDPE: Monocolour/bicolour high density polyethylene. It is a polymer so it is characterized by its resistance to corrosion and chemical products. By its capacity of elasticity and lightweight, it offers high resistance to impacts, and, ...
See the other products
Bragmaia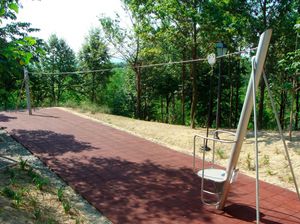 cable slide for playground
Teleferica by Tobia Repossi
A safe way to experience the thrill of flight. We just have to let ourselves go. It's fun to see who makes it all the way to the other end. The tubular supports Ø 206mm, tubular stands attached to each column Ø 48mm and ...