How to choose this product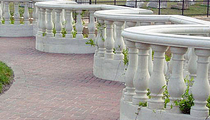 Balustrades are decorative elements composed of balusters, or posts. They can be made of natural stone, artificial stone, wood, steel, or other materials. Beyond their decorative function, they support handrails, ramps, parapets and similar constructions. Balustrade colonnades are often part of a traditional and classical decorative ensemble.
Applications
Balustrades protect against falls without completely blocking visual contact. They are used on staircases, terraces, balconies, footbridges, etc.
Advantages
- Safety
- Attractive