How to choose this product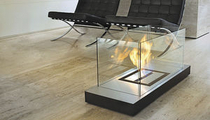 The low heat output of the bioethanol fireplace makes it primarily a decorative element. Easy installation, contemporary look and increasingly audacious designs contribute to its popularity.
How to choose
When the goal is a room featuring avant-garde design and a unique piece highlighting the beauty of dancing flames, a bioethanol fireplace may be the best option. Choice will then depend on placement and configuration (central, built-in, wall, corner, two- or three-sided), open or closed firebox, mantel style (modern or traditional), materials, color and texture.
Advantages
- Bold, original designs
- Easy installation and maintenance
Disadvantages
- Low heat output